Israel-Gaza conflict: EU pushes for ceasefire but ordinary Israelis back Benjamin Netanyahu and want bombardment to continue
US Secretary of State John Kerry has offered help to secure a Gaza truce
Ben Lynfield
Wednesday 16 July 2014 09:32 Comments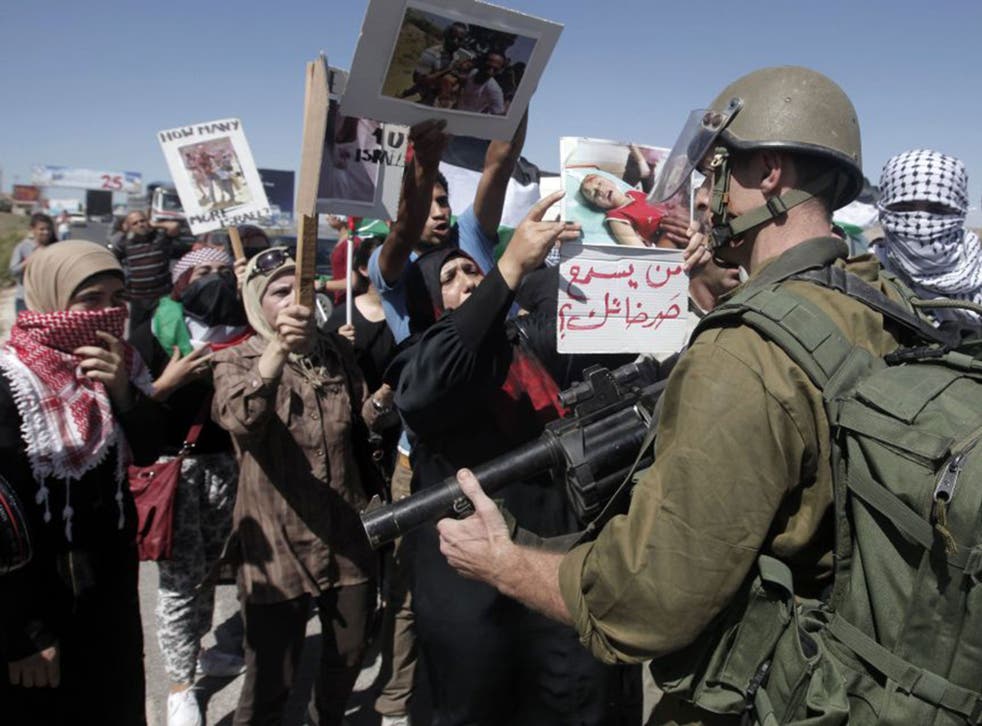 With the current operation's death toll in Gaza reaching 169, mostly civilians, according to the Gaza health ministry, international pressure is beginning to mount on Israel to move towards a ceasefire. The EU said on Monday that it was in contact with "all parties in the region" to press for an immediate halt to the hostilities a day after US Secretary of State John Kerry offered help to secure a Gaza truce, Reuters reported.
But judging from a random sample of Israelis at a falafel restaurant and an ice cream parlour in the middle class Beit Hakerem neighbourhood of Jerusalem, Israelis are ready to keep going and are worried that if the army stops now, without Hamas decisively defeated, the rocket problem will resurface soon.
"We can't stop now or the same thing will happen again a year from now," said Adi Eliav, a 49-year old building contractor between bites of falafel. Near him a television flashed on the screen the latest news of Hamas rocket attacks - "eight year old boy lightly wounded in Ashdod" "Rockets against Ashkelon, Gan Yavne and Lachish" and "Interceptions in Ashdod."
"We can stop when we've eliminated all their stores of rockets and hurt them in a way that it will be hard for them to come back. We're not there," Mr Eliav said. But asked whether he favours a ground incursion into Gaza, as right-wing politicians are advocating, he concedes: "I'm hesitant. My hesitation is that I don't want Israel Defence Force soldiers to be harmed. So I think it's best to continue [bombardments] from the air. I don't think these bombardments should be escalated though, we should be careful not to harm civilians."
In pictures: Israel launches further air strikes on Gaza

Show all 105
Mr Eliav credits Prime Minister Benjamin Netanyahu with managing the war effort well. "I'm not usually among his fans, but he's been reasonable, he's showing restraint. He did not decide on a ground operation."
Ofer Shemtov, 28, who buys and sells real estate, said that "going towards a ceasefire now means accepting that this will happen again and that Hamas will improve its capability."
"I'm sure there will be international pressure [to stop] but the government has to stand against this pressure," he said.
"As sad as it is, there is no solution," he added. "This is because the nature of this war is that it's not over territory, but rather that they want to finish us off."
Yaacov Levy, a retired bus driver, said: "I'm willing to stop on one condition and that is that the leading countries in the world take out all the missiles from Gaza. I'm sure that if they stop now, it will happen again," he said.
"They should go to a ground operation only if they are willing to take it all the way and take out all of Hamas's weaponry," he added.
Asked about Mr Netanyahu's performance, Mr. Levy said: "I'm very satisfied. He is making decisions from his head, not from his [heart]. He will do what is necessary, but at the right time."
But Tamar Paikes, an artist, said: "Netanyahu is always blaming and never taking responsibility for anything."
"We should go to a ceasefire because using force didn't lead us anywhere. It's like a violent family that just deteriorates to more violence." she added.
Hamas leaders have said a ceasefire must include the release of prisoners arrested in Israel's West Bank sweeps, an end to Israel's Gaza blockade and a return to a 2012 truce agreement. Hamas wants Egypt to ease restrictions at the Rafah crossing between Egypt and Gaza.
Hamas kept up its rocket barrage on Monday and also sent a drone into Israel that was shot down by a Patriot missile, the army said, adding that it was checking whether the drone carried explosives.
Hamas said its armed wing had sent several locally-made drones to carry out ''special missions'' deep inside Israel, Reuters reported.
Two rockets fired from Gaza were reportedly intercepted over the Tel Aviv area late on Monday after a lull during the morning. Ninety rockets were fired at Israel during the day, bringing the total since the start of the war to 1,050, an army spokeswoman said The airforce mounted a hundred strikes on targets in Gaza, she added.
Register for free to continue reading
Registration is a free and easy way to support our truly independent journalism
By registering, you will also enjoy limited access to Premium articles, exclusive newsletters, commenting, and virtual events with our leading journalists
Already have an account? sign in
Join our new commenting forum
Join thought-provoking conversations, follow other Independent readers and see their replies