Israel-Gaza conflict: Ex-soldiers reveal the pressure they are put under by their superiors - and question the IDF's commitment to leaving the unarmed unharmed
Veterans have made their testimonies available to 'The Independent' to make a statement against the current fighting
Ben Lynfield
Friday 08 August 2014 13:03 Comments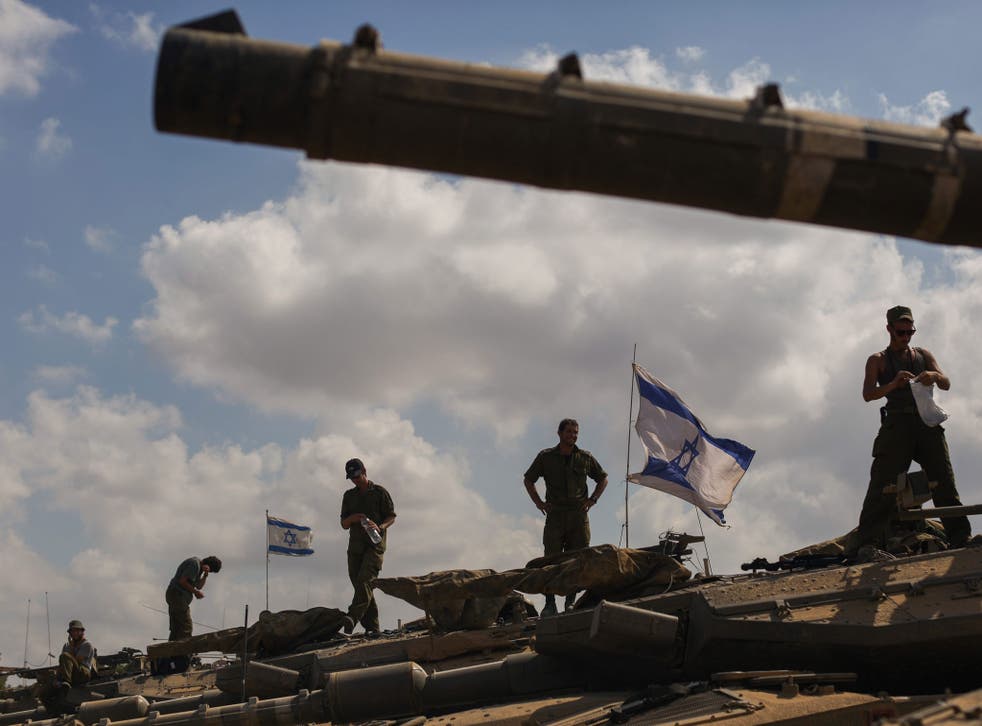 Memories of his service along the Gaza border two years ago have been streaming through the mind of Shai Davidovich this week as he hears news from the crowded coastal enclave of heavy Palestinian civilian casualties from the devastating Israeli military campaign there.
Mr Davidovich, 27, the educational director for an ex-soldiers' group Breaking the Silence, served in field intelligence during Operation Pillar of Cloud, a previous Israeli war against Hamas in Gaza in 2012. He says he was repeatedly ordered to help prepare for the firing of artillery during the hostilities but that he thought it was "crazy'' to use artillery in a crowded area, in this case the town of Beit Hanoun.
"The news is bringing me back to when we were there and we got orders every day that at 5pm we will shoot artillery. We prepared all day for this, but in the end it didn't happen. It was surrealistic to see kids playing in Beit Hanoun. With the binoculars we saw a lot of civilians, but I don't remember that anyone ever spoke about the civilian population. I thought to myself, 'how can you fire without harming civilians?'
"Artillery is an imprecise weapon. Artillery fire to an area inhabited by civilians cannot be moral, we trained on open areas.''
Mr Davidovich's memories fuse with the images of large-scale carnage in the current conflict, which he unequivocally opposes, unlike the near consensus of Israelis who view this as a just war of self-defence against rocket fire and tunnel infiltrations, and blame Hamas for all the civilian casualties. "Any campaign in which the civilian population is harmed on a large scale cannot be moral,'' he says. "Israel has a right to defend itself, but not like this.''
Mr Davidovich's colleagues in Breaking the Silence, which collects soldiers' secret testimonies to try to enlighten the Israeli public as to the true nature of the army's activities in the West Bank and Gaza. This week, alarmed at the civilian deaths in Gaza, it took testimonies from soldiers who served in previous Israeli operations in the region, including Mr Davidovich.
They made the testimonies available to The Independent to make a statement against the current fighting. Operation Rainbow in 2004 is the earliest of the campaigns covered while Operation Cast Lead in 2008-09 and Operation Pillar of Defence in 2012 also feature. They do not include anything from the current conflict.
"If you look at all the recent operations continuing into the current operation you see a moral descent that doesn't stop and a military aggressiveness that only increases,'' says Yehuda Shaul, the founder of Breaking the Silence.
"The level of destruction, the death toll of civilians and the practices teach us that it gets worse and worse.'' He takes issue with the use of artillery and the bombing of family homes of Hamas personalities, which the army says are used for command and are, therefore, legitimate targets.
Mr Shaul says that even if Israel warns civilians to vacate areas to be targeted, that does not absolve it of moral responsibility for their fate. "If they don't leave do they deserve to die?'', he asked.
"One of the biggest lies of this operation and Cast Lead is that we're doing everything to avoid civilian casualties. When you use artillery in a place like Gaza you can't say you are taking every precaution. It's not the case that generals are looking to kill more civilians, far from that. But we are far away from the official line that everything is being done to avoid civilian casualties.''
While Breaking the Silence views the testimonies from the past as a way to understand the present, the army believes the group is rehashing old claims to embarrass it at a sensitive time. Asked about the allegations, Col (res.) Shaul Shay, former deputy head of Israel's National Security Council and a scholar at the Interdisciplinary Centre in Herzliya, near Tel Aviv, told The Independent that the army "kept, is keeping and will keep high moral standards in all its Gaza operations.
"To our sorrow, the approach of Hamas is to use civilians as a human shield and to war against our civilian population. The army adheres in an exceptional manner almost to the point of endangering our soldiers in order to try to have war with minimum civilian casualties. The more Hamas shelling builds shooting positions, tunnels and attack positions in built-up areas, the more the army is forced to fight there and from this there are [civilian] casualties".
He says steps to warn civilians to leave their homes go beyond anything the US or UK militaries have done. "Breaking the Silence has no case. It saddens me that Israelis make such claims at such a time, claims that serve the propaganda and psychological warfare of the enemy,'' Mr Shay said.
The testimonies
'We open fire and don't ask questions'
Sgt Major Amir Marmor
Unit Armoured Corps
Time 2008-2009
Operation Cast Lead
Area Gaza Strip
We began a week of practice on the ground, during which we talked with the officers commanding the operation. Pretty soon we realised that the idea was not just a campaign, but an actual war in which gloves were to be taken off.
Considerations we were accustomed to hearing in briefings, like rules of engagement and attempts not to hurt innocents and the like, were not made this time. On the contrary, the attitude was, war is war.
To paraphrase the brigade commander who spoke to us one day in the field… we were sitting around the campfire one evening, and he came and spoke with us about events in Gaza.
Among other things, he told us what we should expect and how we were supposed to behave – he even brought up people who asked him about morality and innocents.
His reply to them, and to us, in this regard was that this time it was war and we should have no second thoughts about damaging anything – including mosques, including any threat we feel, real or imagined. The approach is to open fire and to try not to consider the repercussions. At any obstacle – any problem – we open fire and don't ask questions. Even if it's firing in the dark, aiming at an unknown target – firing when we can't see, deterrent fire – no problem with that.
A vehicle that's in the way – crush it. A building in the way – shell it. This was the spirit of things that was repeated throughout the training.
'I don't remember being told about civilians'
Staff Sgt Shai Davidovich
Unit Field intelligence
Time 2012
Operation Pillar of Defence
Area Northern Gaza Strip
We were positioned east of Beit Hanoun [north Gaza]. People are walking around in the streets with lots of children hanging about. I see kids on bicycles in a street where shells are falling and the children run around free.
Not far from the houses was a major hit. And I see this kid riding his bike as if nothing happened, two meters away from him now. I don't remember having been told about civilians there.
Our mission was to shoot at sources of fire. It was very intense in both directions: the IDF strikes, I recall the shots. Crazy blasts. You keep seeing all of Gaza up in the air. The light it created, it was insane. There were combat helicopters up in the air constantly.
There were drones with which we worked. There was gunfire from Gaza at all times – there was so much gunfire. We were working with X, giving the open-fire orders. We told him "we detect" – no one was actually firing.
I don't remember seeing a group of combatants, just flashes of rockets fired all the time. You see houses but it's very difficult to detect a target. You can't be precise – you can't really aim.
'I'm asked why I'm not killing anyone'
Captain Oded Kimron
Unit Shaldag airforce commandos
Time 2004
Operation Rainbow
Area Rafah
During Rainbow Operation, we sent two squads. The mission was to take over a house for stake outs. I commanded one of the squads; a friend of mine commanded the second squad. At the beginning of the briefing we are told that we have to divide Rafah from Tel-Sultan.
A few days before the operation a Golani [infantry] force entered Tel-Sultan, did some job there and went out. The idea, as I understood, was that since Giv'ati [infantry] had to enter Rafah, and since they didn't want the (Golani) operation in Tel-Sultan to have been for nothing, we had to enter and create a buffer zone.
At the end of the briefing, the brigade commander gets up; he bangs on the podium, and says: 'Guys, the bottom line is that the mission is to kill as many armed men as possible.' This had its effect on the mission. On the first day we shot no one; we actually did nothing, while from time to time – every one or two hours – a message from the commander and his commanding crew arrived: 'What's going on guys? Why have you not started killing yet? What's going on there?'
All around us there was destruction on a scale I had not seen before – of houses, greenhouses, and roads. Everything there just became a bunch of sand dunes. All the while, I am repeatedly asked by the force commander: 'Why aren't you shooting? What is going on? Why aren't you killing anybody?' Non-stop pressure.
'Don't check the weight and you hit a school'
Anonymous
Unit Artillery
Time 2008-2009
Operation Cast Lead
Area Gaza Strip
The problem with artillery fighting in an urban area is that one tries to be as precise as possible, but there are a million parameters at play: weather, the weight of the shell. I might have a high-explosive squash head that blows up and destroys a lot with that kind of weight, and then another shell of a different weight.
If you don't check the weight, you can have a 200-300m difference in range that may end up hitting a school instead of the target.
Register for free to continue reading
Registration is a free and easy way to support our truly independent journalism
By registering, you will also enjoy limited access to Premium articles, exclusive newsletters, commenting, and virtual events with our leading journalists
Already have an account? sign in
Join our new commenting forum
Join thought-provoking conversations, follow other Independent readers and see their replies