Israel-Gaza conflict: Fears that violence could transfer to French streets after night of protests
Riot police held back a mob of youths who tried to attack two synagogues in the town of Sarcelles
John Lichfield
Monday 21 July 2014 13:01 Comments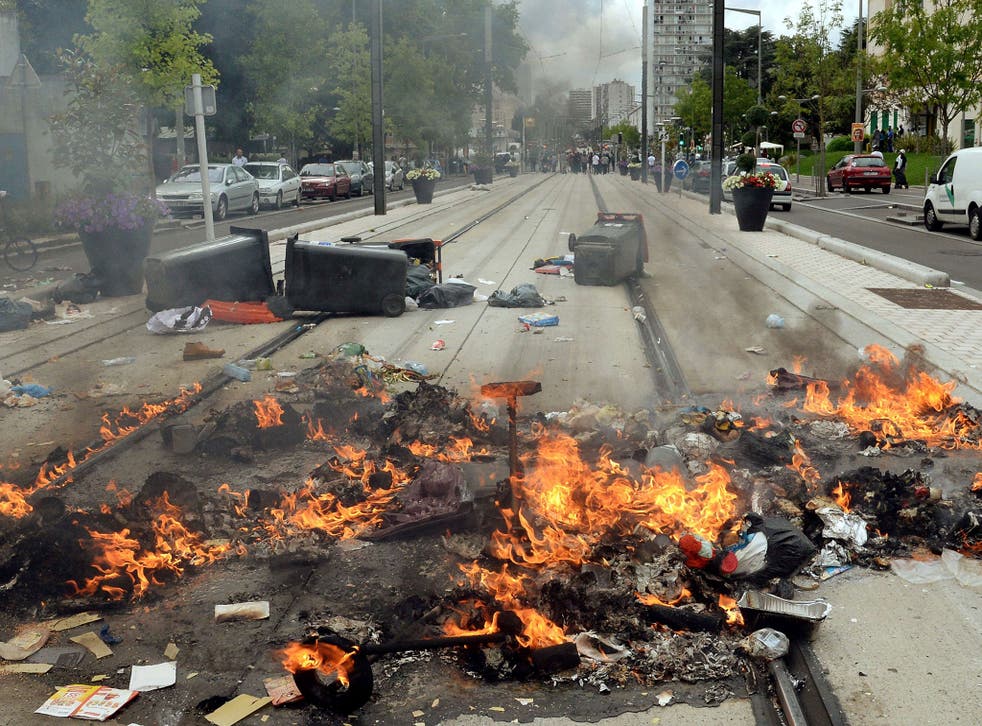 Fears are growing that the Gaza conflict could transfer to the streets of France after Jewish-owned shops were burned and pillaged last night during a second violent pro-Palestinian demo in the space of two days.
Riot police held back a mob of youths who tried to attacks two synagogues in the town of Sarcelles in the northern Paris suburbs.
A pro-Gaza demonstration in a town with a large Jewish population began peacefully but degenerated into attacks on Jewish and Chaldean businesses and four hours of running battles between youths and police.
Several cars were burned. Three shops, including a Kosher grocery, were burned and pillaged. A railway station was severely damaged.
The interior minister, Bernard Cazeneve said today: "When you menace synagogues and when you burn a grocery because it is Jewish-owned, you are committing anti-semitic acts… That is intolerable. Protest against Israel is legitimate. Nothing can justify such violence."
In pictures: Fears of French Gaza spillover grow after 'anti-semitic' riot in Paris suburb

Show all 8
The riot in Sarcelles - which was for many years run by disgraced French politician, Dominique Strauss-Kahn – followed violent scenes during a pro-Palestinian demonstration in northern Paris on Saturday afternoon.
Thirty people were arrested and 18 policemen slightly injured when youths pelted police lines with stones and bottles. Another 18 youths were arrested in Sarcelles last night.
In both cases the violence came not from the main body of demonstrators but a large minority of youths of North African origin. With further pro-Palestinian demonstrations planed on Wednesday and next Saturday, the government fears that the "contagion" of violence could spread to other troubled, multi-racial French suburbs.
The Prime Minister, Manuel Valls, warned at the weekend that France faced "a new form of anti-semitism", fomented by the hard left and by political activists like the comedian Dieudonne who blame "Jews" for all the world's ills.
Opposition politicians accused the government of "inviting" the violence by banning both the Paris march and the demonstration in Sarcelles yesterday.
The ban, they said, had increased the risk of violence by attracting "trouble-makers" who were only marginally interested in the Palestinian cause. On the contrary, Mr Valls, said. The violence had justified the decision to ban the marches, which followed attacks on synagogues and cries "death to Jews" during a demonstration in Paris the previous weekend.
The Prime Minister pointed out that pro-Palestinian and anti-Israeli demonstrations had been permitted in a half dozen other French cities at the weekend and had passed off without incident.
Roger Cuikerman, head of the French umbrella groups of Jewish organisations, CRIF, said there was a growing anxiety amongst French jews. Protest against Israeli government actions was one thing, he said. Attacks on Jews for being Jews were "deeply disturbing".
"They are not screaming 'death to the Israelis' on the streets of Paris," he said. "They are screaming 'death to the Jews'. They are attacking synagogues which are places of prayer."
Register for free to continue reading
Registration is a free and easy way to support our truly independent journalism
By registering, you will also enjoy limited access to Premium articles, exclusive newsletters, commenting, and virtual events with our leading journalists
Already have an account? sign in
Join our new commenting forum
Join thought-provoking conversations, follow other Independent readers and see their replies