Israel-Gaza conflict: Hamas claims 'victory for the resistance' as long-term truce is agreed with Israel
Terms include an Israeli agreement to ease its  Gaza blockade to allow in relief supplies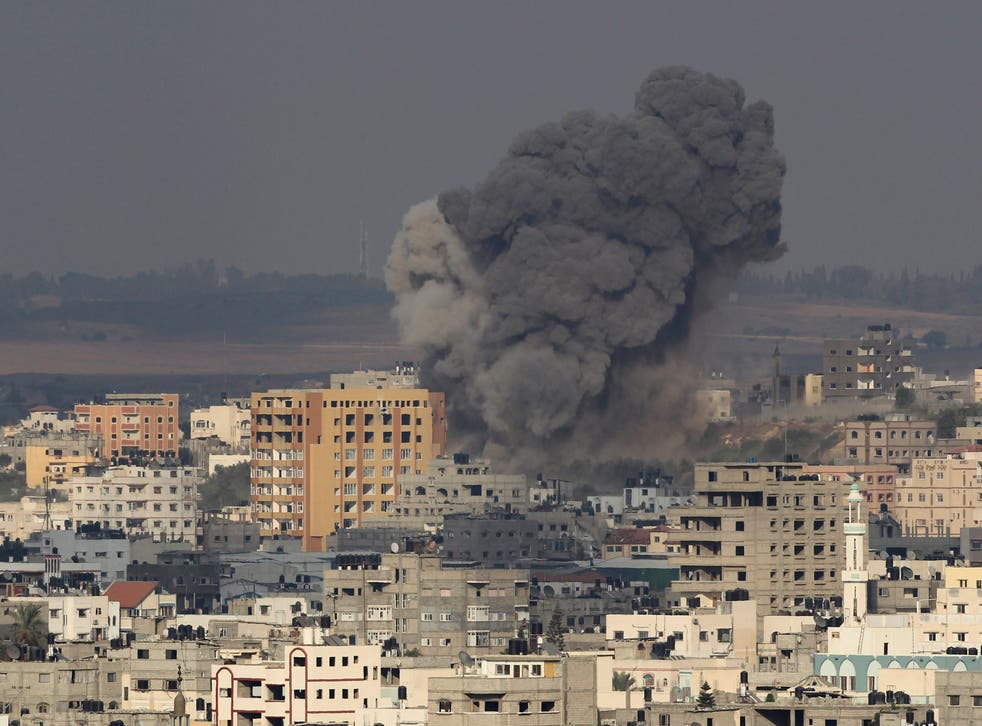 Israel and Hamas have agreed to an open-ended ceasefire in the Gaza war after seven weeks of fighting that has seen more than 2,200 people killed, the vast majority of them Palestinians.
In the end, both sides settled for an ambiguous interim agreement in exchange for a period of calm. Hamas, though badly battered, remains in control of Gaza with part of its military arsenal intact. Israel and Egypt will continue to control access to blockaded Gaza, despite Hamas' long-running demand that the border closures imposed in 2007 be lifted.
"This time we hope the ceasefire will stick," said Israeli government spokesman Mark Regev. He portrayed the deal as one Hamas had rejected in previous negotiations.
Hamas declared victory, even though it had little to show for a war that killed 2,143 Palestinians, wounded more than 11,000 and left some 100,000 homeless. On the Israeli side, 64 soldiers and five civilians were killed, the last a man killed by Palestinian mortar fire shortly before the ceasefire was announced.
In Gaza, massive celebratory gunfire erupted after the deadline. Chants normally reserved for Muslim holidays could be heard from mosque loudspeakers. Earlier, officials from Hamas and Islamic Jihad, the main groups involved in the fighting with Israel, had said the ceasefire included an Israeli agreement to ease its blockade to allow relief supplies and construction materials into the territory.
Talks on more complex issues, such as the demand from Hamas to build an airport and a seaport, would begin in a month, said Ziad Nakhala, a senior Islamic Jihad official.
The details of the ceasefire would effectively mean that Hamas and Islamic Jihad settled for terms that are similar to those that ended more than a week of fighting with Israel in 2012. Under those terms, Israel promised to ease restrictions gradually, while Hamas pledged to halt rocket fire from Gaza at Israel. The truce held for long stretches, but Gaza's border blockade also remained largely intact.
In pictures: Israel-Gaza conflict - summer 2014

Show all 18
Even though it apparently had little to show for it, Hamas declared victory. "We are here today to declare the victory of the resistance, the victory of Gaza, with the help of God, and the steadfastness of our people and the noble resistance," Sami Abu Zuhri, a Hamas spokesman, said at a news conference.
Israel and Egypt imposed the blockade after Hamas seized Gaza by force in 2007. Under the restrictions, virtually all of Gaza's 1.8 million people cannot trade or travel. Only a few thousand are able to leave the territory each month.
During the war, Hamas had said it would only agree to a ceasefire if the blockade is lifted. However, Israeli pressure on the group has been escalating. Hamas is believed to be left with just one-third of its initial rocket arsenal of 10,000, while Israel says it has destroyed most of Hamas's network of military tunnels.
Israeli strikes have destroyed or severely damaged more than 17,000 Gazan homes, according to United Nations estimates, leaving about 100,000 people homeless. The number of dead has also been rising steadily, reaching at least 2,140 by Tuesday, with more than 11,000 Gazans wounded since 8 July, Palestinian health officials said.
On the Israeli side, 69 people have been killed, all but four of them soldiers. Thousands of Israelis living near Gaza have fled their homes, including in recent days when Gazan militants stepped up mortar fire on southern Israel.
AP
Join our new commenting forum
Join thought-provoking conversations, follow other Independent readers and see their replies