Israel-Gaza conflict: Baby killed by tank as IDF begins ground offensive
An intense bombardment; the power is switched off; then Israeli Prime Minister Benjamin Netanyahu sends his troops in to tackle Hamas fighters on the ground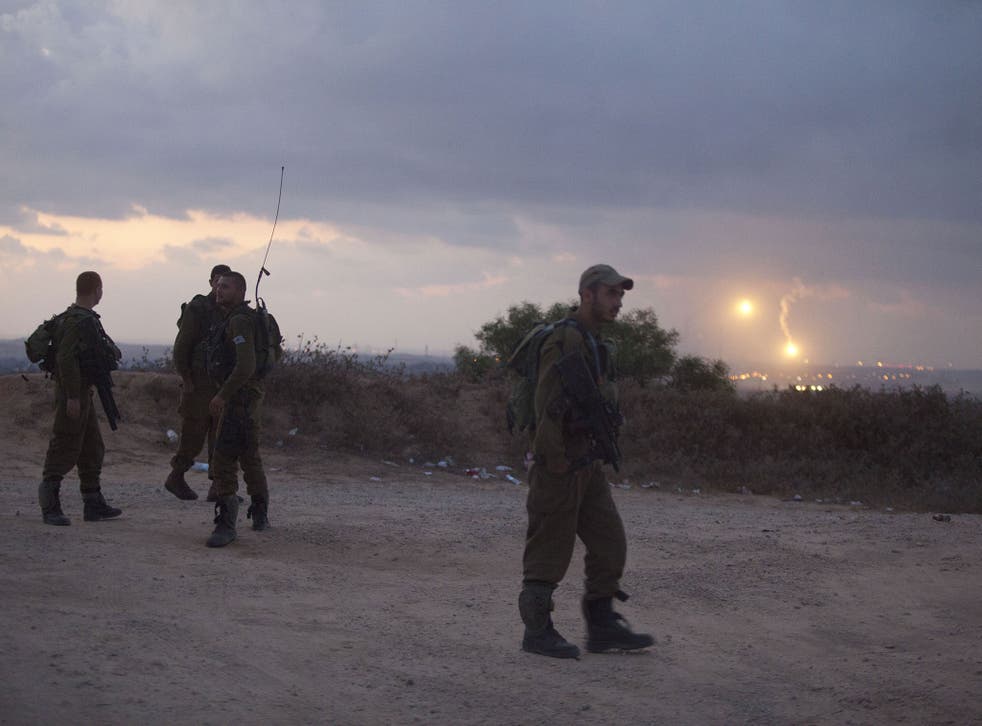 Israel has begun a major ground invasion of the Gaza Strip after a day of fierce fighting between its forces and Hamas that saw three more Palestinian children killed in an airstrike.
During a period of unusually intense shelling, the lights went out across parts of Gaza as the power was cut and the skyline was then lit by what appeared to be flares fired ahead of the assault.
Heavy fighting was reported to be taking place in the north of the Strip, in the Beit Hanoun and Beit Lahiya areas and also in Khan Younis and Rafah. Artillery fire, believed to be mortar and howitzer, was coming from the north intermittently, with rockets from Gaza arcing towards Israel.
Israeli media reported the loud rumblings of Israeli tanks and D9 bulldozers revving up their engines to cross the border. Emergency services spokesman Ashraf al-Qudra told the AFP news agency that Israeli tank fire had killed a five-month-old baby and another person in Rafah, southern Gaza, in the early hours of Friday local time.
One resident of Beit Lahiya said in a telephone call: "There are shots being heard, we are all staying inside. A lot of the area has no electricity at the moment."
In pictures: Israel launches further air strikes on Gaza

Show all 105
In messages on Twitter, another Gaza resident, Sarah Ali, described events following the end of the ceasefire at 3pm on Thursday local time.
"3:11 in Gaza & Israeli F16s are in the sky already. Must have been hard for terrorists to stop bombing people for 5 hours," she said.
A few hours later, she wrote: "Now Israel is literally bombing #Gaza from everywhere: air, sea, and land. Terrifying sounds across the Strip. Sound of gunboat shelling is the most horrible. Not so loud but continuous & in barrage. Drones. Apaches & warships. Tanks on the outskirts of east & north Gaza. Families stuck with injuries. This is a war zone."
But Dr Alashi said there were 17 patients who were too unwell to be moved. "All of them will die, I have no way to take them out," he said. Benjamin Netanyahu, Israel's Prime Minister, said the troops had been sent in to destroy tunnels from Gaza to Israel used by Palestinian militants and would remain until their mission was accomplished. "The Prime Minister and the Defence Minister have ordered the IDF [Israel Defence Forces] to begin a ground operation in order to damage the terror tunnels constructed in Gaza leading into Israeli territory," his office said in a statement.

"Such a tunnel was used earlier this morning by Hamas terrorists to enter Israeli territory, with intent to cause massive harm to Israeli civilians. The IDF successfully thwarted this attempt."
The IDF said it was calling up some 18,000 reserve soldiers after the government gave its approval.
Asked if this showed Israel was preparing for prolonged fighting, Mark Regev, the Israeli prime minister's chief spokesman, told Sky News: "We have to be prepared for any eventuality. We don't under-estimate Hamas' power… Hamas is a formidable military machine."
In messages on Twitter, the IDF sought to rally popular support for the invasion.
One tweet showed an Israeli soldier having camouflage paint applied to his face. "From the Field: Our soldiers preparing to enter Gaza. The whole nation stands behind them," the message said.
Another said: "We have hit Hamas hard, and we will continue to hit Hamas hard."
This morning, about 13 Palestinians attempted to infiltrate Israel through a "Hamas terror tunnel", according to an Israeli army spokeswoman. The tunnel extended from the south of the Gaza Strip to Kibbutz Sufa in southern Israel, according to the army. Israeli troops discovered the infiltration attempt and an airstrike killed at least one militant, the spokeswoman added.
The IDF also said it had intercepted a drone flying over the city of Ashkelon, shooting it down with a Patriot missile. Mr Netanyahu's statement said the decision to invade was taken after Hamas rejected a ceasefire plan proposed by Egypt and then fired rockets into Israel.
"In light of Hamas' unending criminal attacks, and its dangerous incursions into Israeli territory, Israel is forced to defend its citizens," it added. "Operation Protective Edge will continue until it achieves its objective – to restore quiet and safety to Israelis for a long time to come, while significantly harming the infrastructure of Hamas and other terrorist groups in the Gaza Strip."
Lt Col Peter Lerner, an Israeli military spokesman, said the soldiers were going to be "striking the infrastructure... striking the operatives in order to safeguard the civilians of the state of Israel".
Tzipi Livni, Israel's Justice Minister, said in a statement she had backed the invasion with "a heavy heart, but wholeheartedly".
She expressed anxiety for her country's soldiers but also "love and confidence in their strength".
Hamas said the ground invasion would have serious repercussions. "It does not scare the Hamas leaders or the Palestinian people," Hamas spokesman Sami Abu Zuhri said. "We warn Netanyahu of the dreadful consequences of such a foolish act."
Palestinian health officials say 233 Palestinians have been killed in Israeli air and naval strikes during 10 days of conflict. One Israeli civilian has been killed by fire from Gaza. The Israeli military says Gaza militants have fired more than 1,300 rockets into Israel.
Israel last carried out a major ground offensive in Gaza in January 2009.
Earlier in the day, both sides had observed a five-hour ceasefire as Egypt made intensive efforts to end the fighting and there were suggestions that a new ceasefire would be held today. UN Secretary-General Ban Ki-Moon had said he was "encouraged" by the contacts for a ceasefire.
Meanwhile, Israel came under sharp criticism over its Gaza bombardments from the Deputy Prime Minister Nick Clegg.
Speaking on LBC radio, Mr Clegg said the Israeli response to rocket fire "appears to be deliberately disproportionate. It is now amounting to a disproportionate form of collective punishment. It is leading to a humanitarian crisis in Gaza which is just unacceptable".
The US today called on Israel to do more to prevent Palestinian civilian casualties after four children were killed on a beach in the Gaza Strip. However, today saw three more children killed, apparently when they were feeding pigeons.
State Department spokeswoman Jen Psaki reasserted Washington's condemnation of Hamas's "indiscriminate rocket attacks" targeting Israeli civilians and affirmed US support for Israel's right to defend itself.
But she added: "We continue to urge all parties to do all they can to protect civilians. We have been heart-broken by the high civilian death toll in Gaza."
Register for free to continue reading
Registration is a free and easy way to support our truly independent journalism
By registering, you will also enjoy limited access to Premium articles, exclusive newsletters, commenting, and virtual events with our leading journalists
Already have an account? sign in
Register for free to continue reading
Registration is a free and easy way to support our truly independent journalism
By registering, you will also enjoy limited access to Premium articles, exclusive newsletters, commenting, and virtual events with our leading journalists
Already have an account? sign in
Join our new commenting forum
Join thought-provoking conversations, follow other Independent readers and see their replies