Israel-Gaza conflict: Israeli PM says conflict may 'continue for a long time' as hundreds of Palestinians flee their homes
Troops were deployed into northern Gaza for the first time this morning in an attempt to destroy a rocket-launching site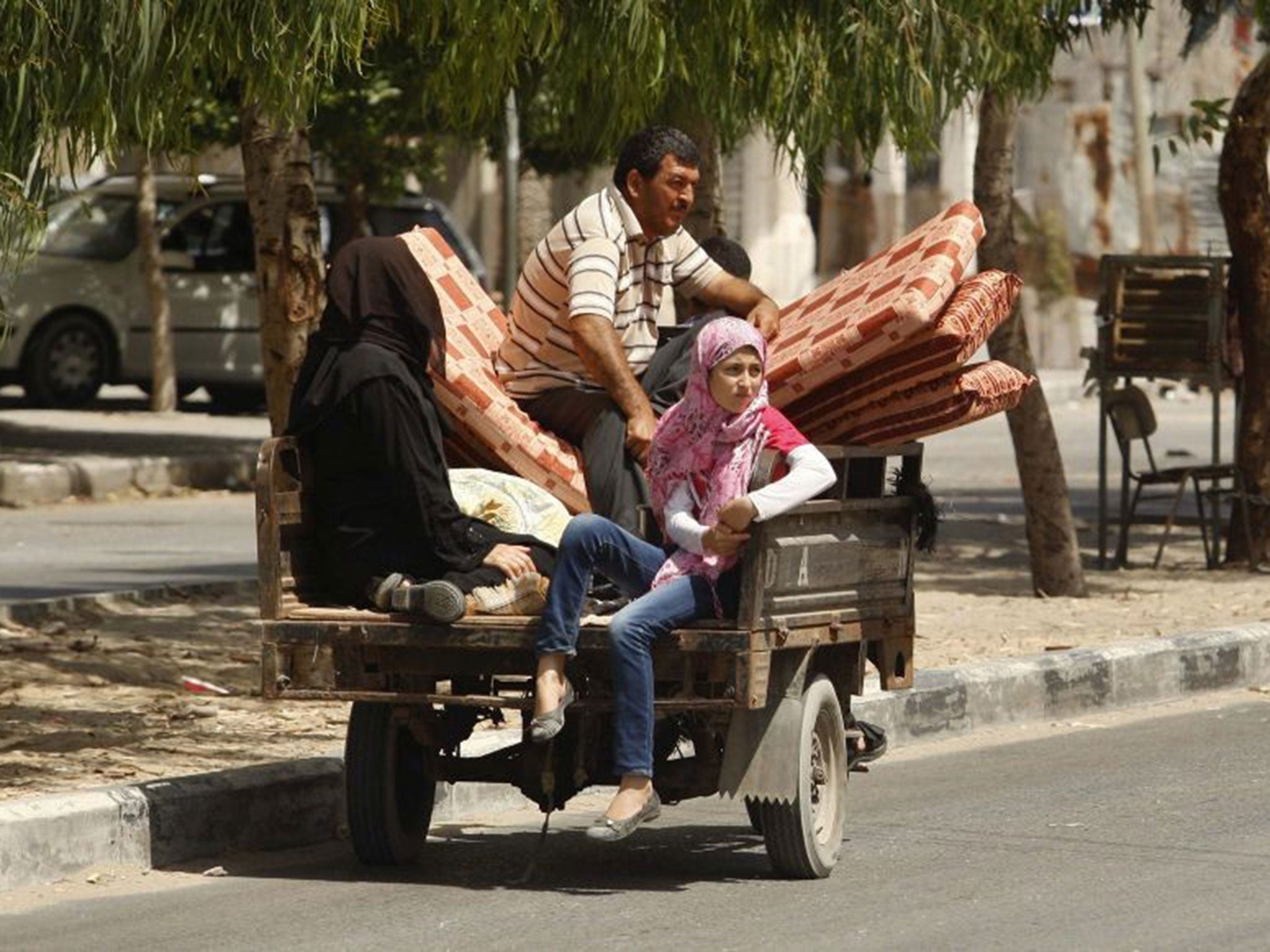 As the death toll creeps ever higher and hundreds of Palestinians flee Gaza, Israel's Prime Minister has said that its mission to take down Hamas "might take a long time".
Prime Minister Benjamin Netanyahu told a cabinet meeting today: "We don't know when the operation will end."
Earlier today naval commandos launched a ground offensive for the first time in a bid to destroy a rocket-launching site in northern Gaza.
It was a brief raid to remove long-range arsenal from a site - the mission had an exchange of gunfire.
Leaflets were then dropped into the homes of civilians in the northwest of Gaza, asking them to evacuate, ahead of what a military spokesman described as a "short and temporary" assault on the region.
It is unclear whether this attack would comprise of a further ground offensive or continued airstrikes.
The flyers said that the military intends to target "terrorists and terrorist infrastructures in the area east of Al-Atatra and Al-Salatin St, and in the area west of and north of Ma'bscar Jabalyia."
"Those who fail to comply with the instructions will endanger their lives and the lives of their families. Beware." the leaflet said, while asking the residents to move to the south of the country.
Palestinian residents of the city of Beit Lahiya, in which Al-Atatra is a neighbourhood, have begun leaving the Strip via the Erez crossing into Israel.
According to officials, 800 Palestinians with foreign passports ranging from British, to American and Australia, have already fled today.
"They are sending warning messages," resident Mohammad Abu Halemah told the Associated Press. "Once we received the message, we felt scared to stay in our homes. We want to leave."
Another, Ahmed Mohana, who is a US citizen, said: "It is very hard, it is very tough. We are leaving our family, our relatives and brothers and sisters in this horrible situation —we have to do what we have to do."
The Israeli army tweeted this morning: "We warned civilians in N. Gaza to move away from Hamas targets. Hamas told civilians to ignore our warnings & remain in the line of fire."
It comes after the United Nations Security Council called for a ceasefire to the bloody conflict which has left 160 Palestinians dead.
In pictures: Israel launches further air strikes on Gaza
Show all 105
A statement from the UN said: "The Security Council members called for de-escalation of the situation, restoration of calm and reinstitution of the November 2012 ceasefire."
Neither side looks set to lay down arms anytime soon.
An Israeli cabinet minister said the army is "ready and poised" for a ground offensive, following a week-long aerial bombardment on what it says is Hamas terror operations.
Palestinian militants have launched more than 800 rockets out of Gaza, the military said, while Israel has staged more than 1,300 airstrikes.
Eight schools in Gaza have been opened as temporary shelters, with 4,000 people having moved in.
Israel accuses Hamas of using civilians as human shields and storing weaponry in hospitals and schools.
Despite international pressure calling on Israel to halt the attacks, it has widened its target area to include civilian institutions that are suspected of concealing Hamas weaponry.
A strike on a centre of the disabled killed two patients and wounded four others, while a second attack flattened the home of Gaza police chief Taysir al-Batsh and damaged a nearby mosque, killing 18.
Medics in Gaza have said they are struggling to cope with the demand on services and to reach those most in need.
Audrey Landmann, the medical co-ordinator for Médecins sans Frontières, said: "The health system in Gaza is very fragile.
"It was already fragile before the beginning of the war. With the increase in patients in the hospitals, the situation can very quickly become catastrophic."
German Foreign Minister Frank-Walter Steinmeier is travelling to Israel on Monday for two-day talks with both sides of the conflict in an attempt to put a halt to the "unbearable" and "heartbreaking" violence.
He was quoted by the Bild am Sonntag newspaper as saying: "Hamas' rocket terror against Israeli cities and villages has to finally stop. The region now needs a coalition of sanity to find ways out of the escalation."
Join our commenting forum
Join thought-provoking conversations, follow other Independent readers and see their replies