Israel-Gaza conflict: Israelis hit Hamas by destroying tunnels
Ben Lynfield
Saturday 19 July 2014 23:15 Comments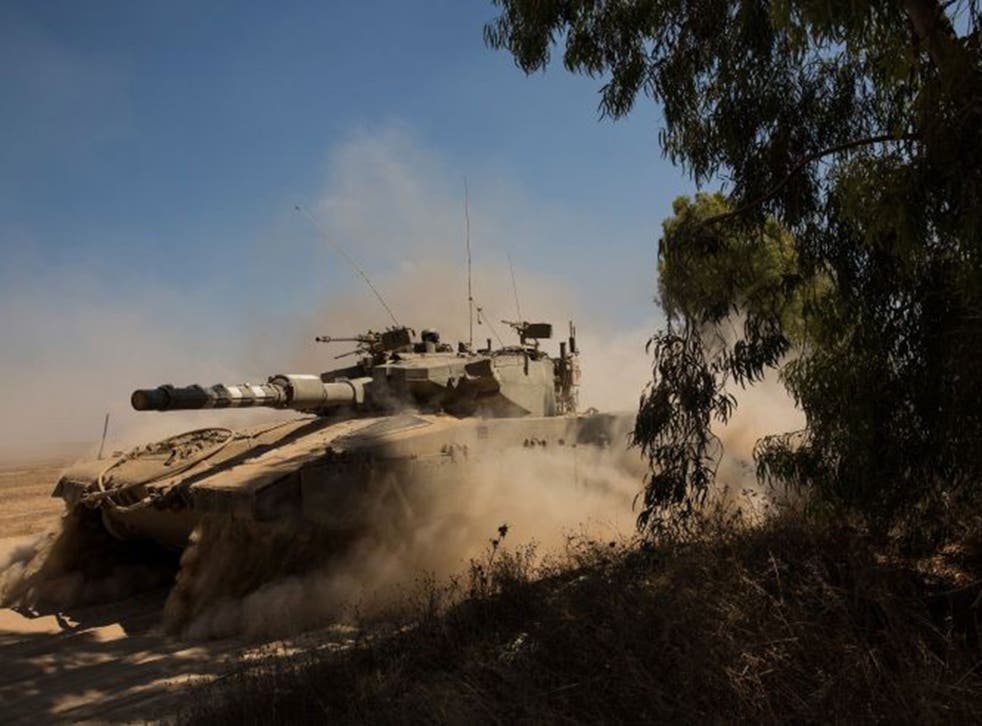 Israel expressed satisfaction with the progress of its ground operation in Gaza yesterday, saying it was dealing a blow to Hamas's ability to attack the Jewish state through tunnels and with rocket fire.
It appeared less clear, however, whether Israel is on the way to achieving the main purpose of its ground offensive into border areas launched on Thursday with the stated aim of destroying tunnels: inducing a de facto surrender by the militant group.
If Hamas continues to refuse to drop its ceasefire demands – including a lifting of Israeli and Egyptian border curbs that cripple economic life – Israel may then escalate its offensive into a push into the urban areas of the crowded coastal enclave, meaning even deadlier warfare and jeopardising continued Hamas rule.
Israel has until now appeared reluctant to topple Hamas from power, fearing that what comes after it will be worse.
Yesterday, Hamas kept up its rocket barrages into Israel, killing a 32-year-old Bedouin Arab man in southern Israel and wounding four members of his family, including a nine-month-old baby. The militant group has launched about 1,500 rockets at Israel during the 12-day-old conflict, forcing Israelis to take cover in shelters and stairwells. The army noted a slight decline in the number of rockets fired on Friday and Saturday but says it is too early to say whether this represents a trend.
Army spokesman Lieutenant-Colonel Peter Lerner denied reports that the military has set up a 2.5km-wide buffer zone on the Gaza side of the border fence. "We're on the offensive within the perimeter of the fence, but I'm not aware of any zone being established," he said.
"Thirteen tunnels from Gaza to Israel had been exposed during the ground operation."
In pictures: Israel launches further air strikes on Gaza

Show all 105
Palestinian fighters attempted to penetrate Israel by tunnel yesterday, but the army foiled the effort, killing one fighter and repelling the rest, according to media reports.
Zahava Gal-On, leader of the Meretz opposition party, told The Independent on Sunday she was "very worried" about what may come next. "The government thinks that with military pressure it will arrive more quickly at a ceasefire," she said. "My big concern is that with military pressure you know where it starts but you don't know where it ends. It can exact a high price in Israeli and Palestinian lives.
"I'm not sure Netanyahu's strategy is something that will work. Broadly, the concept needs to be to stop the siege on Gaza and to give economic incentives to reduce motivation for terror."
Ghassan Khatib, vice president of Birzeit University in the West Bank and a former politician, said: "I'm not sure this is a wise strategy with a high chance of success. Hamas cannot afford to end things only for a ceasefire."
Register for free to continue reading
Registration is a free and easy way to support our truly independent journalism
By registering, you will also enjoy limited access to Premium articles, exclusive newsletters, commenting, and virtual events with our leading journalists
Already have an account? sign in
Join our new commenting forum
Join thought-provoking conversations, follow other Independent readers and see their replies