Israel-Gaza conflict: Four boys killed while playing football on beach after Israeli warships open fire
Game ends in death for the sons of fishermen, cut down on a sunny and clear afternoon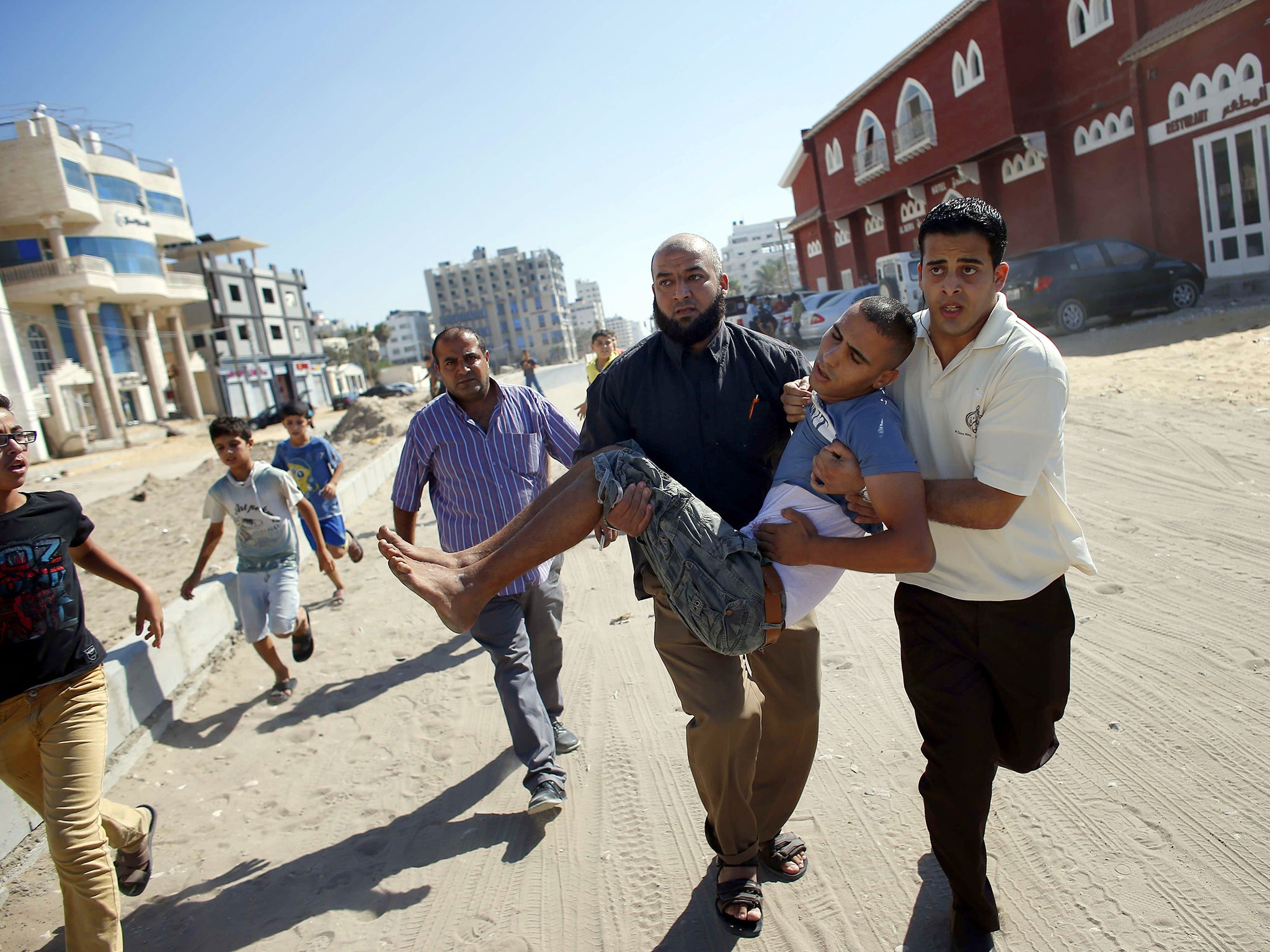 Four young boys – members of the same family – playing football and hide and seek on the beach were killed today by what is believed to have been gunfire from Israeli warships carrying out a blockade of Gaza.
The attack on the fishing port in Gaza City came at just after four o'clock on a sunny and clear afternoon with good visibility. The group of cousins, aged between nine and 11, were around what looked like a derelict shed when they were hit by a shell from the direction of the sea.
Three of them managed to run to the terrace of a hotel, where their injures were treated by staff and journalists who have been staying there.
Of the four others, who had more severe wounds, one died at the scene, the other three after arriving at the hospital.
"The kids were playing football on the beach. They were all... under the age of 15," said witness Ahmed Abu Hassera, 22.
All the victims were sons of fishermen. Ismael Mohammed Bakr, nine, Zakaria Ahed Bakr and Ahed Atif Bakr, both 10, and Mohammed Ramiz Bakr, were the dead. There was grief and rage with an uncle, Abdel Kareem Bakr, accusing the Israeli forces of "cold blooded massacre".
"It's a shame they didn't identify them as just kids with all the advanced technology they had been using," he said. "I don't know what justification they will use for what they did, but our boys are now gone."
Nine days of violence has cost 213 lives and led to more than 1,200 injuries in Gaza. The overwhelming number of civilian dead, including children, have come from air strikes. The Israeli military have, however, repeatedly targeted the port, destroying a number of buildings as well as vessels.
In pictures: Israel launches further air strikes on Gaza
Show all 105
The fishermen who are based there strenuously deny that any arms, including rocket launchers have been based there.
Mohammed Fares, a 33-year-old waiter at al-Deira Hotel, watched what happened from the terrace.
"We often see boys playing on the beach, this is quite common. Suddenly there was an explosion and I could see a group of them fall. Some people working in cafes on the beach came out to help," he said. "As they trying to look after the kids there was another explosion, it must have been aimed at them.
"Three of the kids started running towards us and we dragged them up on to the terrace where the journalists and others gave them medical help. Of course the ones left on the beach were much more badly hurt and they died. It is very, very sad."
The beach attack took place on a violent day as Benjamin Netanyahu's government ratcheted up the offensive. It had threatened in retaliation for the refusal of Hamas to agree to a ceasefire agreement proposed by Egypt.
Around 30 houses were targeted including those of senior Hamas leaders Mahmoud Zahar, Jamila Shanti, Fathi Hamas and Ismail Ashkar. Mr Zahar was a key figure in Hamas' violent takeover of Gaza from Fatah in 2007: the other three were members of the Palestinian parliament elected in 2006.
The Israeli military also ordered more than 100,000 residents of the northern town of Beit Lahiya and the Zeitoun and Shijaiyah neighborhoods of Gaza City, all near the border with Israel, to evacuate their homes by 8am, the calls to evacuate came in the form of automated phonecalls, text messages and leaflets dropped from planes.
However, later, Israel's military said it would hold a five-hour ceasefire for "humanitarian" reasons on Thursday. It also said it was investigating the deaths of the four children, saying the "target of this strike was Hamas terrorist operatives" and the "reported civilian causalities from this strike are a tragic outcome".
Although many fled their homes, adding to the thousands who had become internal refugees, many others refused to move. At Zeitun, Ahmed Abdullah Rahimi declared that his extended family of 18 would await "bombs, or soldiers, or whatever they have got planned for us". He said: "This is our land, if they burn down our home, we will build again. Some people had left this area in the past, but they came back when the Israelis did not invade. Maybe they will invade this time, hey may kill people around here, but we are not afraid."
Late in the afternoon, as the sun was setting, 32-year-old Dia Bakr was on the beach where four of his younger cousins had died. "We are a large family and we spend a lot of time together. I taught some of them football on this beach, we used to even have picnics here when there was peace. No one thought they would be in any danger here, in daytime, at a place where they had played all their lives. There are so many hotels here. People staying here can see what's going on. We thought they would be safe because they were just children of fishermen. We thought they were safe because they were children. Surely whoever did the firing could see that?"
Join our commenting forum
Join thought-provoking conversations, follow other Independent readers and see their replies