Israel-Gaza conflict: Right-wing Israeli politician calls for Gazans to be 'concentrated in camps' – and then all resistance 'exterminated'
Moshe Feglin wants Gaza 'shelled with maximum firepower' and rebuilt as an Israeli city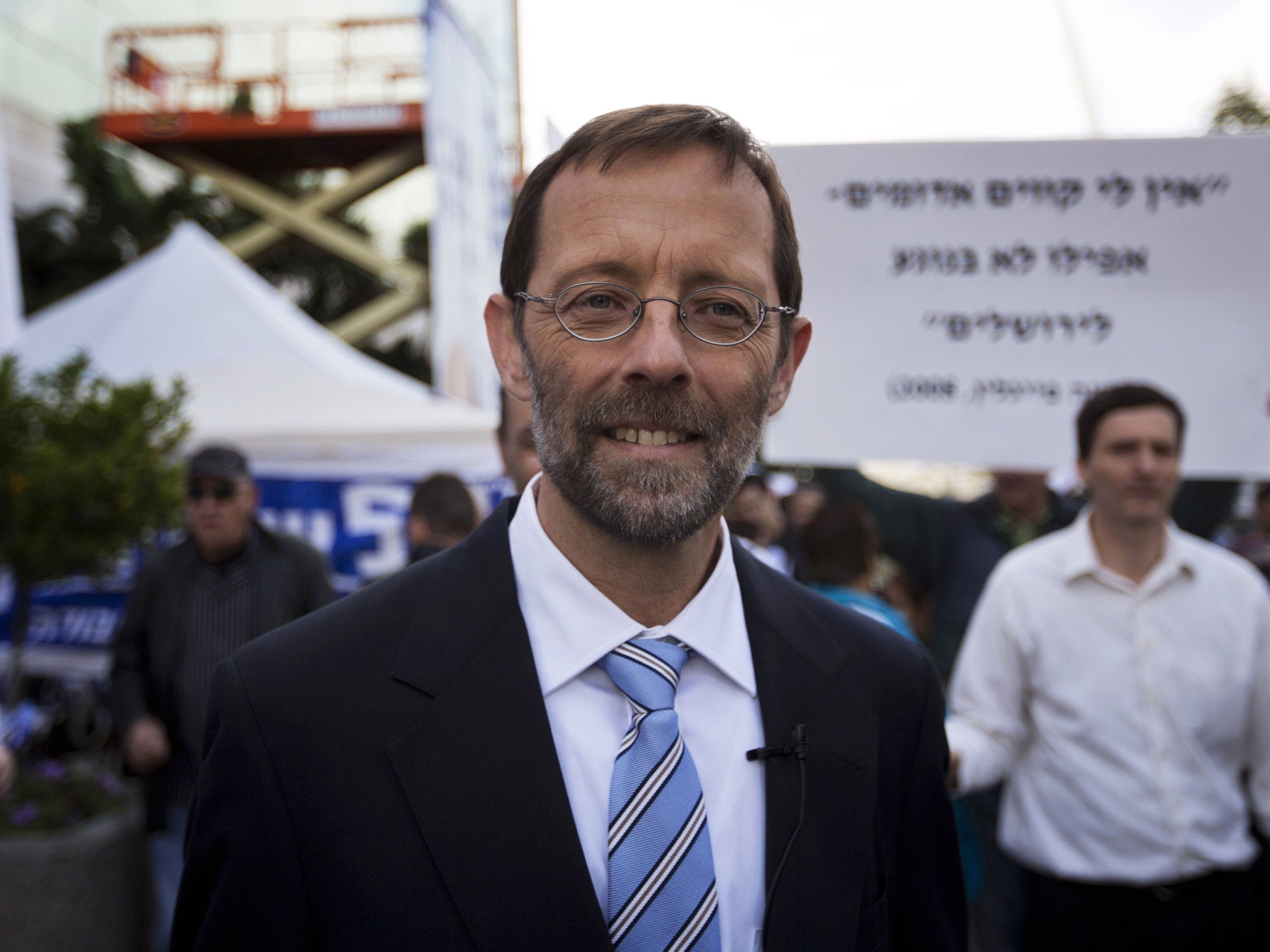 A senior Israeli politician has called for the "conquest of the entire Gaza Strip" and the deportation of Palestinians to make way for Jewish settlers.
Moshe Feiglin, the Deputy Speaker of the Knesset and a member of the governing Likud party, outlined his plans in an open letter to Benjamin Netanyahu published on Facebook.
Writing last week after the reported abduction of an Israeli soldier Hadar Goldin, he called on the Prime Minister to vastly increase the aggression of Operation Protective Edge, which has already killed more than 1,800 Palestinians and destroyed thousands of homes.
Demanding the end to the two-state solution, Mr Feiglin called for the "annihilation" of Hamas and its supporters and the creation of camps where civilians from Gaza will be "concentrated" until they can be deported to other countries.
He wrote: "What is required now is that we internalise the fact that the Oslo [accord] is finished, that this is our country – our country exclusively, including Gaza.
"There are no two states, and there are no two peoples. There is only one state for one people."
His vision for the Gaza Strip is to rebuild it into a "true Israeli tourist site" like Jaffa, described by Mr Feiglin as a "flourishing Israeli city with a minimum number of hostile civilians".
The city was intended by the UN to be in Palestine after partition in the 1940s because of its high Arab population.
But in April 1948, Jaffa was ethnically cleansed by a Zionist militia, Irgun, and rapidly occupied by Jewish immigrants despite opposition from the UN.
Mr Feiglin, known as a hardliner within his own party, said realising the failure of the peace process would allow a "strategic review…of appropriate necessary war ethics".
He defined "extremist Arab Islam in all its varieties, from Iran to Gaza" as the enemy but said Hamas must first be destroyed.
The politician wrote: "The IDF [Israeli army] shall designate certain open areas on the Sinai border, adjacent to the sea, in which the civilian population will be concentrated, far from the built-up areas that are used for launches and tunnelling.
"In these areas, tent encampments will be established, until relevant emigration destinations are determined."
Mr Feiglin said refugees should be given "generous economic support packages" to emigrate abroad.
Those who "insist" on staying and prove they have no Hamas affiliation would be "required to publicly sign a declaration of loyalty to Israel, and receive a blue ID card similar to that of the Arabs of East Jerusalem".
Non-Jewish residents of East Jerusalem are not allowed to vote in Israeli elections or hold an Israeli passport.
People holding blue IDs face numerous restrictions but are able to travel into the West Bank and Israel, which is prohibited for Palestinians living in the West Bank and Gaza.
To discourage civilians from staying in Gaza, Mr Feiglin called for the electricity and water supply to be cut.
He wrote: "The formerly populated areas will be shelled with maximum fire power.
"The entire civilian and military infrastructure of Hamas, its means of communication and of logistics, will be destroyed entirely, down to their foundations.
"The IDF will divide the Gaza Strip laterally and crosswise, significantly expand the corridors, occupy commanding positions, and exterminate nests of resistance, in the event that any should remain."
Urging Mr Netanyahu to adopt his "strategy", the politician claimed it would enjoy the support of the "entire Israeli people".
In pictures: Israel-Gaza conflict
Show all 124
The post has received more than 8,000 likes on Facebook but hundreds of people took to the comments below condemning Mr Feiglin's letter.
Many came from people abroad denouncing Israel's wider actions in Gaza but several Israelis wrote of their disgust.
One Israeli wrote in Hebrew: "You're talking nonsense and preaching genocide.
"I am ashamed that you are a member of my parliament, shamed and horrified by your stupidity and your murderous fervour."
Mr Feiglin was banned from entering the United Kingdom by the then Home Secretary, Jacqui Smith, in 2008 and a Home Office spokesman confirmed the exclusion still stands.
He added: "The Government makes no apologies for refusing people access to the UK if we believe they represent a threat to our society. Coming here is a privilege that we refuse to extend to those who seek to subvert our shared values."
The Israeli embassy did not respond to a request for Mr Netanyahu's response to the politician's letter.
Join our commenting forum
Join thought-provoking conversations, follow other Independent readers and see their replies