Israel-Gaza conflict: UN spokesman Chris Gunness breaks down on camera after shelling on Jabaliya school
'The injustice of it all is enough to make any heart burst'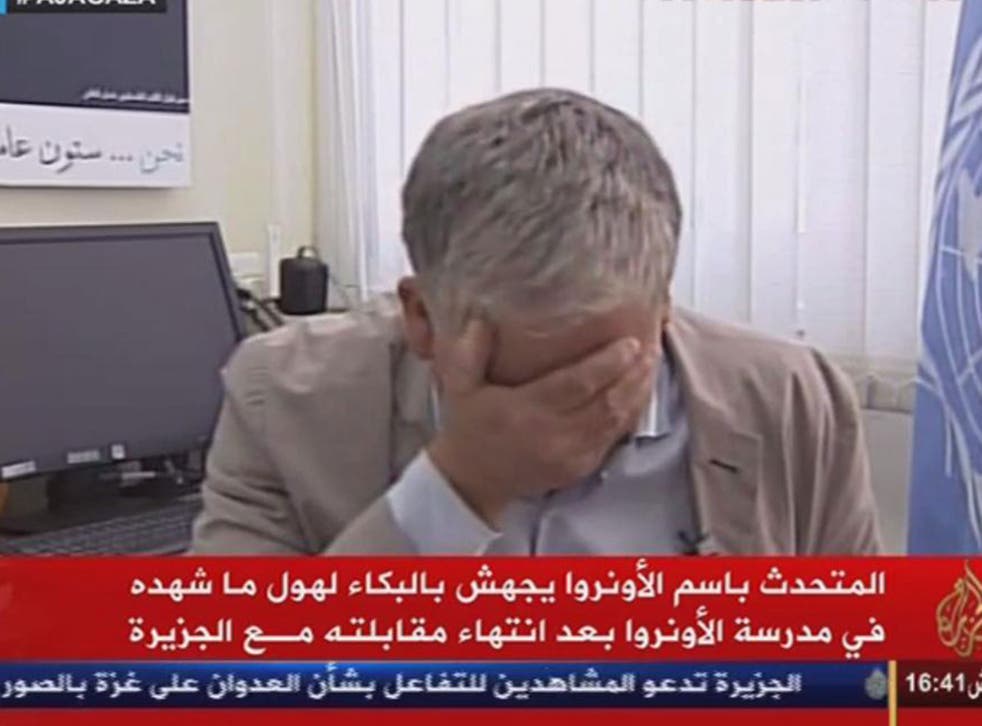 The full horror of the situation in a UN school where at least 19 people lost their lives and another 125 were wounded in dawn strikes proved too much for UN Relief and Works Agency (UNRWA) spokesmen Chris Gunness, who broke down on camera after describing the human impact of the conflict between Israel and Gaza.
Mr Gunness, a former BBC reporter, quickly lost his composure following an interview with Al Jazeera where he described the human loss and suffering being endured in schools which are currently serving as UN shelters across the crisis-hit region.
The UNRWA has been working in Gaza to provide refugee for displaced Palestinians. The organisation says it is at "breaking point" with over 200,000 civilians seeking refuge in 86 of their shelters following calls by Israel for civilians to evacuate whole neighbourhoods before military operations.
As the Al Jazeera interview drew to a close, Mr Gunness told the network: "The rights of Palestinians, even their children, are wholesale denied and it's appalling" at which point he paused, visibly trying to hold himself together.
He just about managed to finish the interview by responding to thanks with a barely audible "my pleasure" before breaking down into loud, racking sobs. His colleague quickly rushed in to comfort Mr Gunness, who continued to weep in the background.
Speaking after the footage was broadcast by Al Jazeera Arabic, Mr Gunness told The Independent: "There are sometimes moments when tears speak more eloquently than words. But my tears pale into insignificance compared with those of the people of Gaza.
"What is happening in Gaza, particularly to the children, is an affront to the humanity of all of us. If this had happened in the UK the Security Council would be meeting in emergency session. The injustice of it all is enough to make any heart burst."
The attack on the Jabaliya Elementary Girls School , which the UN accused Israel of carrying out after being warned 17 times that civilians were seeking shelter there, was condemned by an incensed UN Secretary-General Ban Ki-moon as "outrageous" and "unjustifiable".
"It demands accountability and justice," Ban said.
Thousands of Palestinians had sought refuge at the school following the heaviest night of strikes during three weeks of fighting that killed over 100 people within just 24 hours after the Israeli Prime Minister warned of a "prolonged" military campaign.
A spokesperson for Mercy Corps, who are delivering emergency assistance on the ground, said the situation inside Gaza is becoming increasingly desperate for civilians after the main power supply was destroyed by a strike.
Stu Willcuts, director of Mercy Corps' Gaza humanitarian response said: "The water and sanitation issue is now paramount as the power supply has been destroyed. Most of Gaza is without electricity. Some people have small generators, but fuel is running out."
The Israeli government spokesman Mark Regev told the BBC Israel would apologise if it was determined that their fire was responsible for the Jabaliya school strike.
"We have a policy - we don't target civilians," he said. "It's not clear to us that it was our fire but we know for a fact there was hostile fire on our people from the vicinity of the school."
The Israeli military did not immediately comment on another incident, in nearby Shejaia, in which Palestinian officials said 17 people were killed by Israeli shelling near a produce market. That attack occurred during a Israeli-led four hour humanitarian ceasefire, although this was only taking place in some areas of Gaza.
Register for free to continue reading
Registration is a free and easy way to support our truly independent journalism
By registering, you will also enjoy limited access to Premium articles, exclusive newsletters, commenting, and virtual events with our leading journalists
Already have an account? sign in
Register for free to continue reading
Registration is a free and easy way to support our truly independent journalism
By registering, you will also enjoy limited access to Premium articles, exclusive newsletters, commenting, and virtual events with our leading journalists
Already have an account? sign in
Join our new commenting forum
Join thought-provoking conversations, follow other Independent readers and see their replies