Israel-Gaza conflict: 'When Genocide is Permissible' article removed from The Times of Israel website
The post by Yochanan Gordon argued that Hamas must be "completely obliterated"
Kashmira Gander
Friday 01 August 2014 19:22 Comments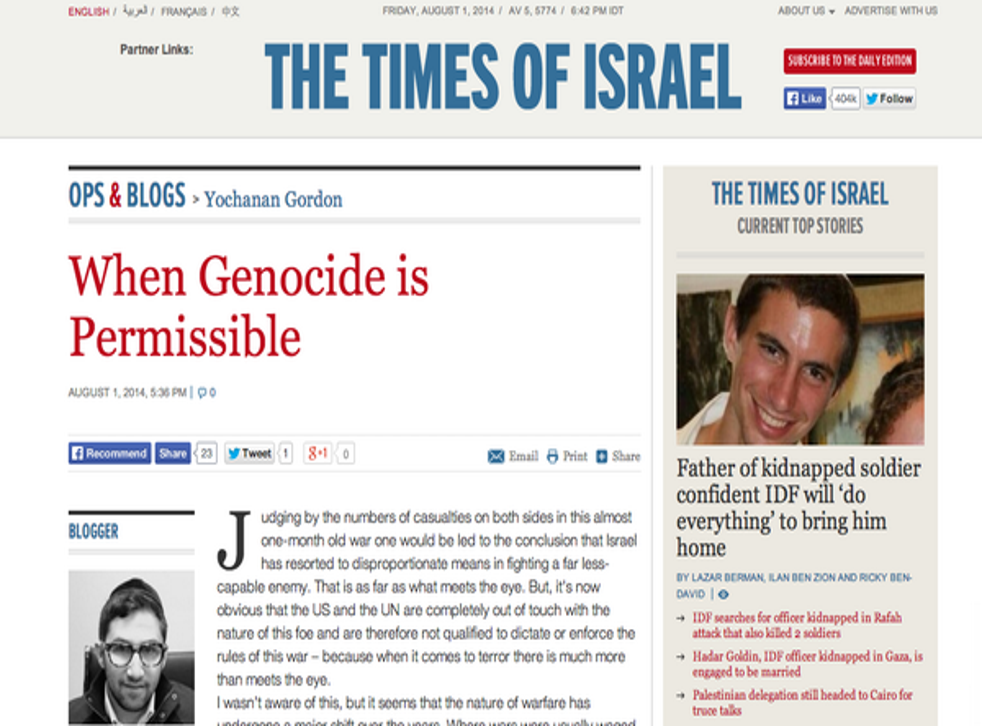 An Israeli newspaper appeared to attempt to avert a backlash on Friday evening, when it removed a post entitled 'When Genocide is Permissible' from its website less than a minute after it was uploaded.
The post, made live on The Times of Israel website at 5:36pm, was written by Yochanan Gordon regarding Israel's current offensive in Gaza.
More than 1,400 Palestinians have died in the almost month-long war, and nearly 7,000 wounded. Israel says that alongside the deaths of 63 of its soldiers, two civilians and a Thai national have died and more than 400 have been injured.
"We are at war with an enemy whose charter calls for the annihilation of our people. Nothing, then, can be considered disproportionate when we are fighting for our very right to live," the piece argues.
"[the US and the UN are] completely out of touch with the nature of the foe [Hamas]" and "therefore not qualified to dictate or enforce the rules of this war," he continues, writing hours after a ceasefire between the two sides announced by the UN and US on Thursday disitegrated.
In pictures: Israel-Gaza conflict

Show all 124
"Hamas has stated forthrightly that it idealizes death as much as Israel celebrates life. What other way then is there to deal with an enemy of this nature other than obliterate them completely?"
"Anyone who lives with rocket launchers installed or terror tunnels burrowed in or around the vicinity of their home cannot be considered an innocent civilian," he writes.
"If political leaders and military experts determine that the only way to achieve its goal of sustaining quiet is through genocide is it then permissible to achieve those responsible goals?" he concludes.
A spokeswoman from The Times of Israel has since condemned the blog as "damnable and ignorant".
She told The Independent: "The blog post, which was both damnable and ignorant, was uploaded by a blogger. It was removed by the Times of Israel for breaching our editorial guidelines. The blog has been discontinued."
In his biography, Yochan claims to be the son of the founder of American newspaper the 5 Towns Jewish Times, which circulates in New York.
The article remained live on the 5 Towns Jewish Times website on Friday evening. On its 'About Us' page, the newspaper explains that its editorial policy is to "maintain a middle-of-the-road point-of-view to shed light on all reasonable perspectives in a fair and balanced way."
"The 5 Towns Jewish Times is committed to address all matters of note from a position of intelligence, integrity, and accuracy; and to report difficult social, political, and religious issues from all viewpoints without bias, whitewashing, or journalistic oversimplification," it adds.
On Friday evening, "When Genocide is Permissable" was trending on Twitter, with users tweeting their outrage at the offensive post.
"I wonder which journalistic (or human) ethics guided the decision to publish an article entitled "When Genocide is Permissible". Appalling," tweeted BBC Journalist Hugo Bachega.
Register for free to continue reading
Registration is a free and easy way to support our truly independent journalism
By registering, you will also enjoy limited access to Premium articles, exclusive newsletters, commenting, and virtual events with our leading journalists
Already have an account? sign in
Join our new commenting forum
Join thought-provoking conversations, follow other Independent readers and see their replies