Israel-Gaza conflict: William Hague calls for ceasefire but says Israel 'has the right to defend itself'
The Foreign Secretary has spoken to Palestinian and Israeli leaders
Lizzie Dearden
Saturday 12 July 2014 16:58 Comments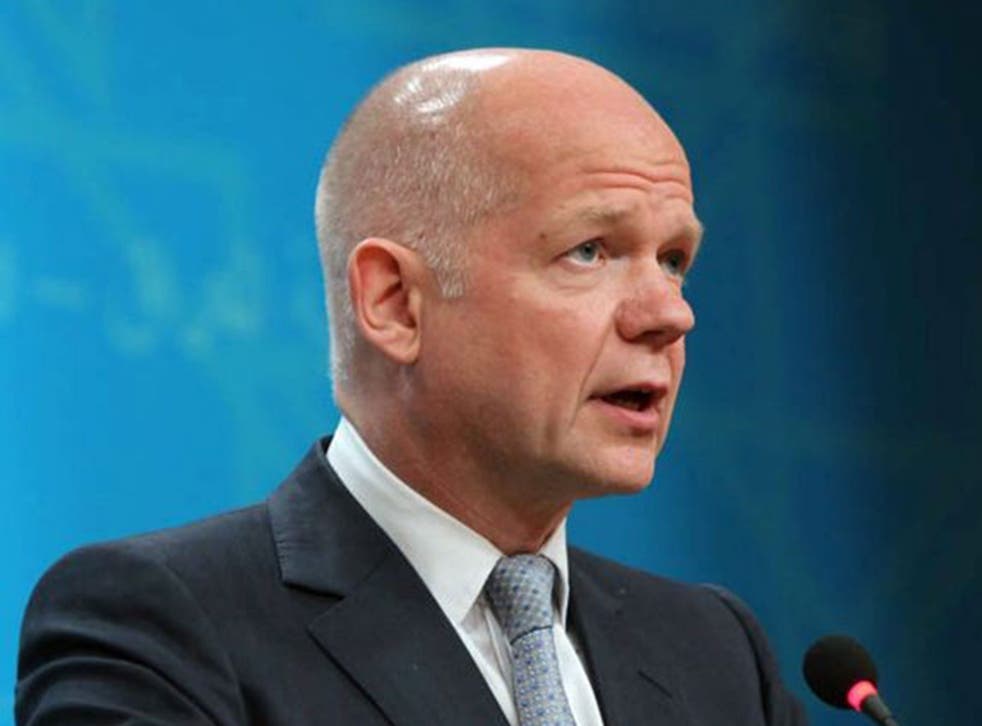 William Hague has said Israel has the "right to defend itself" against rocket attacks from Gaza after urging Palestinian and Israeli leaders to negotiate a ceasefire.
The Foreign Secretary spoke to Mahmoud Abbas, the Palestinian President, and Israeli Foreign Minister Avigdor Lieberman in separate phone calls on Saturday.
Mr Hague said he spoke of the British Government's "deep concern about the number of civilian casualties and the need for all sides to avoid further civilian injuries and the loss of innocent life" but stopped short of condemning Israel's response.
He said: "I told Minister Lieberman that continuing rocket attacks from Gaza are completely unacceptable.
"Israel has a right to defend itself against such attacks, but the whole world wanted to see de-escalation."
Mr Hague welcomed President Abbas's call for a ceasefire agreed by both sides and urged him to help secure it.
"I offered my condolences for the loss of civilian lives in Gaza," he added.
The death toll in the narrow enclave topped 125 on Saturday after five days of bombardments as part of Israel's Operation Protective Edge.
Young children and scores of civilians were among the dead and more than 920 Palestinians have been wounded.
Mosques and a disabled charity centre were among the buildings targeted by airstrikes overnight on Friday.
The Israeli military has insisted it aims to avoid civilian casualties and claims Hamas knowingly endangers Palestinians by attempting to use them as human shields and stockpiling weapons underneath mosques, schools and in residential areas.
Mr Hague and other international leaders, including US Secretary of State John Kerry, are meeting on Sunday in Vienna to discuss a ceasefire.
Britain supports a role in the peace deal for the Egyptian Government, as was the case in 2012, but the current military administration is more hostile towards Hamas than its predecessor.
Mr Hague said the current crisis underlines the need for a "fundamental transformation" of the living conditions in Gaza.
In pictures: Israel launches further air strikes on Gaza

Show all 105
He called for the Strip to be restored to Palestinian Authority control, "legitimate" movement and access to be allowed and a permanent end to rocket fire and other attacks on Israel.
The Government continues to support a two-state solution to secure permanent peace.
"However difficult that looks at this time, there is no alternative that can deliver peace and security for both Israelis and Palestinians," Mr Hague said.
"Both sides should take the necessary steps towards a lasting peace and to address the underlying causes of the conflict and instability in Gaza.
"The UK stands ready to do all it can to support this goal."
Gaza is 25 miles long and houses 1.6 million people between the Mediterranean Sea, Egypt and Israel.
Originally controlled by Egypt, it was captured and occupied by Israeli forces during the Six Day War in 1967 and troops and settlers were not withdrawn until 2005.
Register for free to continue reading
Registration is a free and easy way to support our truly independent journalism
By registering, you will also enjoy limited access to Premium articles, exclusive newsletters, commenting, and virtual events with our leading journalists
Already have an account? sign in
Join our new commenting forum
Join thought-provoking conversations, follow other Independent readers and see their replies