Israel-Gaza crisis: Eight killed in Gaza Strip cafe while watching World Cup semi-final
The Gaza conflict intensifies as 85 people are killed
Kashmira Gander
Friday 11 July 2014 09:17 Comments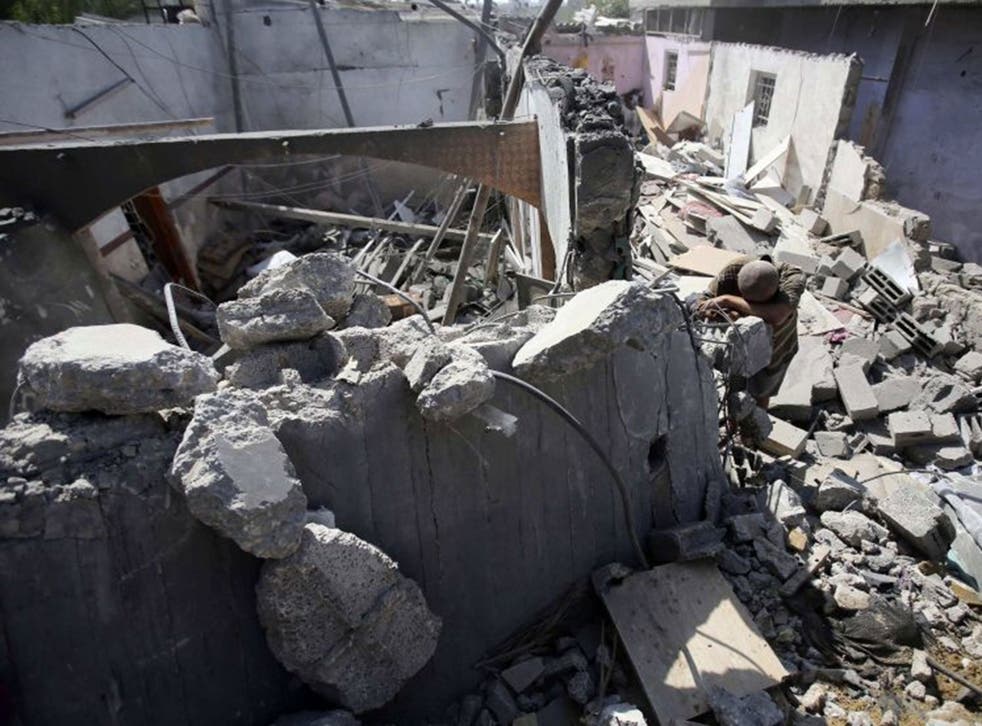 An Israeli air strike killed eight people as they watched Wednesday's World Cup semi-final at a café on a Gaza beach, according to Palestinian officials.
In a separate strike early on Thursday morning, eight members of the Al Haj family were killed in a home in the southern Gaza city of Khan Younis, medical teams in the area reported.
"We only ask of help from God," said Mahmoud Sawali, whose three brothers were watching the game between the Netherlands and Argentina.
"Here I have two brothers who are martyrs, and I'm looking for the third," he added, as he attempted to locate his sibling.
The Israeli military said it was investigating both incidents.
The deaths were reported as Israel dramatically escalated its aerial assault in the Gaza Strip on Thursday – raising the total number of people killed in this week's offensive to at least 85.
In pictures: Israel launches further air strikes on Gaza

Show all 105
On Wednesday, Israeli Prime Minister, Benjamin Netanyahu said his government would not consider a truce until Hamas stops firing hundreds of rockets from Gaza into Israel.
Owing to its "Iron Dome" defense system which intercepts projectiles, there have been no casualties on the Israeli side.
Military spokesman Lt. Col. Peter Lerner said Israel struck more than 320 Hamas targets overnight, focusing on underground tunnel networks and rocket launching sites. Three days into its offensive which launched on Tuesday, the military has struck 750 sites.
The country's military added that it had struck a car in Gaza carrying three members of the Islamic Jihad group allegedly involved in firing rockets. The militant group confirmed that its men were killed in the strike, while Hamas officials said that the Palestinian side of its border crossing with Israel was also destroyed.
As the worst show of violence between the two sides since a truce was agreed in 2012 shows no sign of calming, the threat of a ground invasion by the Israeli military into Gaza is becoming a likely prospect. This will almost certainly endanger Israeli forces and lead to heavier civilian casualties on the Palestinian side.
Lerner said Israel has already mobilized 20,000 reservists for operation, but for the time remains focused on maximizing its air campaign.
"The ground option needs to be the last option and only if it is absolutely necessary. It is a carefully designed plan of action," he said ahead of an Israeli security Cabinet meeting to discuss its next moves.
The latest crisis in the region was sparked three weeks ago after three Jewish students were abducted in the occupied West Bank. They were killed and their bodies were found last week. Then a Palestinian teenager was kidnapped and killed in Jerusalem.
Palestinian President Mahmoud Abbas, who is based in the Israeli-occupied West Bank, denounced the offensive on Wednesday.
"This war is not against Hamas or any faction but is against the Palestinian people," he said.
Addressing the violence, UN secretary-General Ban Ki-moon told an emergency meeting of the UN Security Council on Thursday that it is more urgent than ever to avoid another Israeli-Palestinian war that could spill into the Mideast and called on both sides to agree to a cease-fire.
"Now is not a time for further incitement or vengeance," Ban said. "We must not let spoilers prevail. We must keep the situation from getting any further out of control."
"Any further spiral of violence could have alarming unforeseen consequences," he warned.
"Once again, Palestinian civilians are caught between Hamas' irresponsibility and Israel's tough response," Ban said.
"Gaza, and the region as a whole, cannot afford another full-blown war and another fault line," Ban said, adding: "The potential negative spillover elsewhere in the West Bank is also unpredictable in an already tenuous and combustible situation."
Additional reporting by AP
Register for free to continue reading
Registration is a free and easy way to support our truly independent journalism
By registering, you will also enjoy limited access to Premium articles, exclusive newsletters, commenting, and virtual events with our leading journalists
Already have an account? sign in
Join our new commenting forum
Join thought-provoking conversations, follow other Independent readers and see their replies