Israeli air strikes kill extremist leaders in Gaza Strip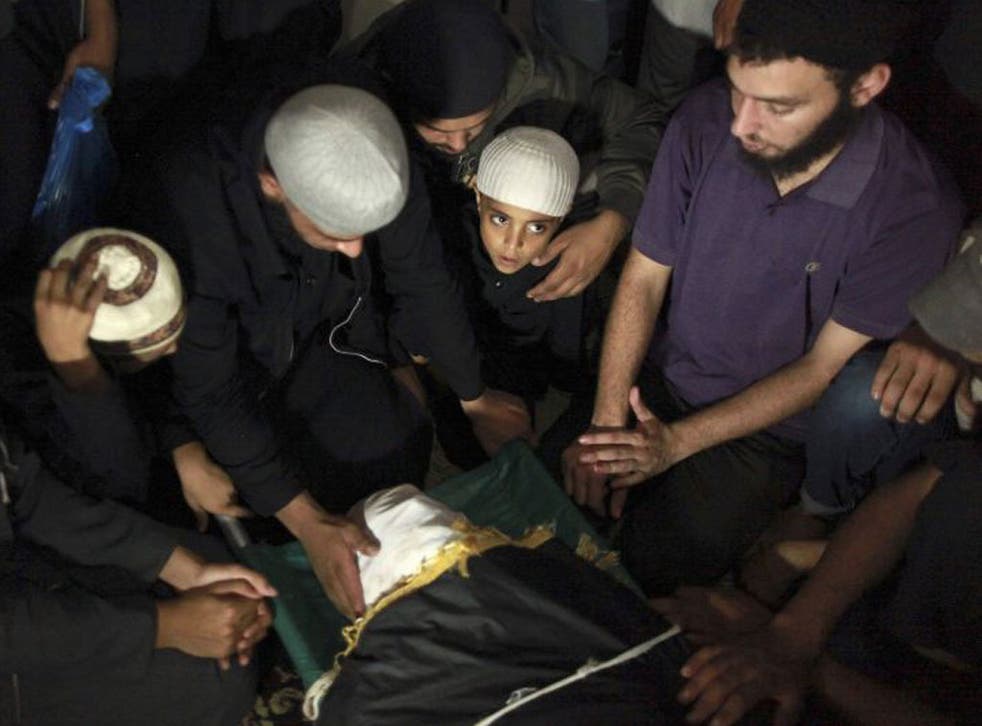 Two Islamist militant leaders were killed by Israeli airstrikes on the Gaza Strip at the weekend as Palestinians continued to fire rockets into southern Israel.
Hisham al-Saedni and Ashraf al-Sabah were killed as they rode a motorcycle in eastern Gaza late on Saturday. They were ultra-conservative Salafi Muslims and led the radical Tawhid wal-Jihad and Ansar Al-Sunna groups, which had united under the Majles Shoura Al-Mujahideen, or Holy Warriors' Guidance Council.
Al-Saedni's release from prison was the main demand of the killers of Vittorio Arrigoni, an Italian political activist who worked with the pro-Palestinian International Solidarity Movement in Gaza. He was kidnapped and murdered by suspected members of Tawhid wal-Jihad in April last year.
Al-Saedni was released from a Hamas jail in August. He had fought with al-Qa'ida militants in Iraq and was also wanted in Egypt, where he was suspected of attacks on foreigners.
Israel claimed al-Saedni was responsible for terrorist activity in Gaza including firing rockets and planting bombs. "Since his release, and in recent days, Al-Saedni had been planning a complex attack to be carried out along the Sinai border, a collaboration between Gaza-based militants and Salafi operatives in Sinai," the army said in a statement.
A third man was killed in an Israeli strike on a rocket-launching cell in Gaza early yesterday. Israel says more than 500 rockets have been fired at its territory from Gaza since January.
"Global Jihad has stepped up its efforts to attack us and we will continue to operate against it, aggressively and in strength, both in response and in preventive counter-terrorism," the Prime Minister, Benjamin Netanyahu, told the Israeli cabinet in Jerusalem. Last night, Salafi supporters in Gaza vowed revenge. "Their blood will be a light to guide the holy warriors through the right path and will be fire that will burn the Jews," a spokesman for the movement told Reuters news agency.
Meanwhile, both Hezbollah and Israel denied reports that a senior official in the Lebanese group had defected to Israel. Arab media reported that Hussein Fahs, 29, a telecommunications engineer arrested by Hezbollah and accused of spying for Israel, had fled with $5m cash, documents and maps. He was described as the head of Hezbollah's operational communications network. Last Tuesday, a Lebanese military judge issued arrest warrants for eight more Lebanese accused of spying for Israel.
A psychological war between Israel and Hezbollah appears to be escalating. Last week, the Hezbollah leader Hassan Nasrallah appeared in public to celebrate infiltrating an unarmed drone into Israeli airspace, while Israel permitted rare television and press coverage of Unit 504, which runs military intelligence operations in Lebanon.
Register for free to continue reading
Registration is a free and easy way to support our truly independent journalism
By registering, you will also enjoy limited access to Premium articles, exclusive newsletters, commenting, and virtual events with our leading journalists
Already have an account? sign in
Register for free to continue reading
Registration is a free and easy way to support our truly independent journalism
By registering, you will also enjoy limited access to Premium articles, exclusive newsletters, commenting, and virtual events with our leading journalists
Already have an account? sign in
Join our new commenting forum
Join thought-provoking conversations, follow other Independent readers and see their replies