Israeli settler attacks on Palestinians quadruple, says UN
Trees have been cut down, mosques defaced and farmers beaten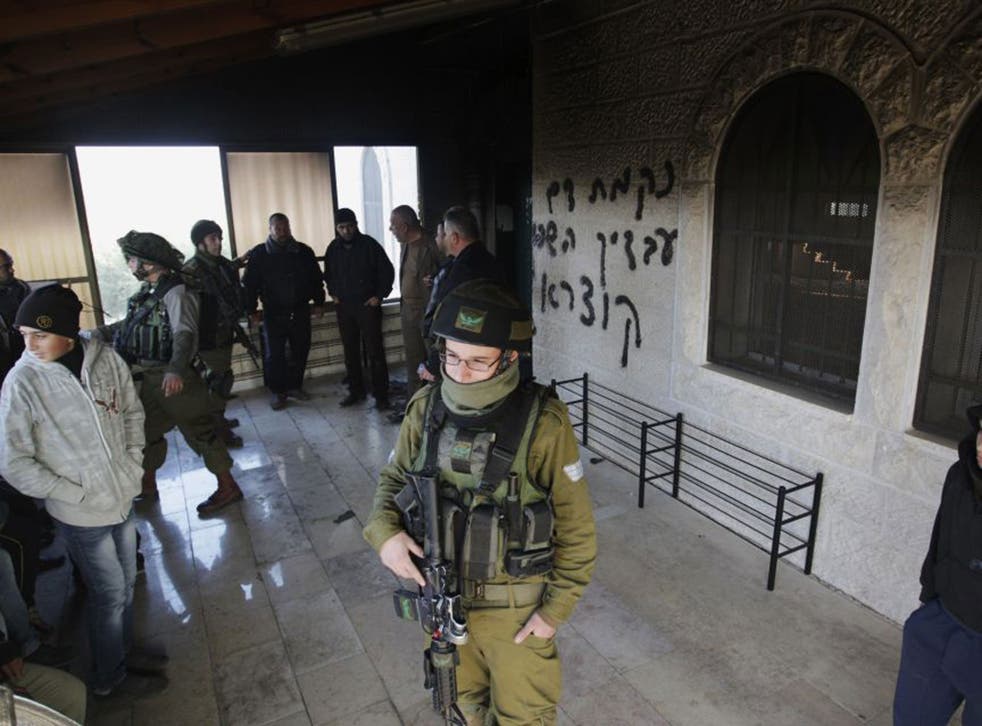 The annual rate of Israeli settler attacks against Palestinians has almost quadrupled in eight years, UN figures show, buttressing claims that Israeli security forces have largely failed to stem the so-called "price tag" campaign in which thugs cut down trees, deface mosques and beat Palestinian farmers.
Israeli leaders have repeatedly denounced such attacks - the defence minister last week branded them "outright terrorism" - and the military says soldiers are under strict orders to stop them.
Nonetheless, critics say Israeli governments stacked with pro-settler politicians have often been reluctant to confront settlers, even those seen as a hardline fringe.
"There is not enough pressure from the prime minister, the defence minister, the interior minister to prevent this," said Gadi Zohar, a former senior army commander in the occupied West Bank.
A dramatic incident near this Palestinian farming village last week highlighted the potential of such attacks to escalate and jeopardize fragile US-led peace efforts. "Price tag" refers to settler attacks on Palestinians in response to army actions against any of dozens of West Bank settlement outposts.
Last week's events began when troops uprooted olive trees planted on private Palestinian land by settlers from the Esh Kodesh outpost.
Later that day, about 20 Israelis moved toward nearby villages, including Qusra. Palestinians said the settlers damaged olive trees, and were caught by villagers after a stone-throwing clash and held by them for more than two hours before being handed to the army.
Footage of the settlers surrounded by an angry crowd led the TV news in Israel that day, with commentators saying serious bloodshed was averted by Palestinians who shielded the settlers.
Seven Israelis were questioned and placed under house arrest, police said. Israeli defence minister Moshe Yaalon warned he would show zero tolerance, but Palestinians are sceptical.
So far there have been at least two cases of vandalism in apparent response to the Qusra incident. Today residents of a village in the area reported that the door of a mosque was set on fire and graffiti read "Blood for blood, Qusra."
Settlers have damaged hundreds of trees in Qusra, killed 18 sheep, torched six cars and set fire to a mosque in dozens of attacks, said mayor Abdel Azim Wadi. The village has lost half its lands to settlements.
The mayor said Israeli soldiers either stand by during settler attacks or fire tear gas, rubber bullets and occasionally live rounds at Palestinians if the attacks escalate into stone-throwing clashes. A Qusra man was killed by army fire and dozens were wounded by settlers and soldiers, he said.
Palestinians say "price tag" is part of Israel's policy of cementing control over the West Bank, the largest of three war-won areas the Palestinians want for a state. They note that Israel has been providing practical support for outposts even though they were set up without formal government permission.
"Who gives them water, electricity, who gives them security, and paves their streets?" said Qusra resident Abdel Hakim Odeh.
AP
Register for free to continue reading
Registration is a free and easy way to support our truly independent journalism
By registering, you will also enjoy limited access to Premium articles, exclusive newsletters, commenting, and virtual events with our leading journalists
Already have an account? sign in
Register for free to continue reading
Registration is a free and easy way to support our truly independent journalism
By registering, you will also enjoy limited access to Premium articles, exclusive newsletters, commenting, and virtual events with our leading journalists
Already have an account? sign in
Join our new commenting forum
Join thought-provoking conversations, follow other Independent readers and see their replies