Israeli teenagers' funeral: Leaders demand retaliation for deaths
PM Benjamin Netanyahu said the killings exposed the 'chasm between us and our enemies. They sanctify death and we sanctify life. They sanctify cruelty and we sanctify mercy'
Ben Lynfield
Wednesday 02 July 2014 11:05 Comments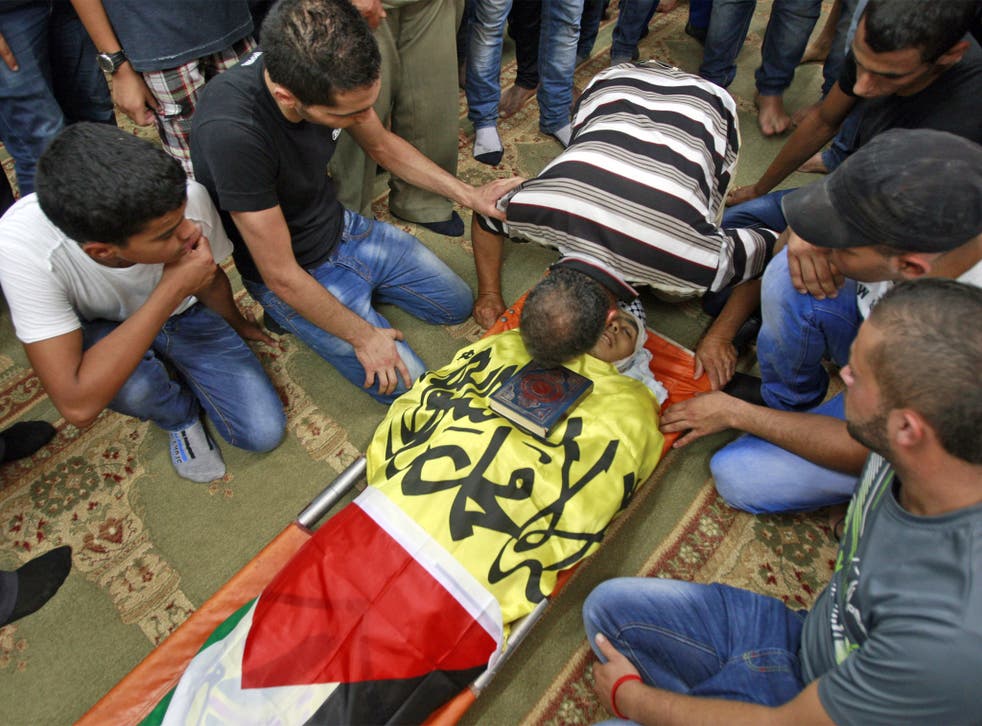 Israeli leaders have vowed to exact a "very heavy price" from the militant group Hamas as mourners attended the funeral of three teenagers believed to have been abducted and killed by Palestinian assailants.
The bodies of Naftali Frankel, 16, Gilad Shaer, 16 and Eyal Yifrach, 19, who had disappeared in the occupied West Bank on 12 June after hitchhiking near an Israeli settlement, were interred side by side in a cemetery in Modiin, a short drive from the largely ultra-orthodox community that was home to Mr Yifrach.
Prime Minister Benjamin Netanyahu described the three teenagers at their funeral service as "the pure who will remain young forever". He said the killings exposed the "chasm between us and our enemies". He added: "They sanctify death and we sanctify life. They sanctify cruelty and we sanctify mercy."
Speaking earlier, Mr Yifrach's father, Uri, described his son as having had "a special love for every person". He said: "You once said to me: 'If I am asked for help I can't refuse, I have to help.' You were a model to your brothers. You gave strength to so many people."
Video: Israeli forces clash with Palestinian protesters
The mood in Israel was charged today and some of the well-wishers who came to the Yifrach family's six storey building called for a devastating response. Luc Adig, a doctor, said: "They need to react and to act, not just to sit and talk. Three children have been killed and we need to send an answer." In Jerusalem, a demonstration organised by anti-Arab activists that drew hundreds turned violent. Four people were arrested on suspicion of attacking police and Arab bystanders.
Israel's cabinet was due to meet for the second time since the discovery of the bodies on Monday night to discuss what steps to take, after differences emerged over the scope of the military response and whether to embark on a major Jewish settlement drive in the West Bank.
In pictures: Israel reacts to deaths of kidnapped teenagers

Show all 23
Yisrael Katz, the hard-line transport minister, was quoted in the media as saying Israel should assassinate leaders of Hamas in both the West Bank and Gaza Strip, while the Foreign Minister, Avigdor Lieberman, called for a military offensive to capture the Hamas-ruled Gaza. Mr Netanyahu, however, is said to be under pressure from the US and Egypt to exercise restraint.
The Defence Minister, Moshe Yaalon, said the three teens were killed "just because they are Jews". He said leaders and personnel of Hamas, which Israel has blamed in the kidnappings, should "know that we will chase them in every place and deal them a harsh blow". He added: "They should know that the price they will pay for their actions will be very heavy."
On Monday night the Israeli airforce bombed 34 sites in Gaza, most of them Hamas targets, military officials said. Palestinian medics said two people were slightly wounded. The military said 18 Palestinian rockets had been launched at Israel over the preceding two days. Yousif Zagha, 20, was killed during an army arrest raid in the Jenin refugee camp in the West Bank, with the Israeli military saying he had attempted to throw a grenade at troops while Palestinians said he was an innocent bystander.
Since the abductions, Israel has arrested hundreds of Hamas figures in the West Bank and sought to decimate its civilian infrastructure of charities and institutions during that period. It has also pressed the moderate Palestinian president, Mahmoud Abbas, to pull out of a national unity pact with Hamas.
On Monday night Israeli troops set off explosives at the family homes of the two Palestinians from Hebron whom Israel's Shin Bet security agency has named as the boys' abductors.
Register for free to continue reading
Registration is a free and easy way to support our truly independent journalism
By registering, you will also enjoy limited access to Premium articles, exclusive newsletters, commenting, and virtual events with our leading journalists
Already have an account? sign in
Join our new commenting forum
Join thought-provoking conversations, follow other Independent readers and see their replies