Majority of Jewish Israelis support extrajudicial killing of subdued Palestinian suspects, new poll finds
Israeli NGOs have expressed concern at security forces' 'shoot-to-kill' policy, after more than 70 Palestinians were killed in just over a month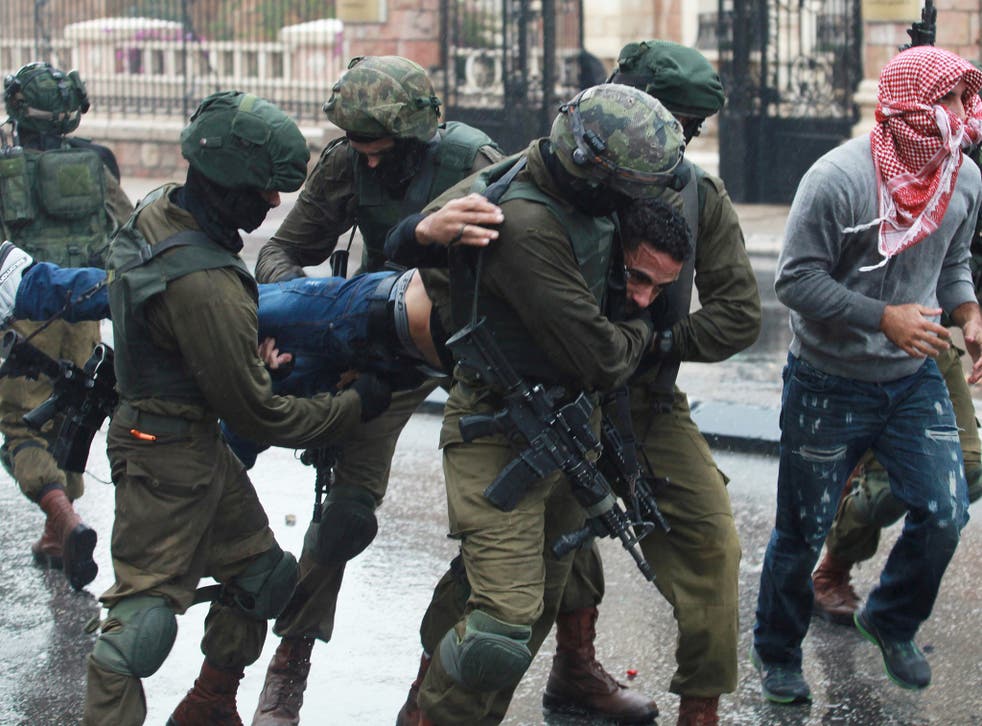 More than 50 per cent of Jewish Israelis support the extrajudicial killing of Palestinian attackers "even if they have been apprehended and no longer pose a threat", a poll has found.
In a survey showing the hardening of attitudes following almost two months of clashes, a think-tank found that there is now public support for greater use of lethal force against Palestinians committing violence as a deterrent to others.
The Israeli Democracy Institute, which publishes a monthly Peace Index assessing Israeli-Palestinian relations, said it interviewed 600 adults in late October.
Of those identifying as Jewish, 53 per cent agreed with the statement: "Any Palestinian who has perpetrated a terror attack against Jews should be killed on the spot, even if he has been apprehended and no longer poses a threat."
The IDI said that there was some degree of support for extrajudicial killings across the political spectrum, but this increased to 76 per cent among those who defined themselves as right-wing.
The poll, which surveyed both Israeli and Palestinian adults, found that the majority on both sides were afraid that they or someone close to them would be harmed in the current wave of attacks.
Since the start of October, 12 Jewish Israelis have been killed in street attacks by Palestinians, while Israeli forces have killed at least 73 Palestinians in that same period.
On Sunday alone, six Israelis were injured and two Palestinians killed in confrontations throughout the day.
They included a Palestinian woman who was purportedly shown on CCTV approaching an Israeli checkpoint in the West Bank, presenting documents to a security guard and then attacking him with a large knife. She was shot by the guard, and according to media reports later died.
In mid-October, the Israeli security minister Gilad Erdan said suspected Palestinian attackers should be killed so that "every terrorist should know that he will not survive the attack he is about to commit".
The Israeli–Palestinian conflict intensifies

Show all 10
In Jerusalem, police commander Moshe Edri warned would-be attackers that they were "likely to be killed".
Such statements have raised concerns among rights campaigners. Last month, nine Israeli NGOs reportedly decried the security forces' "shoot-to-kill" policy in an open letter criticising ministers and police for "not assisting to defuse tension and calm the public".
The poll results were released ahead of the Israeli prime minister Benjamin Netanyahu's visit to the US, where he will meet President Barack Obama on Monday for their first face-to-face talks in more than a year.
American officials said Mr Obama would press Mr Netanyahu on what could be done to avoid confrontations between Israelis and Palestinians in the absence of a long-term peace deal.
Mr Netanyahu has said the pair will discuss "possible progress with the Palestinians, or at least stabilizing the situation with them".
Join our new commenting forum
Join thought-provoking conversations, follow other Independent readers and see their replies