Israel-Palestine conflict: Four months after the bombardment, Gaza's wounds are yet to heal
Hussein Abu Jamaa still bears the scars from the explosion that pulverised his leg, destroyed his house and killed 25 members of his family. Kim Sengupta is reunited with a man whose plight mirrors the suffering of the Palestinian people
Kim Sengupta
Sunday 21 December 2014 23:14 Comments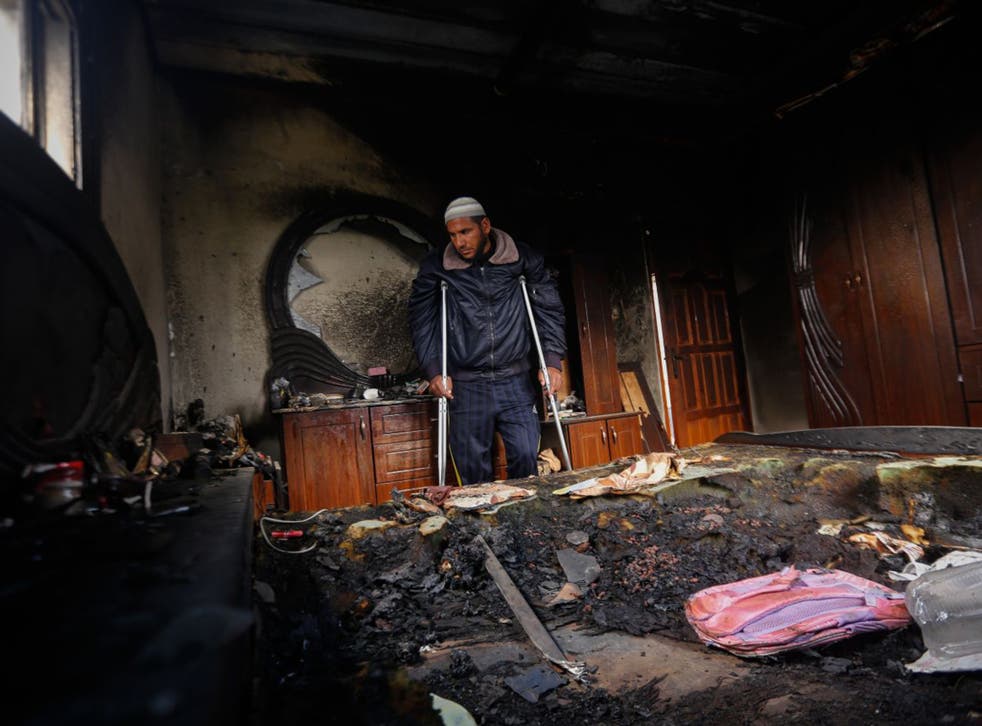 The sound of the explosions shook Hussein Abu Jamaa awake. "They were so loud, so close, that I thought the fighting had started again, that we have been hit once more." He hobbled around on his crutches trying to ensure his children were safe amid shouts of alarm from neighbouring houses.
In fact the Israeli air strike in the early hours of Saturday morning, the first since the war in the summer, had taken place a quarter of a mile away. But tensions have continued to rise, with Israeli ground troops reported to have opened fire on farmland near the border yesterday.
"It is only a matter of time. No one thinks there will be peace for long – we are used to these deals breaking down," declared Abu Jamaa, 41, as he perched on a chair beside a large hole in the ground full of twisted metal and debris, where once stood the home of his brother, Tawfiq.
The last time Abu Jamaa had woken up following an explosion he was lying in that hole. He had a momentary glimpse of blood and bodies, smoke and fire before lapsing back into unconsciousness. His leg, fractured by a falling wall, was embedded with shrapnel; his lungs were burned by noxious fumes.
But he was one of the lucky few; 25 members of his family, including his 63-year-old mother, Fatima, died when Israeli missiles destroyed the three-storey house on 20 July as they were preparing for iftar, the meal ending the day's fasting during Ramadan.
I remember seeing Abu Jamaa being carried back then into a mosque in Khan Younis for prayers, before the dead, some of them tiny bodies under shrouds, were buried in relays in a parched graveyard of red earth. He had insisted on being taken there from hospital, but he could not cope with the sight before him and he collapsed.
There were many such deaths of extended families in that period: the Batshes lost 18, the Najjars 21, the Abu Jabrs 17, the Abu Jarads eight… and so it went on, day after day.
In pictures: The children of Gaza

Show all 30
The Israeli attack at the weekend was in response to a rocket fired across the border on Friday. Access to the site, a field of greenhouses, was blocked by Hamas security men. "Sorry, you can't go there. It's a secret place," said one. It would not be cynical to say there would not have been such restrictions on the media if it had been civilians killed or injured by the Israelis.
Across the road, in another military complex – this one flying black flags of Islamic Jihad instead of the green ones of Hamas, an official with a holstered pistol, who gave his name as Abu Obeida, shrugged: "We weren't the ones targeted. But this ceasefire will not last. We know the Israelis. They will break it again, maybe as their election gets near. It's in a few months' time, isn't it? Enjoy this time while you can without the fighting."
Four months after the end of the latest, and one of the bloodiest, rounds of conflict between Israel and Hamas there are signs of some improvements in living conditions. Power cuts have become shorter, there is more food, more medical supplies. There is even a sense of festivity, with Christmas decorations, plastic Christmas trees and Santa costumes in the shops.
But upwards of 50,000 people are still homeless, many still living in the UN schools in which dozens were injured and killed by tank shells and missiles during the conflict. There has been virtually no reconstruction, little by way of new jobs. And the fundamental source of resentment – the siege – continues.
Gaza, officially at peace, is not at peace with itself. As well as the Israelis, the people here blame fellow Arabs, the UN and international aid organisations for their plight. And, increasingly, with less caution than in the past, there is criticism of Hamas. The conduct of Fatah, too, is resented. It is pointed out that Abu Mazen, the head of the Palestinian Authority, has not even bothered to visit Gaza. Hamas stresses that it is Fatah which is supposed to be in charge of reconstruction from the Palestinian side.
A home for the disabled, the Mobarat Felestin Centre, was bombed on 12 July, killing two female residents and injuring four others. It was the only facility of its kind in Gaza, and sitting with the injured at Shifa Hospital, Jamila Alaiwa, the 59-year-old social worker who founded the home in 1990, told me of her anxiety about the wellbeing of her other charges.
Ms Alaiwa has reopened the centre, with limited facilities, in another location. "All the money came from local donations. I didn't get anything from the international agencies," she said. "I went to the ministries, but they say all their funds must go to repairing infrastructure and the homeless. We need more funds to take back the other residents. These people are the most vulnerable here. Their families simply can't look after them."
We had found Salwa Abu Alkhorasan, who worked at the centre, lying in the hospital, swathed in bandages. She whispered: "All I know is that I am in so much pain, I did not know such pain existed."
After two months of treatment in Egypt, she is now back in Gaza. She cannot walk yet and suffers from deep vein thrombosis. "I don't know what's going to happen to me now. I can't do any work. Will the government help people like me?" The Israeli government had announced an inquiry into the attack and there has been talk of compensation. "Yes, they should pay for what they did" Ms Abu Alkhorasan said. "But I probably won't get it, so many officials will take their cut before it gets to me. But I should thank God and be grateful that I am alive."
It was also good to see Musab Dahir alive. As the Israeli offensive began in the summer, Yasmine Dawaas, my translator, had spent a morning worrying about what had happened to a fellow student who had gone missing. We chanced upon him later that day in a hospital ward – both his legs had been severed in a drone attack as he walked to the mosque.
The first person to see Musab in Shifa's A&E was his brother Tariq, a trainee doctor. "I did not know what had happened, when I saw him it was such a shock I could feel myself falling. Another doctor held me up," he recalled. "Musab should be dead. It was very good luck that the ambulance got him to the hospital so quickly."
The ambulance crews spoke of the emotional battering of having to cope with death and destruction every day. So, how had it been, I asked. Was there any chance of counselling? "Who's going to pay for that? It would help if they started paying our salaries; that will be one stress lifted from our minds", one of them, Abu Moussab, laughed. But then he added quietly: "I have bad dreams, terrible dreams, every night. I don't think I'll ever stop having them now."
Register for free to continue reading
Registration is a free and easy way to support our truly independent journalism
By registering, you will also enjoy limited access to Premium articles, exclusive newsletters, commenting, and virtual events with our leading journalists
Already have an account? sign in
Join our new commenting forum
Join thought-provoking conversations, follow other Independent readers and see their replies