Istanbul attack: Turkish police detain two foreigners at city's airport after nightclub shooting
Ten arrests have been made in connection to the Isis-affiliated attack which killed 39 on New Year's day, but killer believed to remain at large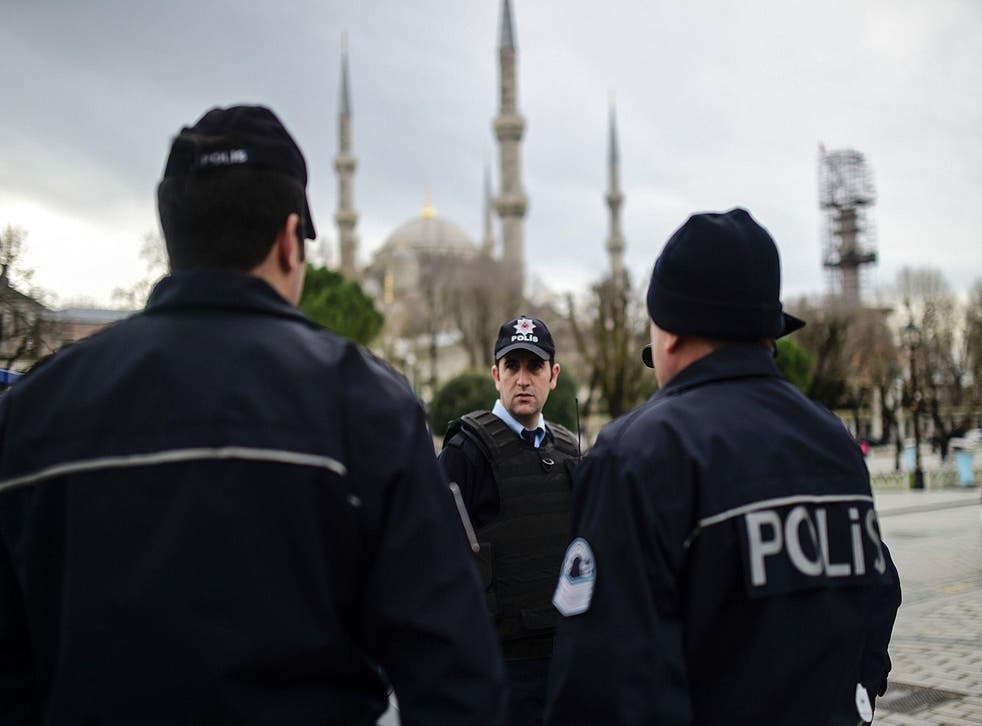 Turkish authorities have detained two individuals of foreign nationality attempting to leave the country through Istanbul's main Ataturk Airport, local media has reported.
The arrests on Tuesday came three days after a gunman opened fire on New Year's Eve partygoers in a nightclub in the city, killing 39 and injuring 46 people.
The pair were detained at Ataturk airport and taken to central Istanbul for police questioning, Dogan News Agency said.
The suspected killer is believed to still be at large. Police have released photos of the man they think carried out the deadly seven-minute-long rampage, and Deputy Prime Minister Numan Kurtulmus said on Monday that the authorities have records of the suspect's fingerprints.
Isis boasted on social media channels on Monday that a "soldier of the brave caliphate" was responsible for the attack which killed 11 Turkish nationals, three Lebanese, three Iraqis, two each from Tunisia, India, Morocco and Jordan, and Kuwaiti, Canadian, Israeli, Syrian and Russian nationals.
Turkey releases video of air strikes on more than 100 Isis targets in Syria after Istanbul nightclub attack
CCTV footage from the exclusive Reina nightclub showed a man killing a police officer and a security guard on Saturday night before entering the club and spraying the 600-strong crowd with bullets. He shot at those already lying on the floor before changing his clothes and fleeing the scene, police believe.
Eight people have already been detained in connection to the attack before Tuesday's arrests at the city's airport.
Register for free to continue reading
Registration is a free and easy way to support our truly independent journalism
By registering, you will also enjoy limited access to Premium articles, exclusive newsletters, commenting, and virtual events with our leading journalists
Already have an account? sign in
Register for free to continue reading
Registration is a free and easy way to support our truly independent journalism
By registering, you will also enjoy limited access to Premium articles, exclusive newsletters, commenting, and virtual events with our leading journalists
Already have an account? sign in
Join our new commenting forum
Join thought-provoking conversations, follow other Independent readers and see their replies