'It's not racism. The Muslim players just shouldn't be here': Beitar Jerusalem fans walk out over signing of two Muslim Chechen players
When a Chechen striker scored on his debut for Beitar Jerusalem, its hard-core right-wing fans walked out, reports Alistair Dawber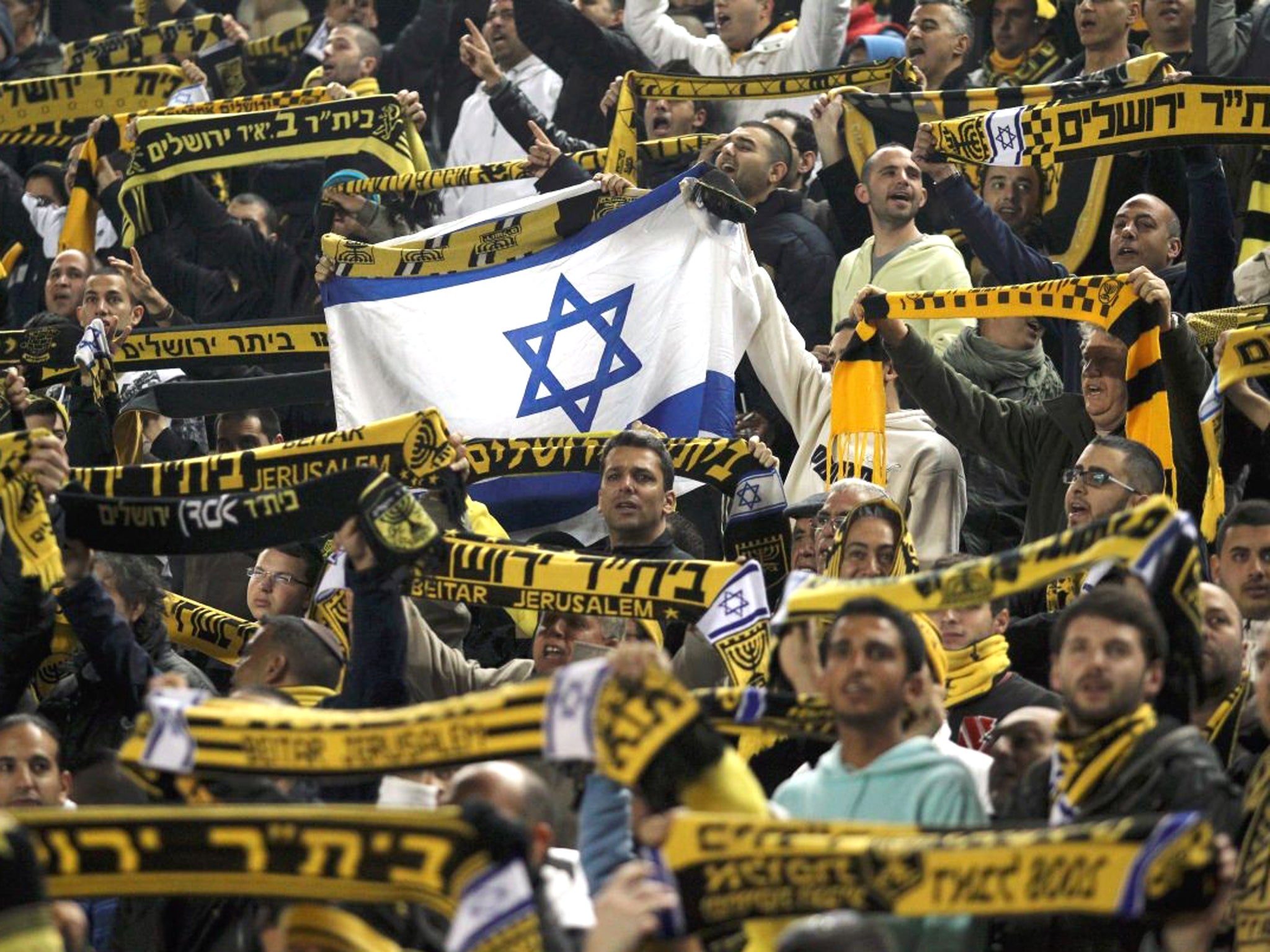 'Ten… Nine… Eight… Seven… Six… Five… Four… Three… Two… One…War! War! War!' A typical Beitar Jerusalem welcome, one of Israel's biggest football clubs, on Sunday night from 'La Familia' the team's hardcore fans who are in revolt over the signing of two Muslim players, two of just five non-Israeli players to ever play for the club which is identified with the country's political right.
On Sunday night at the Teddy Stadium, home of Beitar Jerusalem, members of the club's hard-core support, "La Familia", were in place an hour before kick-off for the game against Maccabi Netanya. While most fans go to games to support their team, La Familia spent the game showering the club's owner and his two new signings with a torrent of abuse.
What provoked their ire is the decision earlier in the season by Beitar's president Arkady Gaydamak – father of Alexandre, former owner of Portsmouth FC – to sign two Chechen Muslims, Zaur Sadayev and Dzhabrail Kadiyev. They are two of just five non-Israeli players ever to represent the club, which has strong links to the Israeli right.
Only the 23 year-old Sadayev, a big, heavy-set striker, played against Netanya on Sunday. In the first half, boos rang around the stadium every time he touched the ball. But what happened next was not La Familia's script. Sadayev – who has been accompanied by a bodyguard since his arrival in Jerusalem from Chechen side Terek Grozny – ran on to a pass just after half time and slid the ball past Netanya's goalkeeper. It was his first goal for the club. Beitar's best player, the Argentinian Dario Fernandez, jumped on Sadayev's shoulders and celebrated with him, but the reaction in the crowd was confused to say the least. In one stand supporters screamed with elation, but behind the goal, in the La Familia end, hundreds walked out.
"The reaction to the Muslim players being here is not racist," insisted 19-year-old Akeeva, a Beitar fan. "But the club's existence is under threat. Beitar is a symbol for the whole country."
Jacob, another fan, agrees, "It's just a matter of being Arab [by which he means Muslim]. It's not racism, they just shouldn't be here. Beitar Jerusalem has always been a clean club, but now it's being destroyed – many of the other players are thinking of leaving because of the Muslim players being here."
Akeeva, Jacob and many of the other fans are angry with Mr Gaydamak for bringing in Sadayev and Kadiyev to the club. After they signed the reaction among fans was so extreme that the club's offices in Jerusalem were burnt down. The pair have been greeted with jeers and whistles every time they step out on to the pitch.
The home club of Sadayev and Kadiyev is no ordinary football team; Terek Grozny is run as the personal project of Chechnya's leader Ramzan Kadyrov. Although he is no longer officially the club's president, nobody doubts that he is in charge, while the money man is the oligarch Telman Ismailov, known for his lavish birthday parties in which A-list western pop stars are flown in to sing odes to him.
The unlikely dual transfer came about after a bizarre tour to Chechnya by the entire Beitar squad early this year, which went ahead against the advice of Israeli authorities. There are rumours in the Russian media that Mr Ismailov, a friend of Mr Gaydamak, had an interest in purchasing the struggling club. Rather than travel to see the team in Jerusalem, Mr Ismailov wanted to bring them to Grozny. So it was that the brief tour to the troubled Caucasus republic took place amid extremely high security. After its conclusion – and a friendly match between Terek and Beitar – it was announced that to "strengthen Israeli-Chechen friendship", two players would be moving to Jerusalem.
"Chechens, like Jews, have a great number of difficult pages in their history and have lived through many tragedies," said a press release from Mr Kadyrov's office. "We have a lot in common."
The 23-year-old Sadayev was seen as a player with some potential, but since his entrance into the Terek team five years ago he has hardly set the Russian league alight – the striker has managed just eight goals in 83 appearances. Dzhabrail Kadiyev, had never started for the Terek first team.
Sadayev said in an interview with Russian media last December, before the Israeli move was on the cards, that if he could play anywhere in the world he would like to try England.
Details of the transfers are murky, and it is unclear whether the players have moved on loan, or permanently. Calls to Terek's press service went unanswered yesterday. After being substituted after 73 minutes on Sunday, Sadayev received a standing ovation – although by then the boo-boys had largely left. Three minutes later Netanya scored to make it 1-1 and pushed hard until the end.
Whether his performance is enough to win over the crowd remains to be seen, but perhaps he could afford to give his bodyguard the night off.
Ramzan Kadyrov: despot with a taste for social media
Terek Grozny football club is not the only plaything of Chechnya's pro-Kremlin despot, Ramzan Kadyrov. He also has a collection of wild animals and often posts pictures to his Instagram account of himself cradling a baby leopard, perhaps.
Instagram has become the unlikely medium through which it is best to follow Mr Kadyrov – he posts several times a day, whether on policy or news that he has given his "friend" Gérard Depardieu the gift of a five-room apartment in Grozny.
Over the weekend he stated: "For some people, Instagram might just be entertainment, but for me it's an additional burden."
Shaun Walker
Join our commenting forum
Join thought-provoking conversations, follow other Independent readers and see their replies