'It's only fit for rats': Syrian refugees on brink of disaster
UN warns of a 'staggering humanitarian disaster' as families flee civil war
Loveday Morris
Monday 14 January 2013 19:52 Comments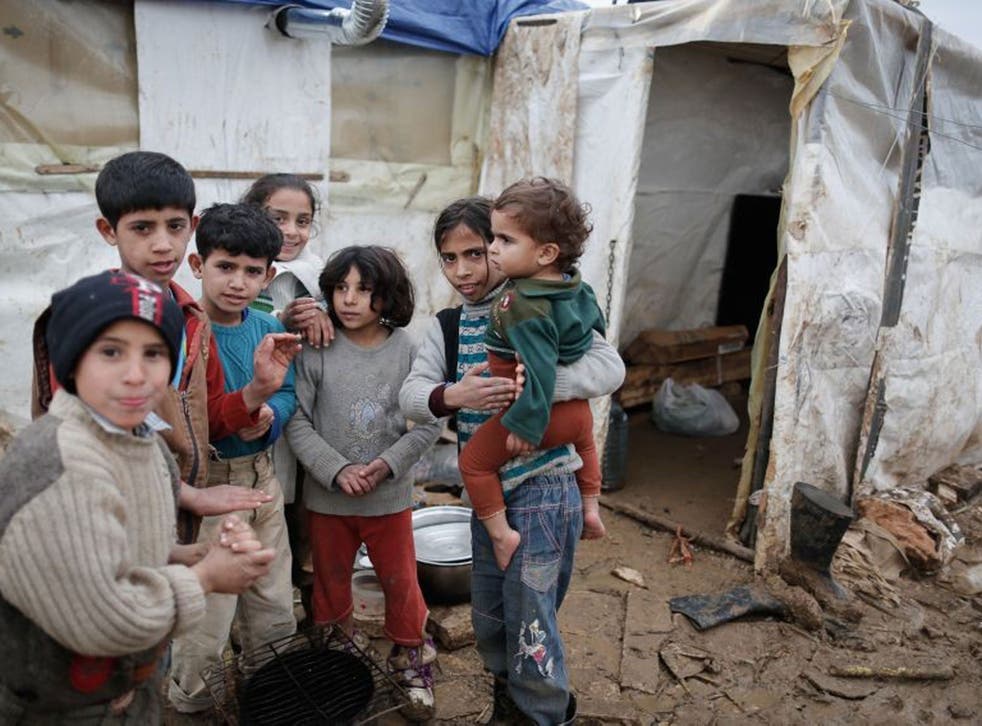 The tattered rug of the floor of Radwan Salim's tent is still damp after icy water swept through his tent last week. He sought refuge under a shop veranda with his wife and the 16 other members of his extended family living in the plastic-covered construction that he now reluctantly calls home.
"The rats came here try to get out of the rain, it's only fit for rats," says the 46-year-old, who fled from the Syrian city of Hama three months ago.
This bleak camp in Minieh, just north of Lebanon's second city of Tripoli, is home to around 150 people. Not far from the motorway, the ramshackle enclave of tents is just one of numerous makeshift encampments that have sprung up as the country struggles to host the influx of refugees fleeing Syria's civil war. The ground has turned to mud and the air is filled with acrid smoke as families burn anything they can find to stay warm.
The US-based aid agency International Rescue Committee (IRC) today warned of a "staggering humanitarian disaster" in the making. Millions remain in dire need of assistance within Syria and thousands continue to stream over the borders. The organisation urged governments to meet the UN appeal for $1.5bn in aid.
The UN's High Commissioner for Refugees, Antonio Guterres, today gave a bleak assessment of the crisis, telling the BBC that it is an "almost impossible" challenge with "no solution in sight" to the disaster.
More than 600,000 Syrians have fled to neighbouring countries. In Lebanon, the UN says nearly 200,000 people have been documented or are awaiting registration but local agencies say the number is much higher.
With no official refugee camps in Lebanon, those fleeing the violence in Syria are forced to find shelter where they can. Conditions were bearable in the summer, but last week, when some of the worst storms in 20 years lashed Lebanon, families at Al Minieh said it had become intolerable.
"The temperature was zero, our finances are zero," Mr Salim told The Independent. "It was absolutely the worst. We came with nothing but the clothes on our backs, we were not ready for the winter."
Alia al-Jaffar arrived seven days ago from Al Qusair, just over the border in the province of Homs. She looks much older than her 30 years. Her husband stayed behind, too afraid to cross, leaving her with little means of supporting her four children. Her tent in Minieh is bare aside from one mattress and a few blankets in which her 10-year-old son huddles, suffering from a rasping cough. The open drain just outside her tent overflowed in the recent rains, sending the stinking water into her tent. She says she has agreed to pay $100 a month to the local landowner for the privilege of pitching a tent here, though she is not sure how she will find the money. Still, she's glad she came.
"There was bombing again in our area, 13 people died in recent weeks, we were too scared to stay," she says.
"You are sitting in your home and you don't know where the next shell will fall. There is no bread, no electricity, what would make you stay? Here it is worse than I could have expected, and if I can't find work the children don't eat, but at least we have some peace."
George Rupp, the ICR president who has recently returned from a trip to the region, said those not living in official camps are "grossly underserved and growing increasingly destitute and desperate".
The ICR says the fear of "horrific" sexual violence is often the driving factor for many to leave Syria, with rape often committed in front of family members in an increasingly brutal sectarian war. Alia says it was one of the reasons her husband urged her to leave.
Many have given up hope of returning home soon. "Only God knows, maybe it will be five years, maybe six years, or maybe we'll become like the Palestinians," says Mr Salim.
Register for free to continue reading
Registration is a free and easy way to support our truly independent journalism
By registering, you will also enjoy limited access to Premium articles, exclusive newsletters, commenting, and virtual events with our leading journalists
Already have an account? sign in
Register for free to continue reading
Registration is a free and easy way to support our truly independent journalism
By registering, you will also enjoy limited access to Premium articles, exclusive newsletters, commenting, and virtual events with our leading journalists
Already have an account? sign in
Join our new commenting forum
Join thought-provoking conversations, follow other Independent readers and see their replies