Khashoggi murder: Turkey hands recordings of journalist's killing to Saudi Arabia, Britain and US
Police reportedly ending search for journalist's body but investigation goes on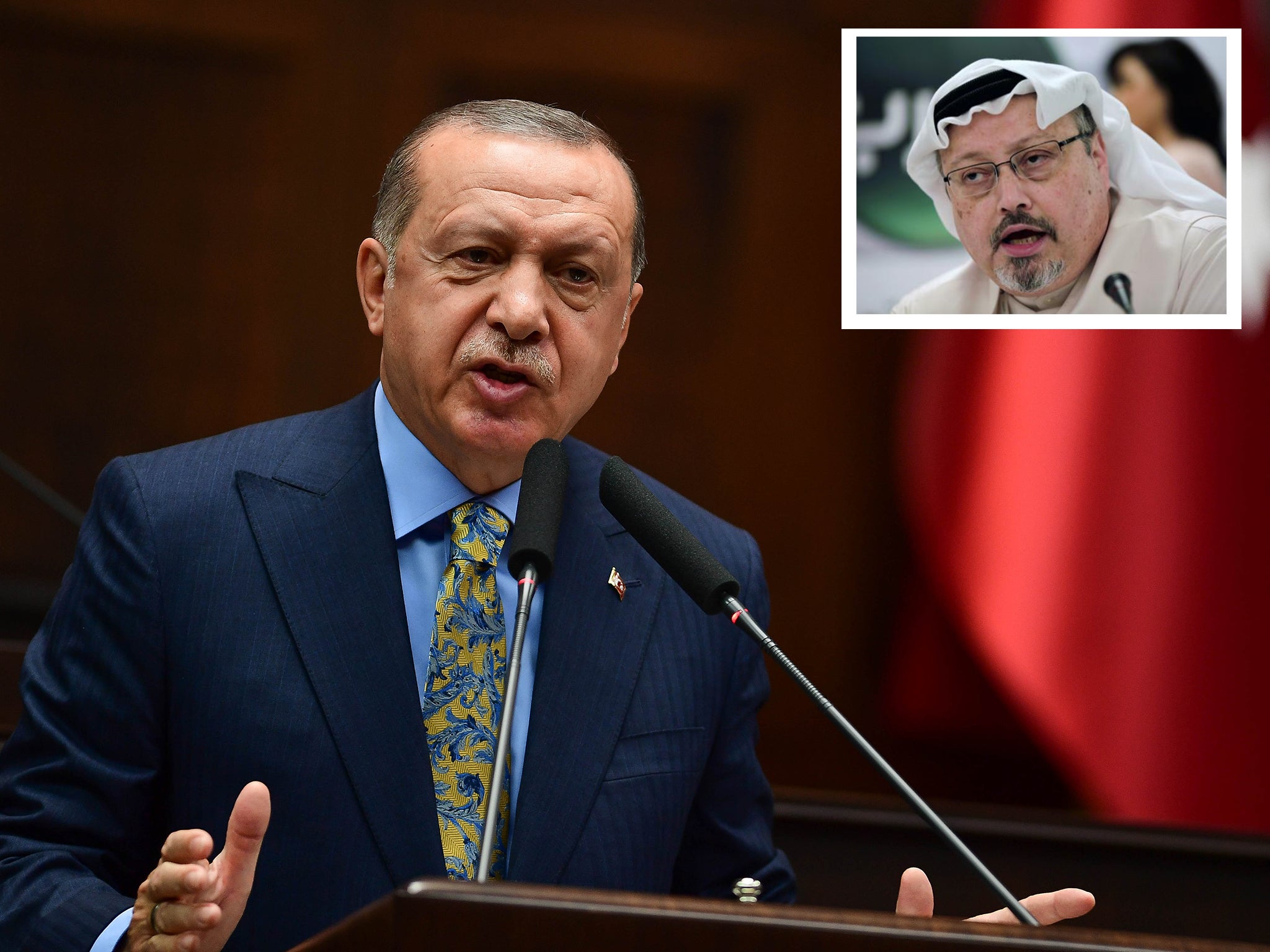 Turkey has given recordings of the killing of Saudi journalist Jamal Khashoggi to Saudi Arabia, Britain, the US, Germany and France, President Recep Tayyip Erdogan said on Saturday, the first official public acknowledgement that the Washington Post columnist's final moments were taped.
Unnamed Turkish and US officials have previously told journalists that authorities had an audio recording purportedly documenting the torture and killing of the journalist, who was a high-profile critic of Saudi government and Crown Prince Mohammed bin Salman. But Mr Erdogan's public disclosure that the recordings exist will add pressure to the Saudi regime and increase tensions between Riyadh and its allies in Washington, London and Paris.
"We gave the recordings," Mr Erdogan announced in a televised speech in Ankara just before he was to board a plane and head to Paris for ceremonies marking the centennial of Armistice Day. "We gave them to Saudi Arabia. We gave them to Washington, to the Germans, to the French, to the English. They all know, since they all listened to the conversations and everything."
Mr Erdogan's disclosure came as Turkish authorities said they were ending the search for Mr Khashoggi's body, which officials say they assume was dismembered and possibly dissolved in acid. However, they insisted the criminal investigation will continue.
Mr Khashoggi was murdered on 2 October by a team of Saudi security officials who lured him him into the country's consulate in Istanbul and then killed him in what Saudis admit was a "premeditated" plot.
Saudi Arabia initially tried to cover up the killing by claiming the journalist had left the building, but later said he had died in a fistfight before eventually acknowledging he was murdered as part of a preplanned scheme.
Saudi authorities say they have arrested 18 suspects. Turkey wants them to be extradited to face legal proceedings.
Turks have grown increasingly frustrated at what they describe as a lack of cooperation on the part of Saudi officials, whom they have accused of trying to run out the clock on the investigation. They are also disappointed with the western response, which they say appears to be aimed at maintaining the crown prince as de facto ruler. They see recent western actions, such as curtailing cooperation with the Saudi-led war in Yemen, as insufficient and mere window dressing.
On Friday, the US leaked word it would no longer be refuelling planes engaged in devastating bombing runs over Yemen, just hours before Saudi Arabia's official press agency announced it was asking the US to halt the logistics support.
Mr Erdogan's disclosure will add to the heat already on officials in western capitals to answer for their continued robust ties with Saudi Arabia, which is viewed by western officials as a premier market for weapons sales, and a source of stability in the Middle East.
"We want to make sure that no aspect of Khashoggi's murder stays in the dark," a senior Turkish official told The Independent. "Sharing the evidence with our friends and allies reflects that approach."
Reuters cited unnamed French officials as saying that French president Emmanuel Macron and US president Donald Trump spoke about the Khashoggi matter in a closed-door Paris meeting ahead of Armistice Day commemorations.
Jamal Khashoggi death: key figures
Show all 7
Mr Erdogan has claimed the order to kill Mr Khashoggi came from the "highest levels" of Saudi government, although he refrained from directly accusing the kingdom's de facto ruler, the crown prince, who analysts say he would like to see severely weakened or possibly removed from his post.
Mr Erdogan also said Saudi Arabia knows the killer was one of the group who went to the ambassador's residence in Turkey.
"The 15 people who came to Istanbul [from Saudi Arabia], who are also among 18 detained by Saudi authorities, surely know who killed Jamal Khashoggi and where his body is. Saudi Arabia could resolve this by making this 15 talk," he said in his speech. "The murderers are surely among this 15 or 18. There's no need to look elsewhere."
Agencies contributed to this report
Join our commenting forum
Join thought-provoking conversations, follow other Independent readers and see their replies