James Foley beheading: 'Isis is a bigger threat to the US than al-Qa'ida', Pentagon warns
Chuck Hagel said the group's funding, sophistication and military prowess was 'beyond anything seen'
Lizzie Dearden
Friday 22 August 2014 08:38 Comments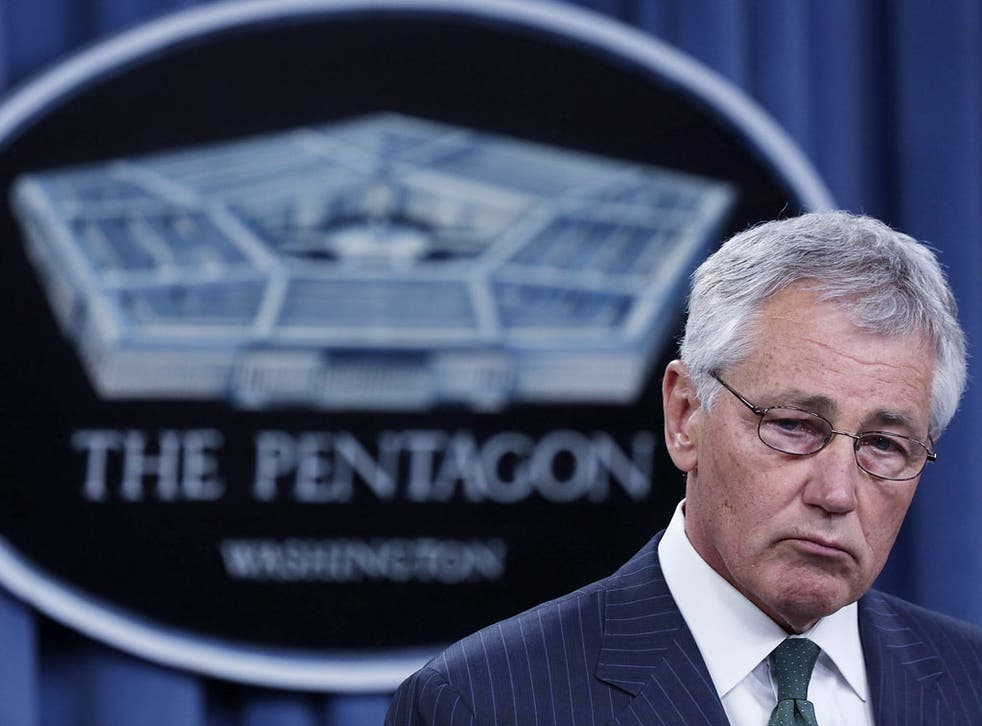 The Islamic State (Isis) presents a greater threat to the US than al-Qa'ida and must be defeated, the Pentagon has said.
The American Defence Secretary, Chuck Hagel, sounded a warning on Thursday in the wake of the brutal beheading of journalist James Foley.
"They are an imminent threat to every interest we have, whether it's in Iraq or anywhere else," he said.
"They are beyond just a terrorist group. They marry ideology, a sophistication of […] military prowess.
"They are tremendously well-funded. This is beyond anything we've seen."
Isis militants have killed countless civilians and terrorised the population of Iraq in a bloody sweep through the north of the country this summer, after gaining strength in Syria's civil war.
The murder of Mr Foley, who was captured by militants in 2012 while covering the struggle against the Assad regime, has shocked the world.
Footage released by Isis showed his killer, apparently a British citizen known as "John" threatening the US with retaliation for air strikes in Iraq in a video entitled "A Message to America".
Philip Hammond, the Foreign Secretary, called the murder "one more example in a catalogue of brutality" by the Sunni militant group.
Warning of possible international terrorist attacks if they gain a foothold, he added: "Isis are waging war on moderate Islamic opinion and they are waging war on the West and we have to deal with them on that basis."
Asked if Isis posed a threat comparable to that of the New York 9/11 terror attack, Mr Hagel said it was "as sophisticated and well-funded as any group we have seen".
He spoke as US forces continued attacking Isis targets in Iraq after 89 strikes in two weeks by drones and fighter jets.
Barack Obama has so far attempted to limit the renewed military campaign to protecting American diplomats and civilians under direct threat after being elected on his promise to end his country's involvement in the Iraq war.
In pictures: James Foley

Show all 11
US officials say they have not ruled out escalating military action against Isis, which has increased vocal threats since the air campaign in Iraq began.
"We haven't made a decision to take additional actions at this time, but we truly don't rule out additional action against ISIL [Isis] if it becomes warranted," Ben Rhodes, a senior Obama aide, told National Public Radio.
David Cameron cut his family holiday in Cornwall short on Wednesday to return to Downing Street for emergency meetings on the crisis.
The Prime Minister has repeatedly said ground troops will not be sent to Iraq, despite rumours that special forces are already there.
Humanitarian aid, technical support and surveillance has so far been provided in support for Iraqi and Kurdish forces battling the jihadists.
Additional reporting by Reuters
Register for free to continue reading
Registration is a free and easy way to support our truly independent journalism
By registering, you will also enjoy limited access to Premium articles, exclusive newsletters, commenting, and virtual events with our leading journalists
Already have an account? sign in
Join our new commenting forum
Join thought-provoking conversations, follow other Independent readers and see their replies