James Foley's final days: Kept in a cell with 18 other captives, beaten, starved, waterboarded - and apparently abandoned by his government
'I wish I could have the hope of seeing my family once again': The New York Times pieces together account from interviews with former hostages, friends and family members, and a former Isis fighter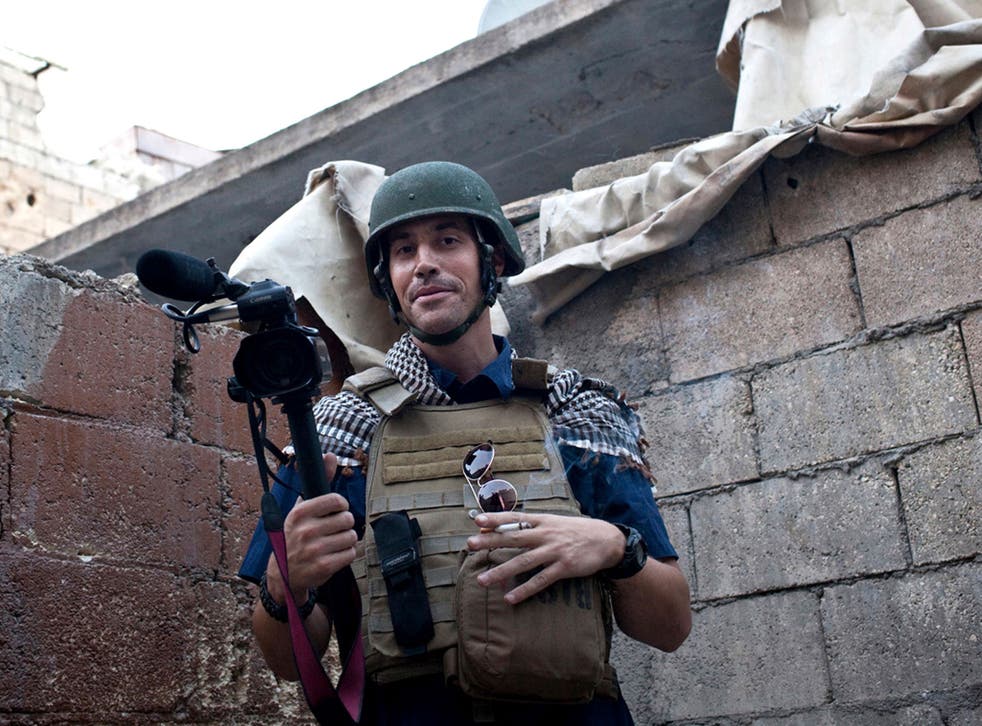 In the weeks and months before he was brutally murdered on camera by militants from Isis, James Foley was beaten, starved, subjected to mock executions and even waterboarded by his captors.
The 40-year-old American journalist was the first Western hostage to be publicly beheaded by Isis, in a video released on 19 August. Since his death, the Israeli-American journalist Steven Sotloff and two British aid workers, David Haines and Alan Henning, have been killed in the same manner. In a report published this weekend, the New York Times has revealed the physical and mental torture endured by the hostages during their captivity.
The New York Times pieced together its account of what happened from interviews with former hostages, friends and family members, and a former Isis fighter who was present at one of the locations where Mr Foley was held prisoner.
At the time of Mr Foley's capture, Isis had not yet developed into the entity it is today, a self-declared "caliphate" whose fighters have seized large swathes of Syria and Iraq. He and John Cantlie, the British journalist who remains a captive, were held first at a textile factory close to Aleppo, where their captors scoured their effects for evidence of spying. On Mr Foley's laptop, they reportedly found photographs that he had taken of US soldiers in Iraq and Afghanistan. In an article published online following his death, Isis extremists described the photos as "images glorifying the American crusaders."
In pictures: James Foley

Show all 11
For this and other perceived crimes, the captives were tortured and abused. As their ordeal went on, many of the hostages converted to Islam, including Mr Foley, who reportedly took the name Abu Hamza. A Belgian former hostage, 19-year-old Jejoen Bontinck, an aspiring jihadist who spent time imprisoned with Mr Foley and was later released, told the paper: "Most people would say, 'Let's convert so that we can get better treatment.' But in his case, I think it was sincere."
Mr Foley spent much of his time in captivity being guarded by three militants with British accents, whom the hostages nicknamed "The Beatles". The group apparently took pleasure in abusing their captives, telling them they had been "naughty". For a time, Mr Foley and others were held in a basement beneath a children's hospital in Aleppo, before their captors joined up with Isis and moved their hostages to Raqqa, Syria, the capital of the self-proclaimed Islamic State, as Isis calls itself.
By the beginning of this year, 23 hostages from 12 countries were being held in adjoining cells: 19 men in one 215 sq ft space; four women in another. The militants, who had decided to sell their prisoners for ransom, demanded each hostage give them an email address for a relative. After it became clear that his jailers had been in contact with his family, Mr Foley reportedly became convinced that the US Government would negotiate his release.
His family later said Isis had demanded $100m (£62m) for his release, but the policy of the US and UK governments is to refuse such ransom negotiations, which officials claim saves lives by making their citizens less appealing candidates for kidnapping. In a video released by Isis this weekend, Mr Cantlie criticises the policy, saying the French, German and Danish governments had successfully negotiated the release of their citizens. "While there was dialogue for everyone else, the British and the Americans were stonewalled – it was completely silent," he says.
According to the New York Times account, the militants took to dressing their prisoners in orange jumpsuits and waterboarding them, echoing the treatment of terrorism suspects by CIA interrogators during the early years of the so-called War on Terror. American and British hostages were subjected to the harshest abuse, with Mr Foley singled out for particularly vicious treatment.
The hostages sometimes went with no more than a cup of food a day. They had no mattresses and a single torch to see by at night. But while some argued with each other, Mr Foley reportedly shared his food and blanket, and made efforts to maintain prisoners' morale, persuading them to play games and to give impromptu talks on their favourite subjects. He even organised a "Secret Santa" during Christmas 2013, when each hostage made a present for another from whatever they had to hand.
Early this year, a Russian prisoner, Sergey Gorbunov, was shot dead by the militants, who showed their other captives a video of his body as a warning of what awaited them if their governments failed to pay. By June, 15 of the 23 hostages had been released for ransoms that averaged more than £1.6m. The remainder were all British or American.
In the summer, US Special Operations forces launched a secret ground operation to try to free Mr Foley and other hostages, but the raid on an oil refinery in northern Syria was ultimately unsuccessful: the prisoners were elsewhere.
In August, Mr Foley was paraded before the camera in an orange jumpsuit and was beheaded by a masked man in black with a British accent. In scripted remarks before his death, he said: "I wish I could have the hope of freedom and seeing my family once again. But that ship has sailed. I guess all in all I wish I wasn't American." In the wake of Mr Foley's death, the US began airstrikes against Isis targets, apparently sealing the fate of the remaining hostages. Isis had announced that last Wednesday was the deadline for the execution of a third American captive, Abdul Rahman Kassig. Born Peter Kassig, the 26-year-old was kidnapped in October 2013 and converted to Islam in captivity.
Last week an Al Qaeda commander, Abu Omar Aqidi, tweeted his support for Mr Kassig, saying the young aid worker had operated on him at a hospital in Deir ez-Zor in Syria before he was taken captive. In a letter recently published by his family, Mr Kassig wrote: "I am obviously pretty scared to die… The hardest part is not knowing – hoping, and wondering if I should even hope at all."
The latest video, the fifth in a series of propaganda films featuring Mr Cantlie, who was kidnapped with Mr Foley in November 2012, shows the 43-year-old photojournalist sitting behind a desk and reading an apparently scripted message, saying some captives have been tortured by the militants. "Some of us who tried to escape were waterboarded by our captors, as Muslim prisoners are waterboarded by their American captors," Mr Cantlie says.
It is not clear when the footage was filmed, but its release comes just days after the death of Mr Cantlie's father, Paul, 80, who pleaded for his son's release in a video message from his hospital bed shortly before he died.
Mr Cantlie was first kidnapped in Syria in July 2012 but was released soon after, only to be taken captive again later that year. Similarly, Mr Foley was taken hostage while working in Libya in 2011 but released after six weeks. On 22 November 2012, he and Mr Cantlie were working in the northern Syrian province of Idlib and were kidnapped by masked gunmen while travelling in a taxi towards the Turkish border.
Register for free to continue reading
Registration is a free and easy way to support our truly independent journalism
By registering, you will also enjoy limited access to Premium articles, exclusive newsletters, commenting, and virtual events with our leading journalists
Already have an account? sign in
Register for free to continue reading
Registration is a free and easy way to support our truly independent journalism
By registering, you will also enjoy limited access to Premium articles, exclusive newsletters, commenting, and virtual events with our leading journalists
Already have an account? sign in
Join our new commenting forum
Join thought-provoking conversations, follow other Independent readers and see their replies