Turkey's President Erdogan tells Jerusalem summit Israel is an 'occupying' and 'terror' state
Wednesday 13 December 2017 10:10
Comments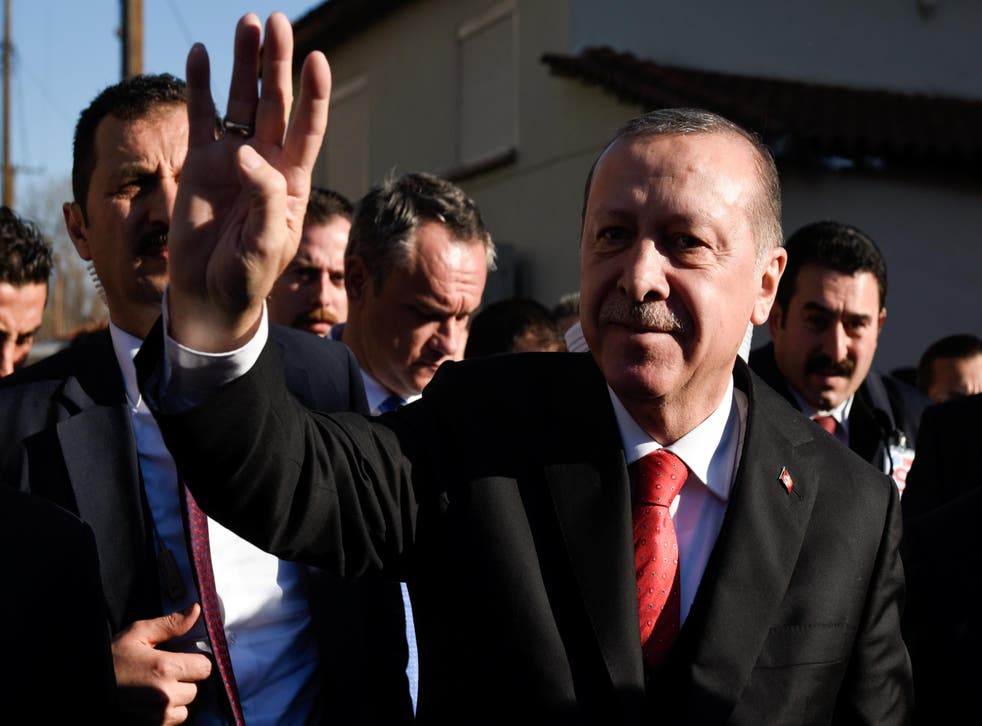 Turkey's President Recep Tayyip Erdogan has sharply criticised Israel at the opening of a summit of Islamic nations in Istanbul, calling it a "terror state."
Turkey is hosting the 57-member Organization of Islamic Cooperation on Wednesday in the wake of the US decision to recognise Jerusalem as its capital — a move widely criticised across the world but hailed by Israel. The summit is expected to forge a unified position of Arab and Muslim countries.
Mr Erdogan said in his speech to the gathering that Jerusalem is a "red line" for Muslims who will not accept any aggression on its Islamic sanctuaries. He said East Jerusalem is the capital of a future Palestinian state and called on states that have not recognised a Palestinian state to do so.
Mr Erdogan said the "process to include Palestine in international agreements and institutions should be sped up". "Israel is an occupying state (and) Israel is a terror state," he said.
Palestinian President Mahmoud Abbas told Muslim leaders the US decision to recognise Jerusalem as Israel's capital was a crime which showed Washington should no longer play a role in Middle East peace talks.
Mr Abbas said President Trump was giving Jerusalem away as if it were an American city.
"Jerusalem is and always will be the capital of Palestine," he said, adding Mr Trump's decision was "the greatest crime" and a violation of international law.
Jerusalem, revered by Jews, Christians and Muslims alike, is home to Islam's third holiest site and has been at the heart of the Israeli-Palestinian conflict for decades. Israel captured Arab East Jerusalem in 1967 and later annexed it in an action not recognised internationally.
Ahead of the meeting, Turkish Foreign Minister Mevlut Cavusoglu said Muslim nations should urge the world to recognise East Jerusalem as the capital of a Palestinian state within its pre-1967 borders.
He said this week Turkey was not seeking sanctions in response to the US move, but wanted the summit to issue a strong rejection of the US decision.
The Trump administration says it remains committed to reaching peace between Israel and the Palestinians and its decision does not affect Jerusalem's future borders or status.
It says any credible future peace deal will place the Israeli capital in Jerusalem, and ditching old policies is needed to revive a peace process frozen since 2014.
Mr Abbas told the leaders in Istanbul that Washington could no longer be an honest broker.
"It will be unacceptable for it (the United States) to have a role in the political process any longer since it is biased in favour of Israel," he said. "This is our position and we hope you support us in this."
Israeli Prime Minister Benjamin Netanyahu has applauded Mr Trump's declaration and said Washington had an irreplaceable part to play in the region.
"There is no substitute to the role that the United States plays in leading the peace process," he said at a Hanukkah holiday candle lighting ceremony on Tuesday.
King Abdullah of Jordan told the Istanbul summit that he rejected any attempt to change the status quo of Jerusalem and its holy sites.
Jordan is a US ally which signed a bilateral deal with Israel in 1994. Abdullah's Hashemite dynasty is also custodian of the Muslim holy sites in Jerusalem, making Amman sensitive to any changes in the city.
The summit was also attended by leaders including Iran's President Hassan Rouhani and Sudan's Omar al-Bashir. Mr Rouhani tweeted that Mr Trump's decision showed the United States had no respect for Palestinian rights and could never be an honest mediator.
The International Criminal Court has issued arrest warrants for Mr Bashir over his alleged role in war crimes including genocide in Sudan's Darfur province, but Turkey is not a member of the court and not obliged to implement the warrants.
AP, Reuters
Register for free to continue reading
Registration is a free and easy way to support our truly independent journalism
By registering, you will also enjoy limited access to Premium articles, exclusive newsletters, commenting, and virtual events with our leading journalists
Already have an account? sign in
Register for free to continue reading
Registration is a free and easy way to support our truly independent journalism
By registering, you will also enjoy limited access to Premium articles, exclusive newsletters, commenting, and virtual events with our leading journalists
Already have an account? sign in
Join our new commenting forum
Join thought-provoking conversations, follow other Independent readers and see their replies