Jerusalem 'terrorist attack': British-born grandfather and three US citizens identified as four killed in synagogue
Rabbi Avraham Shmuel Goldberg lived in London before moving to Israel
Heather Saul
Tuesday 18 November 2014 14:08 Comments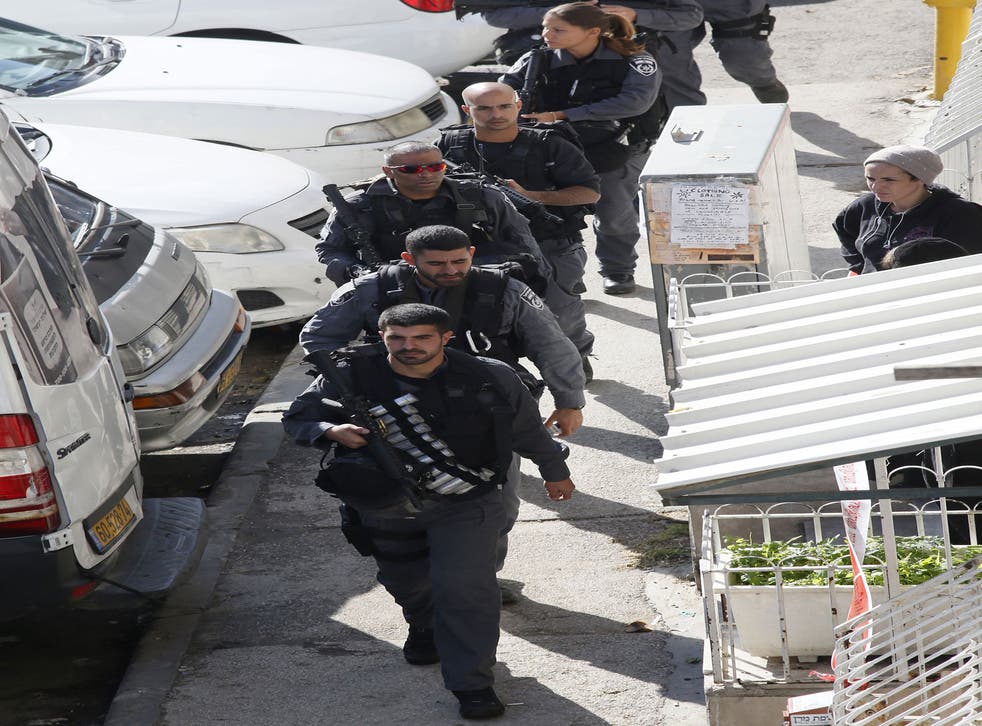 A British-Israeli national has been identified as one of five people killed by knife-wielding attackers in a Jerusalem synagogue today.
Rabbi Avraham Shmuel Goldberg, 68, and three US-Israeli citizens died when two assailants, described by Israeli police as 'terrorists' went on a killing spree armed with a pistol and a meat cleaver in a synagogue in the ultra-Orthodox Har Nof neighbourhood. An Israeli police officer, 30-year-old Zidan Saif, died later after being taken to hospital with critical injuries.
Rabbi Goldberg lived in Golders Green, London, for a number of years before moving to Israel, Haaretz reports.
Rabbi Goldberg's cousin, Michelle Hirschfield, said he "was a peaceful man, not politically involved. He only wanted peace."
Eight others were injured in the attack. One worshipper at the service said about 25 people were praying when shooting broke out. He told Israel Radio: "I looked up and saw someone shooting people at point-blank range. Then someone came in with what looked like a butcher's knife and he went wild."
Photos distributed by Israeli authorities showed a man in a prayer shawl lying dead, a bloodied butcher's cleaver on the floor and prayer books covered in blood.
Police said the attackers, who were shot dead by police, were Palestinian cousins from East Jerusalem.
Unrest in Jerusalem

Show all 22
The Popular Front for the Liberation of Palestine, a militant group, said the cousins were its members.
Palestinian media named the attackers as Ghassan and Udai Abu Jamal, cousins from the Jerusalem district of Jabal Mukaber, where clashes broke out as Israeli security forces moved in to make arrests.
On Tuesday evening, police said they were investigating claims that a Palestinian was stabbed in the leg and hospitalised by three Jewish assailants in downtown Jerusalem.
Meanwhile, thousands of people have attended a joint funeral for Mr Kupinsky, Mr Levine and Mr Goldberg held before sundown outside the synagogue where the attack occurred.
Following the incident, Israel's public security minister, Yitzhak Aharonovitch, vowed to ease restrictions on carrying firearms for self-defense.
It was not clear when the new measures would be put into place, but Mr Aharonovitch said the rule would apply to anyone licensed to carry a gun in Jerusalem such as private security guards and off-duty army officers, the Times of Israel reported.
Mr Aharonovitch added that the government had instructed synagogues to place security guards at their entrances.
In addition, police officers have raised the threat level in the city to one below the highest, and patrols around religious buildings and holy including mosques and synagogues would be enhanced.
Earlier, Hamas praised the attack, saying it was a "response to continued Israeli crimes, the killing, desecrating al-Aqsa (mosque)".
Israeli Prime Minister Benjamin Netanyahu condemned Tuesday's violence as a "cruel murder of Jews who came to pray and were killed by despicable murderers and vowed to "respond with a heavy hand".
Palestinian President Mahmoud Abbas condemned the attack, the first time he has done so since a recent spike in deadly violence.
In a statement, his office said he "condemns the killing of the worshippers in a synagogue in west Jerusalem". The statement called for an end to the "invasion" of the mosque at the holy site and a halt to "incitement" by Israeli ministers.
US President Barack Obama also expressed his disapproval of the attack in which three US-Israeli dual nationals were killed, and called on both sides to co-operate with each other and "reject violence".
"I strongly condemn today's terrorist attack on worshipers at a synagogue in Jerusalem," Obama said in a statement. "There is and can be no justification for such attacks against innocent civilians," he said.
He added: "At this sensitive moment in Jerusalem, it is all the more important for Israeli and Palestinian leaders and ordinary citizens to work cooperatively together to lower tensions, reject violence, and seek a path forward towards peace."
Additional reporting by agencies
Register for free to continue reading
Registration is a free and easy way to support our truly independent journalism
By registering, you will also enjoy limited access to Premium articles, exclusive newsletters, commenting, and virtual events with our leading journalists
Already have an account? sign in
Join our new commenting forum
Join thought-provoking conversations, follow other Independent readers and see their replies