Jewish extremists suspected of torching Sea of Galilee 'loaves and fishes' church in Tabgha
Words from a Jewish prayer urging the 'cutting down' of idol worshippers were daubed in red paint on a wall outside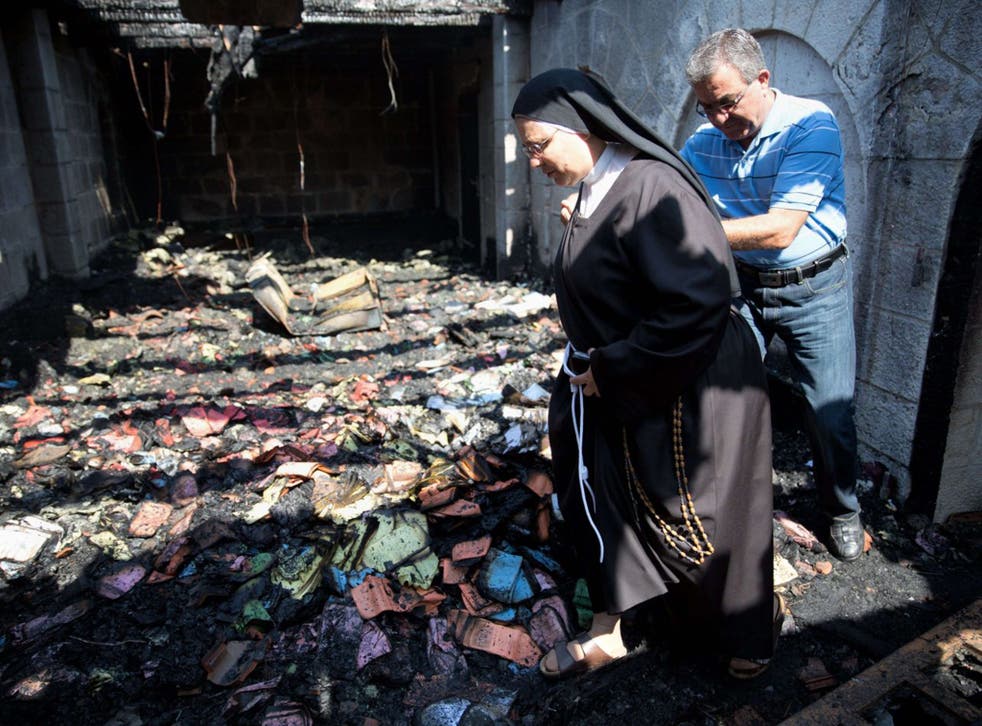 A fire believed to have been started by Jewish extremists has badly damaged a church on the Sea of Galilee built on the site where Christian tradition holds that Jesus performed the miracle of feeding five thousand people with two fish and five loaves of bread.
The Roman Catholic Church of the Multiplication of the Loaves and Fish at Tabgha was extensively damaged "both inside and out" by the fire, according to police spokesman Micky Rosenfeld.
Father Matthias Karl, a German monk from the church, told reporters that an office for pilgrims, a souvenir shop and a meeting room were heavily damaged and bibles and prayer books were burnt. However, the prayer area was not harmed, he said.
Words from a Jewish prayer urging the "cutting down" of idol worshippers were daubed in red paint on a wall outside the church. Firefighters determined that the blaze had broken out in several places.
Israeli leaders quickly and vigorously condemned the hate crime, with Prime Minister Benjamin Netanyahu terming it "appalling". But Catholic leaders suggested it may have been enabled by what they claim has been a lax Israeli policy towards such actions in the past.
"We had incidents including at Tabgha and Dormition Abbey where Israeli authorities didn't do enough to stop them, so we expected such a crime and this may continue if the authorities don't take concrete steps to stop it, to show they are serious in protecting the holy places in the Holy Land," said Father Jamal Khader, rector of the Latin Patriarchate Seminary in Beit Jalla in the West Bank.
Last year, a group of mostly Jewish youth attacked the Church of the Multiplication of the Loaves and Fish outdoor prayer area, pelting worshippers with stones, destroying a cross and throwing benches into a fire, Father Karl told the Associated Press.
In January 2014, vandals punctured the tyres of cars and scrawled anti-Christian graffiti on a Catholic monastery at Deir Rafat, near the town of Beit Shemesh.
In May 2014, a Romanian Orthodox church in Jerusalem was defaced with graffiti saying "Jesus is garbage". Shortly before that, graffiti was scrawled on the Notre Dame Centre in Jerusalem saying: "Death to Arabs and Christians and those who hate Israel."
In April, a Maronite Catholic cemetery was vandalised in northern Israel. The attacks have also targeted mosques, with vandals four months ago setting fire to one in Jaba village near Bethlehem. They left behind graffiti with a star of David and the word "revenge".
According to Tag Meir, an Israeli anti-racism group, there have been no indictments in connection with these attacks or 36 others against churches, monasteries and mosques in the past three years.
"Punishing these crimes is not a priority for the authorities," said Yossi Saidov, a Tag Meir activist. "The message that comes down from the Prime Minister to the individual policeman is that it's all right that this happens, it's not so terrible."
"If 43 synagogues were attacked in Poland and the authorities didn't stop it, we would scream that it was anti-Semitism and rightly so," Mr Saidov said.
Mr Netanyahu's office said he has instructed the Shin Bet intelligence agency chief Yoram Cohen to carry out an "expedited" investigation of the Tabgha fire. Mr Netanyahu said "This appalling arson against a church is an attack on all of us. Freedom of worship in Israel is one of the foundation stones of our values and is enshrined in the law. We will fulfill the law against those responsible for this criminal action. Hatred and intolerance have no place in our society."
Mr Rosenfeld said that police detained 16 youths from a West Bank settlement for questioning to check if they were linked to the church attack and then released them.
Register for free to continue reading
Registration is a free and easy way to support our truly independent journalism
By registering, you will also enjoy limited access to Premium articles, exclusive newsletters, commenting, and virtual events with our leading journalists
Already have an account? sign in
Register for free to continue reading
Registration is a free and easy way to support our truly independent journalism
By registering, you will also enjoy limited access to Premium articles, exclusive newsletters, commenting, and virtual events with our leading journalists
Already have an account? sign in
Join our new commenting forum
Join thought-provoking conversations, follow other Independent readers and see their replies