John Kerry says Middle East peace 'possible in nine months', but formidable obstacles remain
The sticking points are familiar ones: security, borders, the right of return for Palestinian refugees since 1948, the status of Jerusalem, and a formal recognition of the Jewish state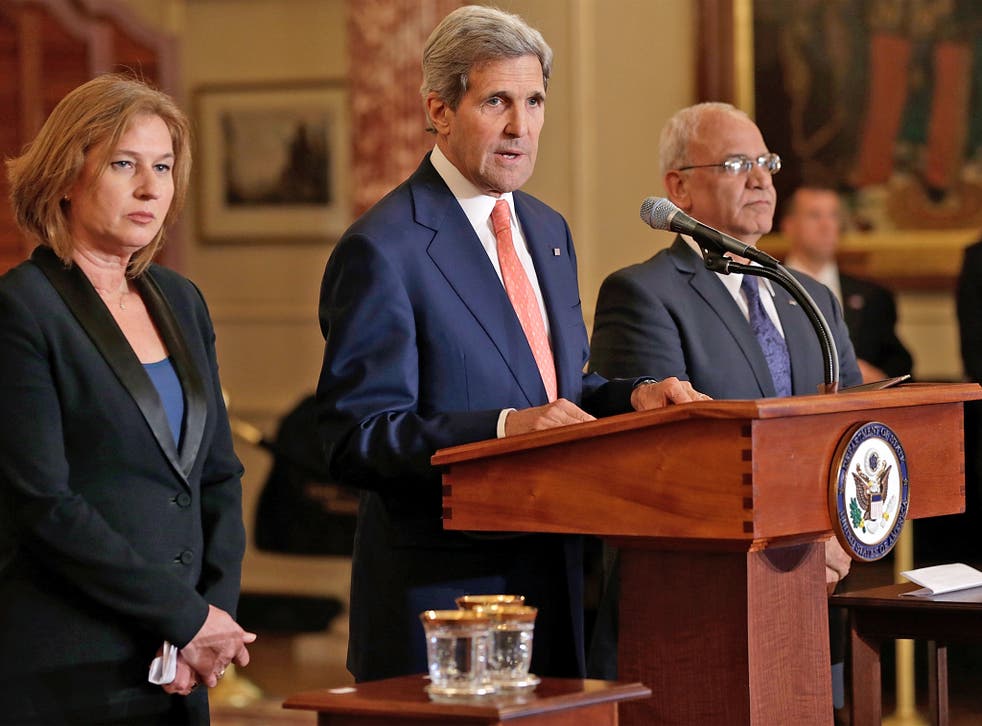 Israeli and Palestinian negotiators will start substantive work on a peace deal in the next two weeks, after what US Secretary of State John Kerry called "positive and constructive" preliminary talks in Washington aimed at setting out a procedural framework for the hard bargaining ahead.
After two days of discussions, which included a meeting with President Barack Obama, Mr Kerry said both sides had promised to try to reach a deal within nine months – and that he was convinced an agreement was possible.
Nonetheless, all parties acknowledge that even if the nine-month deadline is extended, formidable obstacles lie in the way. The sticking points are the familiar ones: security, borders, the right of return for Palestinian refugees since 1948, the status of Jerusalem, and formal Palestinian recognition of the Jewish state. But Mr Kerry said the two parties were committed to "sustained, continuous and substantive negotiations" on these core issues.
The next meeting will be in Israel or the Palestinian territories. Talks will be guided by Martin Indyk, the former Clinton administration official and ambassador to Israel, named as the new US Middle East envoy by Mr Kerry.
Flanking Mr Kerry at today's press conference were the leaders of the respective delegations, Israeli justice minister Tzipi Livni, and veteran Palestinian negotiator Saeb Erekat, involved in most of the previous efforts to clinch a settlement over the past two decades.
Earlier, the pair met Mr Obama but no details emerged. The President's only comment was in a written statement on Monday evening, praising the talks as a "promising step forward" but warning that "hard work and hard choices" lay ahead."
Mr Obama's low profile in proceedings doubtless reflects wariness after the bruising failure of his first attempt to get talks moving. Those broke down in 2010 over security issues and Israel's refusal to freeze its settlements on the West Bank, as the US had demanded.
Analysts say that if new talks reach critical mass, the President will have to step in in person – much as Bill Clinton did during two weeks of negotiations at Camp David in 2000, when, by some accounts, the two sides came within touching distance of a settlement.
Join our new commenting forum
Join thought-provoking conversations, follow other Independent readers and see their replies