Jordan's king appoints new prime minister as protesters vent fury at austerity on streets
Harvard-educated Omar Razzaz, a former senior World Bank official, has been tasked with conducting a comprehensive tax review in order to offset the public's anger over the government's austerity programme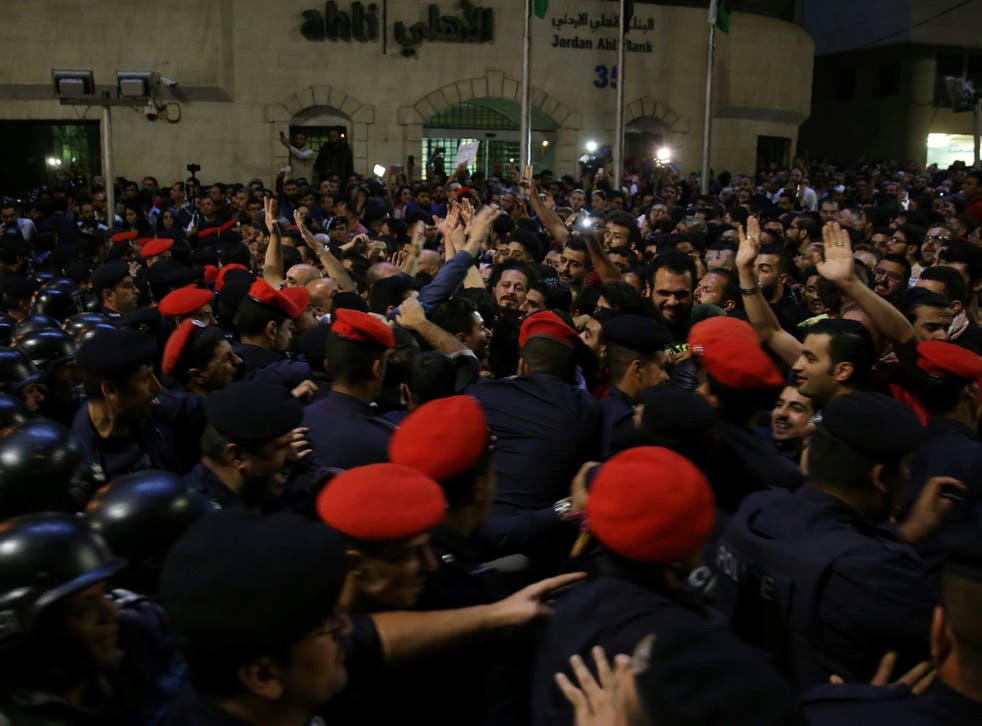 Jordan's King Abdullah II has appointed a new prime minister, the royal palace said, after previous leader Hani Mulka's resignation was accepted on Monday in an attempt to quell public protests over IMF-driven reforms.
His replacement, Harvard-educated Omar Razzaz, a former senior World Bank official, has been asked to carry out a comprehensive tax review in order to placate members of the public furious at the government's austerity programme.
Critics argue the current tax settlement unfairly targets the poor and the middle class, with little in the way of public service provision in return.
However, it is unclear how radical Mr Razzaz will be allowed to be in response to the country's political crisis, as the monarch sets the boundaries of any political reform and has the final say on all policy issues.
In a letter designating Mr Razzaz, King Abdullah II said: "Your government's priority must be to launch the potential of the Jordanian economy... to restore its ability for growth and providing job opportunities."
Expressing sympathy for Jordanians struggling to get by in his confirmation letter, it remains to be seen whether the king will provide the new prime minister with a reform mandate.
World news in pictures

Show all 50
Jordanian analyst Helmi Asmar, who writes for the Ad Dustour newspaper, said it was too early to tell. "Is he [Razzaz] the one to run the country, or the old machine and the old system?" he asked. "We hope for the good, but until now we haven't seen enough signs to be optimistic."
Protestors certainly aren't resting on their laurels. Even after Mr Mulki's resignation, protests continued, with several thousand Jordanians marching to the prime minister's office on Monday night and on Tuesday.
Riot police scuffled with some marchers, although the protest was largely peaceful, with attendees calling for fundamental reforms rather than just personnel changes at the top.
Organisers said the appointment of Mr Razzaz was not enough to dampen the protests, with action expected to continue – including a one-day strike set for Wednesday – until the tax regime is changed.
Jordan's economic downturn is partly due to the devastating conflicts in neighbouring Syria and Iraq, which have led to a large influx in refugees. Yet the protestors' ire has mainly been directed at the IMF-enforced austerity measures, a set of economic reforms implemented in response to rising public debt, but which have seen a decreasing quality of public services and the official unemployment rate rise to over 18 per cent.
Additional reporting by agencies
Join our new commenting forum
Join thought-provoking conversations, follow other Independent readers and see their replies