Jordanian MP opens fire on colleague with automatic gun after 'dispute about the budget'
Though debates can often get heated in the country's Chamber of Deputies, it is the first time in its history that bullets have been fired within the parliament building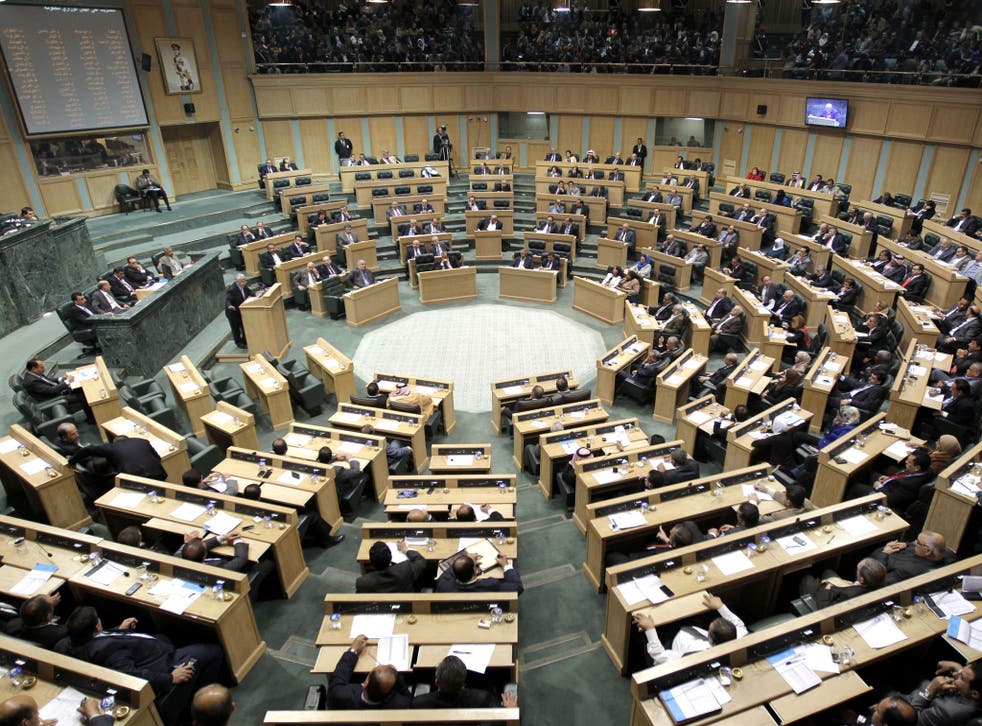 A Jordanian MP has opened fire on a colleague in a corridor of the country's parliament, following a dispute over political budgets.
Enraged after a disagreement with a fellow member of the Chamber of Deputies, MP Talal Al Sharif reportedly ran outside to his car and retrieved an automatic weapon.
A number of MPs told Al Jazeera that they then witnessed Mr Sharif storm into the building, chase down the man with whom he had been arguing, and allegedly aim the gun at him.
Another MP, Mariam Al Lozi, reportedly then tried to stop Mr Sharif from using the weapon by directing the barrel upwards. The gun was then fired, at least three times, into the ceiling and wall immediately outside the parliament's main hall.
Both the men were identified as prominent members of traditional Bedouin tribes with no particular ideological agenda, and early reports suggested that the protagonists involved would not be named because parliament was meeting in a closed session at the time.
But the incident has apparently angered Jordanian King Abdullah II, who has made an exception in this case and instructed the speaker of the house to hand Mr Sharif over to the police.
Prosecutors in Jordan now say the alleged shooter could face up to 15 years in jail, and he has been charged with attempted murder, possession of a firearm without a license, resisting police arrest and disturbing public order, according to a police official.
This is not the first time a meeting of the 180-seat chamber has turned violent, but it is the first time in its history that bullets have been fired. On a number of occasions members have thrown shoes and water bottles at each other, and in a prominent recent television debate one MP was restrained from pointing a gun at a colleague.
An official has named the target of the shooting as Qusai al-Dmeisi, and said he had lodged a complaint with the prosecutor earlier in the day.
He added that Mr Sharif was detained for an initial 15 days, pending questioning.
Register for free to continue reading
Registration is a free and easy way to support our truly independent journalism
By registering, you will also enjoy limited access to Premium articles, exclusive newsletters, commenting, and virtual events with our leading journalists
Already have an account? sign in
Register for free to continue reading
Registration is a free and easy way to support our truly independent journalism
By registering, you will also enjoy limited access to Premium articles, exclusive newsletters, commenting, and virtual events with our leading journalists
Already have an account? sign in
Join our new commenting forum
Join thought-provoking conversations, follow other Independent readers and see their replies