Kabul attack: Taliban deny responsibility for suicide bomb outside German embassy killing at least 90
German security sources confirm its embassy workers are among victims in one of the biggest terror attacks to ever hit the city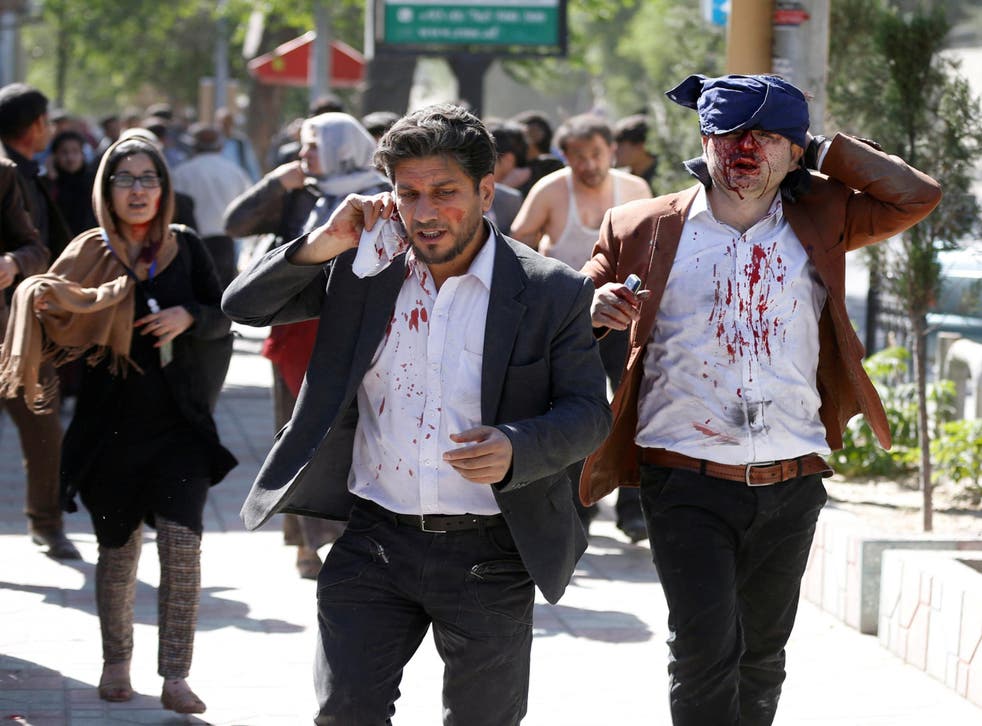 The Taliban has denied responsibility for a deadly suicide car bombing in the Afghan capital of Kabul which has killed at least 90 people and wounded more than 400.
Zabihullah Mujahdid, a spokesperson for the militant Islamist group, said the organisation was not involved in the massive explosion near the German embassy in the city's heavily fortified diplomatic district.
The powerful suicide truck bomb was deployed during rush hour on Wednesday morning, police said.
Suicide bomb kills at least 80 and wounds more than 350 in Afghanistan
One Afghan security guard was killed and several German employees injured in the blast, German Foreign Minister Sigmar Gabriel said on Twitter.
"The attack took place very close to the German embassy. It hit civilians and those who are in Afghanistan to work for a better future for the country with the people there. It's especially contemptible that these people were the target," Mr Gabriel wrote.
The huge explosion - which set more than 50 cars alight and shattered windows hundreds of metres away - is thought to be one of the most deadly attacks to ever hit the capital. Video from the scene showed thick plumes of smoke rising in the air and a number of injured people and bodies still lying on the ground or in cars. The majority of the dead are thought to be civilians. Two Japanese nationals were also harmed in the bombing, and the nearby Turkish and Chinese embassies also sustained damage.
Kabul bomb blast kills at least 90 people

Show all 13
A wave of recent violence across the country has been claimed by either the Taliban or Isis. Before Wednesday, a total of 220 people had been killed in extremist incidents in Kabul since April 2015.
There has been no claim of responsibility for Wednesday's attack so far.
There have been a number of violent incidents in Kabul's supposedly secure diplomatic district in the last year which have targeted foreigners. The latest massive blast is sure to raise questions about existing security procedures.
Local media said that a lorry or water tanker filled with explosives was to blame for the vast damage. The Afghan authorities later confirmed a sewage tanker had been used in Wednesday's violence.
The withdrawal of most international troops from Afghanistan in 2014 has led to a resurgence of the Taliban and created chaos in which extremists such as Isis have been able to gain a foothold in the country.
More than a third of the country is currently controlled by Islamists. The Pentagon has repeatedly urged new US President Donald Trump to send more troops to Afghanistan to help the existing 13,000 US and Nato solders currently deployed tackle the precarious security situation.
Join our new commenting forum
Join thought-provoking conversations, follow other Independent readers and see their replies