Kabul bombing attack: Suicide bomber kills at least 11 in Afghanistan
Blast hits close to group of security personnel carrying out operation against illegal drugs and alcohol dealing
Mirwais Harooni
Thursday 04 January 2018 19:34 Comments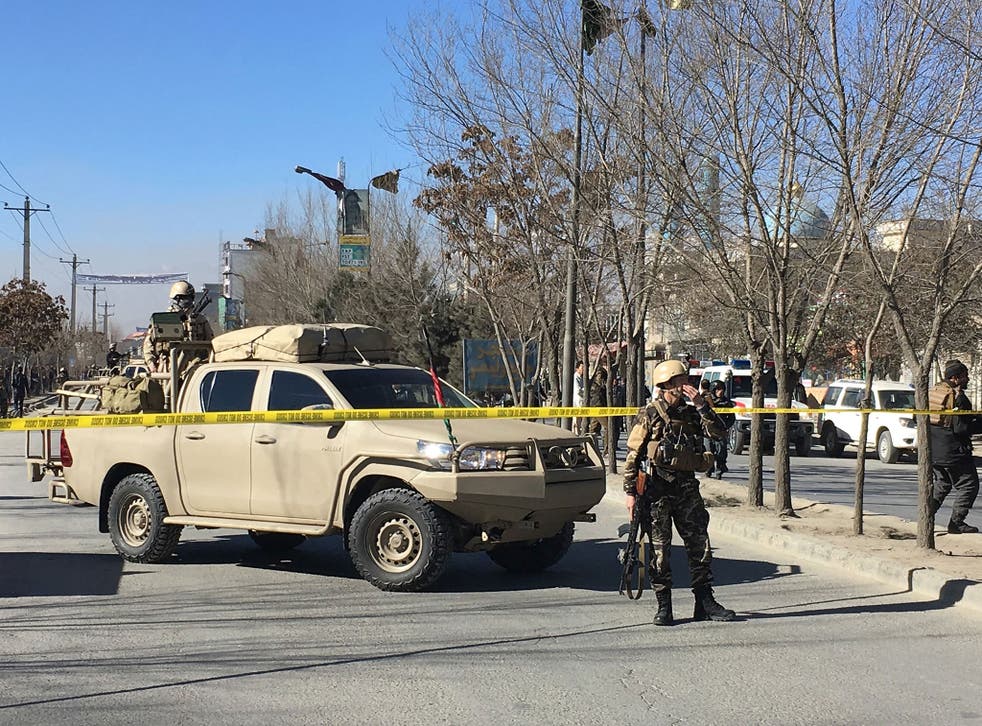 Eleven people have been killed and dozens wounded after a suicide bomber blew himself up in the Afghan capital, Kabul.
The blast happened close to a group of security personnel who were carrying out an operation against illegal drugs and alcohol dealing, officials said.
Wahid Majroh, a spokesman for the ministry of public health, said 11 dead and 25 wounded had been brought to city hospitals after the blast in an area of the city not far from the US Embassy and other foreign missions.
As security forces arrived, a Reuters reporter saw four police vehicles carrying dead or wounded security personnel from the scene.
A security official at the scene confirmed the explosion had been caused by a suicide attack and Kabul police spokesman Basir Mujahid said at least five police had been killed.
An official at the ministry of public said 15 wounded had been brought into city hospitals.
Police officers at the scene said the bomber had been wearing police or army uniform and had approached a group of security personnel near where the controls on illegal drugs and alcohol had been carried out, but there was no official confirmation.
"Kabul police forces were there to prevent a possible protest when a suicide bomber approached them and detonated his suicide vest," Mr Mujahid said.
Protesters demand better security in Kabul

Show all 10
Isis claimed responsibility for the attack, saying it had killed or injured some 80 Afghan police and security people.
While Afghan forces backed by US air strikes have claimed some success against Taliban insurgents since the US announced a stepped up military strategy last year, high profile attacks on civilian targets in Kabul have continued.
The attack happened days after a suicide bomber killed at least 41 people and wounded more than 80 at a Shi'ite cultural centre in Kabul, underlining the precarious security situation in the Afghan capital.
That attack was claimed by Isis, which has claimed responsibility for a number of similar attacks in Afghanistan over the past two years.
Reuters
Register for free to continue reading
Registration is a free and easy way to support our truly independent journalism
By registering, you will also enjoy limited access to Premium articles, exclusive newsletters, commenting, and virtual events with our leading journalists
Already have an account? sign in
Join our new commenting forum
Join thought-provoking conversations, follow other Independent readers and see their replies