KHASHOGGI: ONE YEAR ON
How a murder in a consulate thousands of miles away made the US reassess its relationship with Saudi Arabia
Analysis: The Saudi Crown Prince's failure to wholly rehabilitate his image continues to threaten the long-time alliance between his country and the United States, writes Negar Mortazavi
Wednesday 02 October 2019 16:16
comments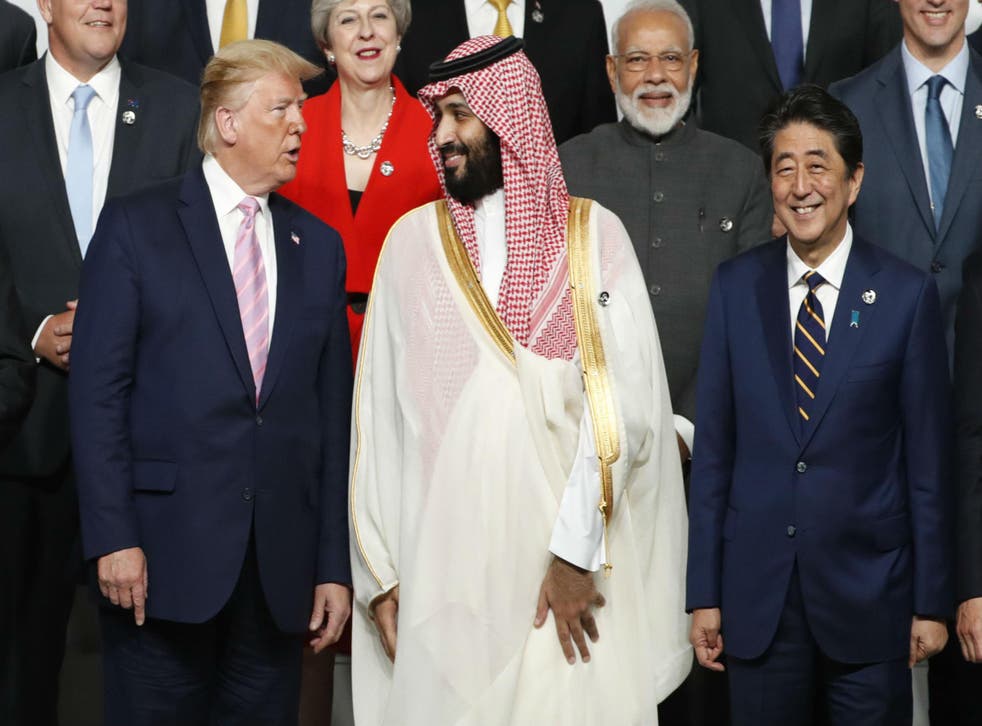 It has now been a year since Jamal Khashoggi was brutally murdered at the Saudi consulate in Istanbul, a murder that tarnished the carefully-built "reformer" image of crown prince Mohammed bin Salman in Washington, transformed US-Saudi relations in an unprecedented way, and sparked heated debates in Congress to cut weapons sales to the Kingdom and end the catastrophic war in Yemen.
The premeditated murder, and the Saudi government's subsequent denials, tarnished a carefully built image of the Kingdom's young crown prince, Mohammed bin Salman, a leader who has tried to be seen as a "reformer" transforming a conservative monarchy into a modern nation. But the Khashoggi murder uncovered a dark layer of brutality that had been hidden behind what looked like a new era.
Jamal Khashoggi's murder was extensively covered by American media. He was a well-known journalist who wrote columns for The Washington Post and had deep connections in the US foreign policy establishment, especially in the Washington area where he resided more than a year.
He was a long-time Saudi government insider who was a source for American journalists, spoke on panels at institutions and think tanks, and briefed members of Congress and their staff.
Not only that, but the way he was murdered was so horrific and the unfolding tale began to resemble a Hollywood spy movie, that it generated massive attention, says Mohamad Bazzi, a journalism professor at New York University and former Middle East bureau chief at Newsday.
Jamal Khashoggi death: key figures

Show all 7
After the Khashoggi murder, Washington's foreign policy establishment started turning on Mohammad bin Salman. Opinion makers such as Thomas Friedman and others who had helped present the Crown Prince as a reformer to the American public suddenly became critical of him.
The Saudi government, it seemed, had crossed a red line by going after a high-profile dissident familiar by name and face to the Washington elite.
For all of his foreign and domestic policy mistakes over the past three years – the death of thousands of civilians in the Saudi-led war on Yemen, the arrests of hundreds of human rights activists and political opponents, and the blockade against Qatar – Mr Bazzi believes Mohammad bin Salman could end up paying a higher price for the murder of one Saudi journalist.
It quickly became clear that the massive media coverage was affecting public opinion of the Saudi Kingdom here in the US.
"Americans now have a greater sense of the Saudi regime itself as a malign force", a former Congressional aide tells The Independent.
"Even the September 11 terror attacks didn't shift popular and political perceptions of Saudi Arabia among Americans as much as the Khashoggi murder", he said.
The murder soon led a nearly 180-degree change in terms of how American voters, pundits and policy makers view the US-Saudi relationship. It's been "the most significant change in bilateral relations in decades," says the former Congressional aide.
Among lawmakers from both parties, Khashoggi's murder turned private discomfort with Saudi Arabia into open outrage at the Kingdom's actions.
Members of congress who had been reading the classified intelligence on Saudi Arabia's activities for decades suddenly had an immense amount of political space to voice concern at the entanglement with such a partner, adds the former congressional aide.
Colonel Lawrence Wilkerson, former chief of staff to Secretary of State Colin Powell says the near unanimous agreement of the US intelligence community that the murder was ordered at the highest level, "pulled even diehard Saudi friends such as Lindsey Graham into the group wanting answers and action."
But we will understand the seriousness of congress as it moves on policy provisions in the near future, says Colonel Wilkerson.
In July, congress voted to ban arms sales to Saudi Arabia with support from Democratic and Republican lawmakers who have criticized the death of thousands of civilians in Yemen and the brutal murder of Jamal Khashoggi.
But the Trump administration decided to stand behind the Kingdom and its Crown Prince. The president vetoed the measures saying the resolutions will weaken America's global competitiveness and damage important relationships with allies and partners.
Trump also vetoed another measure back in April that would end US military involvement in the war in Yemen.
It was notable that Republican members of congress broke ranks and voted with Democrats in unprecedented move against Saudi Arabia.
President Trump, his son in law and senior adviser Jared Kushner, Secretary of State Mike Pompeo, former National Security Adviser John Bolton, and former Defence Secretary Jim Mattis, all contradicted the conclusions of US intelligence services that Mohammed bin Salman was responsible for the murder.
Anniversary of Jamal Khashoggi's killing marked with Istanbul vigil
Most prior US administrations would have taken a tougher stance on the issue, says Stephen McInerney, Executive Director at Project on Middle East Democracy in Washington.
"Unfortunately President Trump and the White House and his son in law Jared Kushner have an unusually close relationship with Mohammad Bin Salman" and as a result they have gone out of their way to protect the crown prince and insulate him from this crime, McInerney tells The Independent.
Congressman Gerry Connolly, a Democrat from Virginia who represents the Washington suburb that Jamal Khashoggi resided in, says the Trump administration has not done anything appreciably significant at all.
"It's winked and blinked and been an enabler in the murder of an American resident and abandoned American values," he says.
The crown price cannot be immune from this scrutiny and the Saudi government needs to decide that Mohammad bin Salman is such a liability that they need to have a change of course, says Congressman Connelly.
Even if Saudi royals don't isolate the crown prince, there is little he can do to repair his damaged ties with the United States, many observers believe.
Mohammed bin Salman may try another charm offensive and convince occasional CEOs or right-wing pundits to share a photo with him, but it is very unlikely that he could wholly rehabilitate his image, and his failures continue to threaten the foundation of the long-time alliance between the United States and Saudi Arabia.
Join our new commenting forum
Join thought-provoking conversations, follow other Independent readers and see their replies