King Abdullah of Jordan promises his country will wage a 'relentless' war against Isis in wake of pilot's execution
Jordan strengthens its resolve against militants following Lt Muath al-Kasaesbeh horrific murder as king is given hero's welcome on return to Amman
Fernande van Tets
Wednesday 04 February 2015 22:27 Comments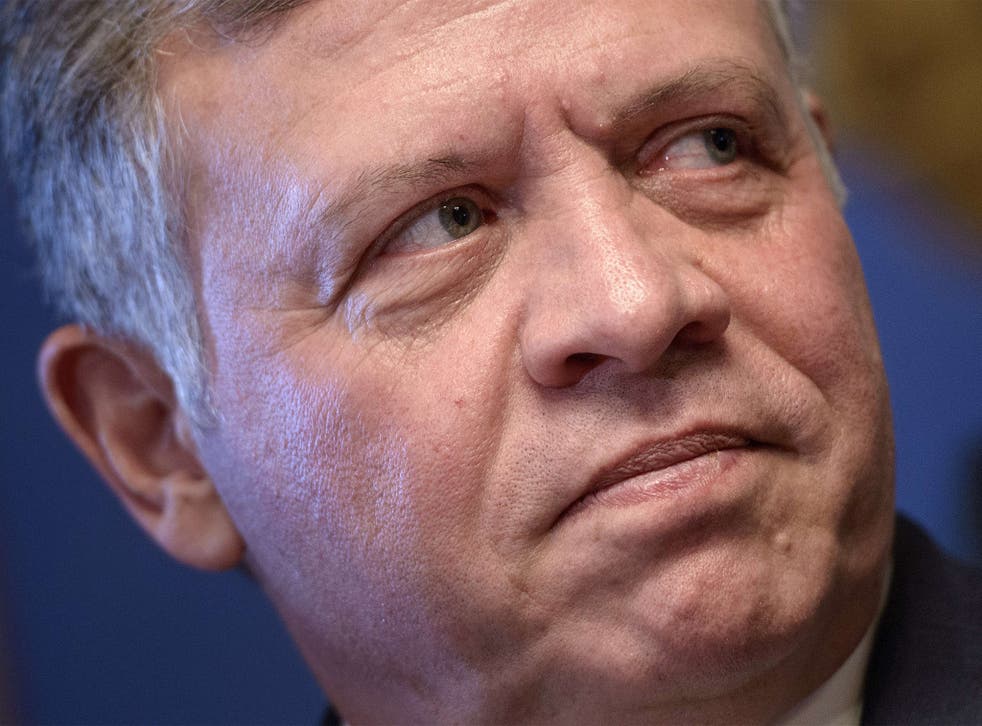 King Abdullah of Jordan has swept aside any suggestion of caution in confronting Isis, declaring that his country would fight a "relentless" war against the jihadist group after the murder of one of his air-force pilots.
As he arrived back in the capital, Amman, after cutting short a trip to the US to deal with the crisis facing his kingdom, he told state television: "We are waging this war to protect our faith, our values and human principles and our war for their sake will be relentless and will hit them in their own ground."
Hours earlier, Jordan had executed two prisoners connected to Isis's terrorist predecessor, al-Qaeda in Iraq (AQI), who had previously been sentenced to death, and more were reported to be facing execution imminently.
The King's comments set Jordan on a path which some fear may eventually divide his nation, but which appeared to have widespread support there among his galvanised subjects, 24 hours after the release of video showing Lieutenant Muath al-Kasaesbeh being burned alive in a metal cage.
Jordanians, spurred on by official rhetoric, vowed that they would destroy the jihadist group, rather than change course. "They [Isis] achieved the opposite of what they wanted," said Mohammed Abdel Ghani Zedyin, 59, whose son is serving with Jordan's special forces, at a gathering in support of the King following midday prayers at the Husseini mosque in central Amman.
Rather than doubting its involvement in the coalition fighting against Isis, the country had united, he said. "Daesh has brought us together," he said, referring to the group by an often used, dismissive acronym.
"We should send more planes, more personnel," said Imad Sayyed, 52, an importer. "There is a danger for Jordan also, as they are on our borders."
Soon afterwards, four fighter jets in formation flew low over the capital city in what the armed forces said was a tribute to Lt Kasaesbeh by pilots on their way to conduct air strikes in Syria – and foreshadowing a stepping up of Jordanian military efforts in coming weeks. There were reports today that the US administration planned to increase its funding of Jordan, in part to combat Isis, by $340m a year for the next five years.
"We are talking about a collaborative effort between coalition members to intensify efforts to stop extremism and terrorism, to undermine, degrade and eventually finish Daesh," said Jordanian government spokesman Mohammed al-Momani.
Public radio stations paid continuous tribute to the fallen "martyr", described as the 2,545th such in Jordan's history. "Now, every Jordanian will come together against terrorism," was one frequently repeated slogan.
Meanwhile, there was no sign of the planned march against the coalition fighting Isis, called for on Tuesday evening by some mourners in Lt Kasaesbeh's home town, Karak. Some of his family, who are members of the powerful Bararsheh tribe, have questioned whether this was Jordan's fight, but the largest gatherings were in support of the King, as Jordanians gathered at the airport and along roads.
Unable to bury the slain pilot, whose body was shown being crushed under rubble after his murder in the Isis video, his family received condolences at their home village of Ay near Karak, 60 miles south of Amman.
Held in a traditional tent adorned with portrait photos of the newly wed 28-year-old pilot, the gathering was an occasion for grief but also a show of support for King Abdullah, who has faced public criticism over the hostage crisis. He was due to visit the family and pay his own respects.
Hundreds of Jordanians gathered from the early morning to pay their condolences. They included former royal court officials, ministers, and tribesmen who form an important pillar of Hashemite rule, supplying the army and security forces with recruits such as Lt Kasaesbeh.
The brutality of the killing was apparently celebrated in Raqqa, the Syrian city which Isis has declared the capital of its "Islamic State". Isis released a video showing men and young boys gathering to watch Lt Kasaesbeh's immolation on large screens. The video, entitled "Muslims' joy at burning of Jordanian Pilot", shows crowds cheering and chanting as they watch the barbaric broadcast and a smiling boy praises the killing.
In pictures: The rise of Isis

Show all 74
But it was condemned throughout the rest of the Arab world. Al-Azhar in Egypt, the highest centre for Islamic learning, decreed that Isis members should be killed, crucified or have their arms chopped off. "Islam prohibits the taking of an innocent life," grand sheikh Ahmed al-Tayeb said in a statement.
The murdered pilot's father, who had been among those who previously questioned the government's handling of his son's capture, added his voice to those demanding revenge on Isis. "I demand none of them amongst us be kept alive," Safi al-Kasaesbeh told Al Jazeera television. "I demand the revenge be greater than executing prisoners. I demand the Isil organisation be annihilated.
"This murderous organisation, made up of militants from all the world countries, is acting in barbaric ways, violating all the international laws, codes of ethics, and prisoners' conventions. That is why I strongly demand the government to swiftly take revenge for the blood of Muath and the dignity of our country."
Register for free to continue reading
Registration is a free and easy way to support our truly independent journalism
By registering, you will also enjoy limited access to Premium articles, exclusive newsletters, commenting, and virtual events with our leading journalists
Already have an account? sign in
Join our new commenting forum
Join thought-provoking conversations, follow other Independent readers and see their replies