Egypt moves last chariot of King Tutankhamun to new museum
Seven thousand sqm have been allocated to once leader's belongings at new site, which is home to thousands of archaeological finds
Saturday 05 May 2018 19:03 Comments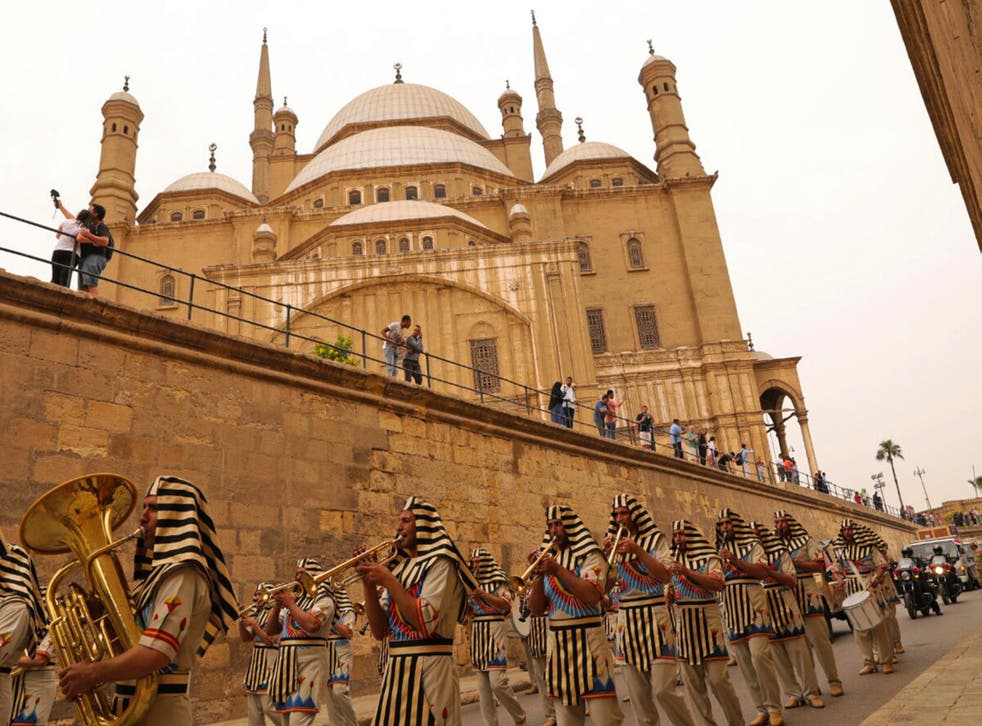 Egypt has moved the sixth and last chariot of pharaoh Tutankhamun to an under construction museum near the pyramids in Giza.
The priceless artefact, paraded through Cairo on Saturday with a military police escort, was relocated from the Egyptian National Military Museum to its final resting place at the Grand Egyptian Museum.
The chariot was a major feature of the military museum for more than 30 years.
It now sits among more than 4,500 of king Tutankhamun's items at the Grand Egyptian Museum.
Some 7,000 sqm have been allocated to king Tutankhamun's belongings at the new museum, home to thousands of artefacts spanning different dynasties of ancient Egypt.
Ancient necropolis discovered in Egypt

Show all 6
The nearly intact tomb of the 18th dynasty king was discovered in 1922.
Earlier this year it was announced that the search for a secret chamber in King Tutankhamun's tomb will recommence later this month.
A team from the Polytechnic University of Turin will be scanning the burial site and surrounding areas in the hope of finding buried treasures.
The expedition is the third time researchers have studied the tomb in the past two years, with the hope of finding the resting place of Queen Nefertiti, Tutankhamun's mother.
Many leading experts believe that the remains of Nefertiti could lie beyond the walls of Tutankhamun's tomb and there have been suggestions a small hole may be drilled and a camera passed through to give researchers a clear perspective.
Queen Nefertiti is one of the most famous symbols of ancient Egypt and classical beauty.
King Tutankhamun's reign lasted from around 1332-1323BC. The discovery of his complete, undisturbed tomb in 1922 by Briton Howard Carter remains one of the most sensational archaeological discoveries of all time.
Register for free to continue reading
Registration is a free and easy way to support our truly independent journalism
By registering, you will also enjoy limited access to Premium articles, exclusive newsletters, commenting, and virtual events with our leading journalists
Already have an account? sign in
Join our new commenting forum
Join thought-provoking conversations, follow other Independent readers and see their replies