Kunduz hospital air strike: MSF 'disgusted' by Afghan officials' claim centre was used to hide 'Taliban'
MSF's General Director claimed such suggestions 'amounts to an admission of a war crime'
Rose Troup Buchanan
Monday 05 October 2015 08:51 Comments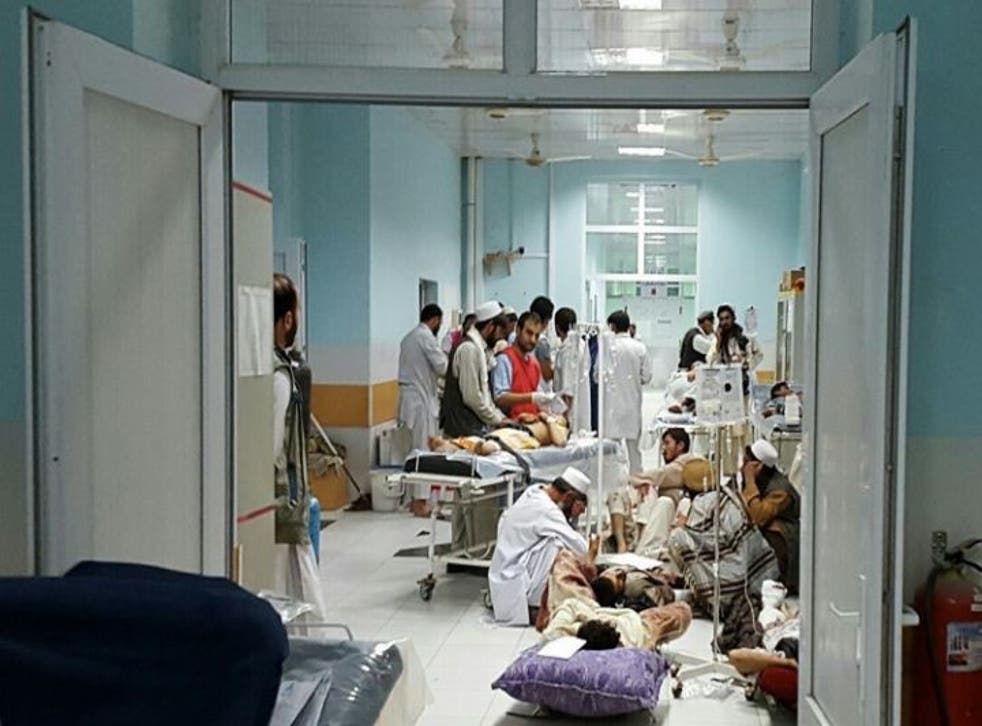 Medecins Sans Frontieres (MSF) has said it is "disgusted" by Afghan government statements that appeared to justify an air strike on a remote hospital that claimed at least 22 lives – and claimed such statements "amounts to an admission of a war crime."
MSF's Kunduz facility, in the north-eastern corner of Afghanistan, was the only working trauma hospital in the region before it was destroyed by US-led Nato air strikes on Saturday morning.
On Monday, the US and Afghanistan said they would jointly investigate the attack despite Afghan ministers previously claiming Taliban fighters were hiding inside the hospital.
"The hospital campus was 100 per cent used by the Taliban," acting governor, Hamdullah Danishi, told the Washington Post on Sunday.
MSF General Director Christopher Stokes said he was "disgusted" by the claims.
"These statements imply Afghan and US forces decided to raze to the ground a fully functioning hospital with more than 180 staff and patients inside because they claim that members of the Taliban were present," he said in a statement.
"This amounts to an admission of a war crime."
Mr Stokes added the Afghan statements "utterly contradicts" earlier comments from US officials in which they admitted they had caused "collateral damage".His organisation has demanded an investigation into events.
Ashton Carter, US Defence Secretary, said a full investigation into the "tragic" attack would be completed in days.
Barack Obama has refused to comment on the strike until the investigation is completed. Afghan leader Ashraf Ghani has been reticent in condemning the action, instead expressing his "sorrow" for the lives lost.
MSF said 12 staff and 10 patients were killed in the strike at around 2am on Saturday morning. The medical organisation also claimed the bombs continued to fall for almost an hour after officials urgently contacted Washington in an attempt to call off the strike.
The Afghan army, supported by US-led Nato troops, has been attempting to retake Kunduz from the Taliban after they seized the city last month.
President Obama has promised to withdraw all 9,800 US troops still in Afghanistan by 2016. These troops support the ANA (Afghan National Army) against the resurgent Taliban threat.
Register for free to continue reading
Registration is a free and easy way to support our truly independent journalism
By registering, you will also enjoy limited access to Premium articles, exclusive newsletters, commenting, and virtual events with our leading journalists
Already have an account? sign in
Register for free to continue reading
Registration is a free and easy way to support our truly independent journalism
By registering, you will also enjoy limited access to Premium articles, exclusive newsletters, commenting, and virtual events with our leading journalists
Already have an account? sign in
Join our new commenting forum
Join thought-provoking conversations, follow other Independent readers and see their replies