Kurdish fighters celebrate victory over Isis in Kobani with traditional dance through streets
The folk dance would have been brutally punished by Isis a week ago
Lizzie Dearden
Monday 02 February 2015 15:18 Comments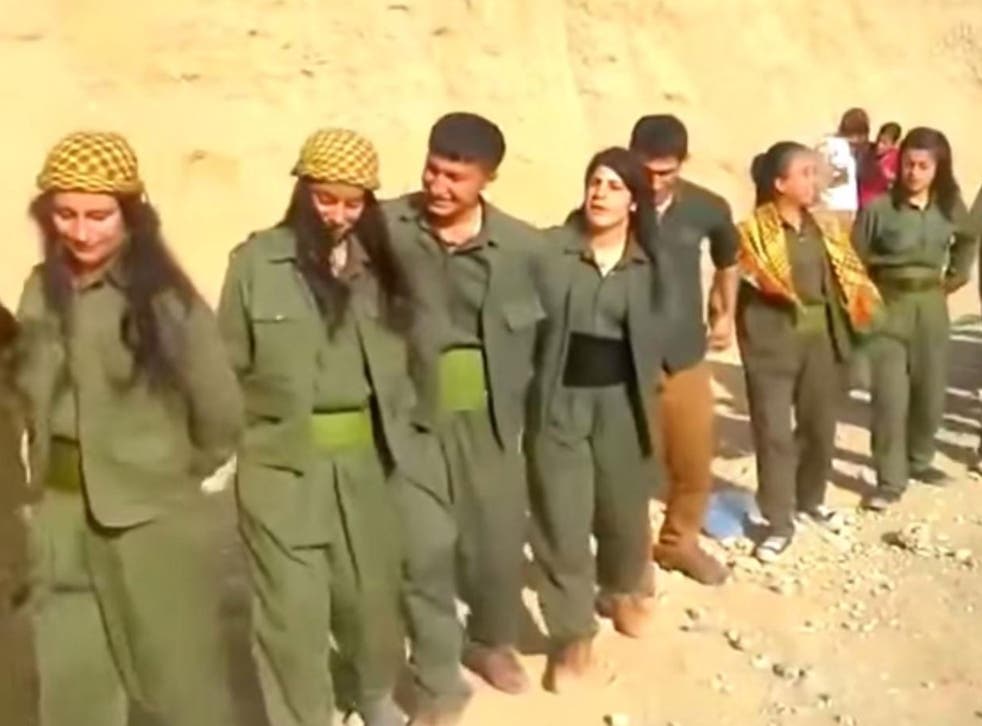 Kurdish fighters have been dancing through the rubble-strewn streets of Kobani to celebrate their victory over Isis.
A long line of young men and women were filmed in their green People's Protection Unit (YPG) uniforms holding hands and performing a traditional Kurdish dance.
They smiled and waved colourful scarves while parading towards crowds of men, women and children watching.
Dancing, music and even smoking was banned little over a week ago as Isis enforced the brutal rules of their so-called "Islamic State".
After the Islamist militants were driven out, the town celebrated with fireworks and street parties.
Kurdish fighters from the YPG backed by Iraq's Kurdish peshmerga forces wrested control of Kobani back in a battle that killed more than 1,300 people, according the London-based monitoring group Syrian Observatory for Human Rights.
Since they re-took the town, near the Syrian-Turkish border, the huge operation to clear the devastation caused by months of bombardment, air strikes and street battles has started.
Isis admitted temporary defeat but vowed to wreak revenge on the YPG, called "rats" by one fighter.
"A while ago we retreated a bit from Ayn al-Arab because of the bombardment and the killing of some brothers," he said in a video, using the Arabic name for Kobani.
"The Islamic State will stay. Say that to Obama."
The US-led coalition unleashed some of its most frequent air strikes on the territory, targeting Isis supply routes, weapon stores and fighters.
Huge explosions in Kobani

Show all 7
Capturing the town would have given Isis a direct link between its positions in the Syrian province of Aleppo and its stronghold of Raqqa, to the east.
Kobani had been under Kurdish control since July 2012 when Isis started its bloody siege of the city in September, having already captured around 300 surrounding villages.
As residents fled over the border to Turkey, volunteer Kurdish fighters were stopped travelling the other way at the border by authorities.
Violent protests swept the country as anger grew at the Turkish government's perceived inaction in the Syrian conflict, leaving Kurds over the border to their fate.
Popular support is high among Kurds for the YPG, who fight alongside the Iraqi Kurdish peshmerga and volunteers from the armed wing of the Turkish Kurdistan Workers' Party, the PKK.
The group has been fighting Isis in Syria since summer last year, also helping Yazidis escape Mount Sinjar.
But following the Turkey-PKK conflict from 1984 to 2013, the Kurdish nationalist and Communist group has been designated as a proscribed terrorist organisation by Turkey, the UK, US and much of Europe.
The presence of the PKK with the peshmerga in Syria means that a "terrorist" group is directly benefiting from international military aid and backing by US air strikes.
Register for free to continue reading
Registration is a free and easy way to support our truly independent journalism
By registering, you will also enjoy limited access to Premium articles, exclusive newsletters, commenting, and virtual events with our leading journalists
Already have an account? sign in
Join our new commenting forum
Join thought-provoking conversations, follow other Independent readers and see their replies