Kurdistan referendum: Erdogan says Iraqi Kurds risk 'ethnic war' and threatens military response to vote
Turkish president - fearful a 'yes' result will stroke separatist appetites in his own country - threatens he will let Iraq's Kurds 'starve' with economic sanctions and border closures if controversial referendum threatens Turkish security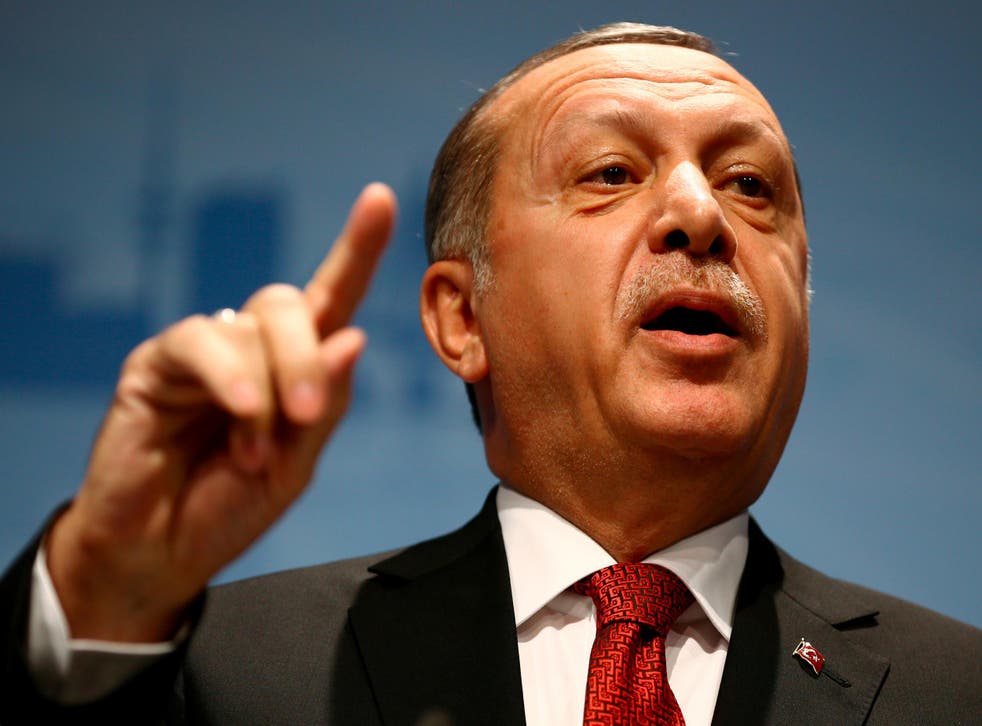 Turkish President Recep Tayyip Erdogan has warned that the referendum on support for independence for Iraqi Kurdistan next door risks sparking an "ethnic war" in the region.
In a speech at the presidential palace in Ankara on Tuesday, Mr Erdogan reiterated that all options, including the military, are on the table to protect Turkey's security.
He also repeated his Monday threat to cut off the pipeline which exports the autonomous Kurdish Regional Government (KRG) of Iraq's oil across the Turkish border.
Iraqi woman solving uniform shortage for Kurdish fighters
The KRG's 8.4 million strong population took to the polls on Monday to vote on whether to separate from Baghdad in a referendum not recognised by the central government. Turnout is believed to have been high, at around 72 per cent, and local television said 90 per cent of votes had been cast as "yes" to independence. Results are expected at the latest by Wednesday.
"Until the very last moment, we weren't expecting Barzani to make such a mistake as holding the referendum. Apparently we were wrong," Mr Erdogan said, referring to KRG President Masoud Barzani. "This referendum decision, which has been taken without any consultation, is treachery."
Iraq's Kurds would starve, he added, if Turkey decided to close its long border with northern Iraq, warning that economic and military action were both options on the table for Ankara.
The Kurdish people – who number roughly 30 million across several countries – were left stateless when the Ottoman Empire collapsed a century ago.
Iraq's neighbours Turkey and Iran also have significant Kurdish populations. Ankara and Tehran are worried that the creation of an independent Kurdistan could fuel the desire for Kurdish independence within their own countries.
My reporting on the Kurds landed me in a Turkish prison

Show all 3
While it has been met with enthusiasm by the Kurdish diaspora all over the world, Baghdad and Iraq's Arab population have expressed their concerns that areas voting in the referendum include Kirkuk, an ethnically mixed and oil-rich province.
Increasing unrest there in recent days has led to worries that the likely "yes" result could lead to Arab-Kurdish violence.
"We are not ready to discuss or have a dialogue about the results of the referendum because it is unconstitutional," Iraqi Prime Minister Haider al-Abadi said in a speech on Monday night.
Ths US also repeatedly attempted to persuade the KRG to delay the referendum, fearing further friction between Irbil and Baghdad could derail the fight against Isis and Iraq's fragile peace.
Meanwhile, Iraqi soldiers joined Turkish troops for military exercises in Turkey's southeast, near the KRG border. And Kurdish Rudaw TV was also taken off the air, a broadcasting official told Reuters.
In Irbil, however, the mood on Monday was jubilant, with public referendum celebrations continuing late into the night and beginning again on Tuesday.
Register for free to continue reading
Registration is a free and easy way to support our truly independent journalism
By registering, you will also enjoy limited access to Premium articles, exclusive newsletters, commenting, and virtual events with our leading journalists
Already have an account? sign in
Register for free to continue reading
Registration is a free and easy way to support our truly independent journalism
By registering, you will also enjoy limited access to Premium articles, exclusive newsletters, commenting, and virtual events with our leading journalists
Already have an account? sign in
Join our new commenting forum
Join thought-provoking conversations, follow other Independent readers and see their replies