Kurdistan referendum results: 93% of Iraqi Kurds vote for independence, say reports
Referendum result overwhelmingly endorses Kurdish independence from Baghdad as central government mounts pressure to 'cancel' vote and its outcome 
Wednesday 27 September 2017 18:33 BST
Comments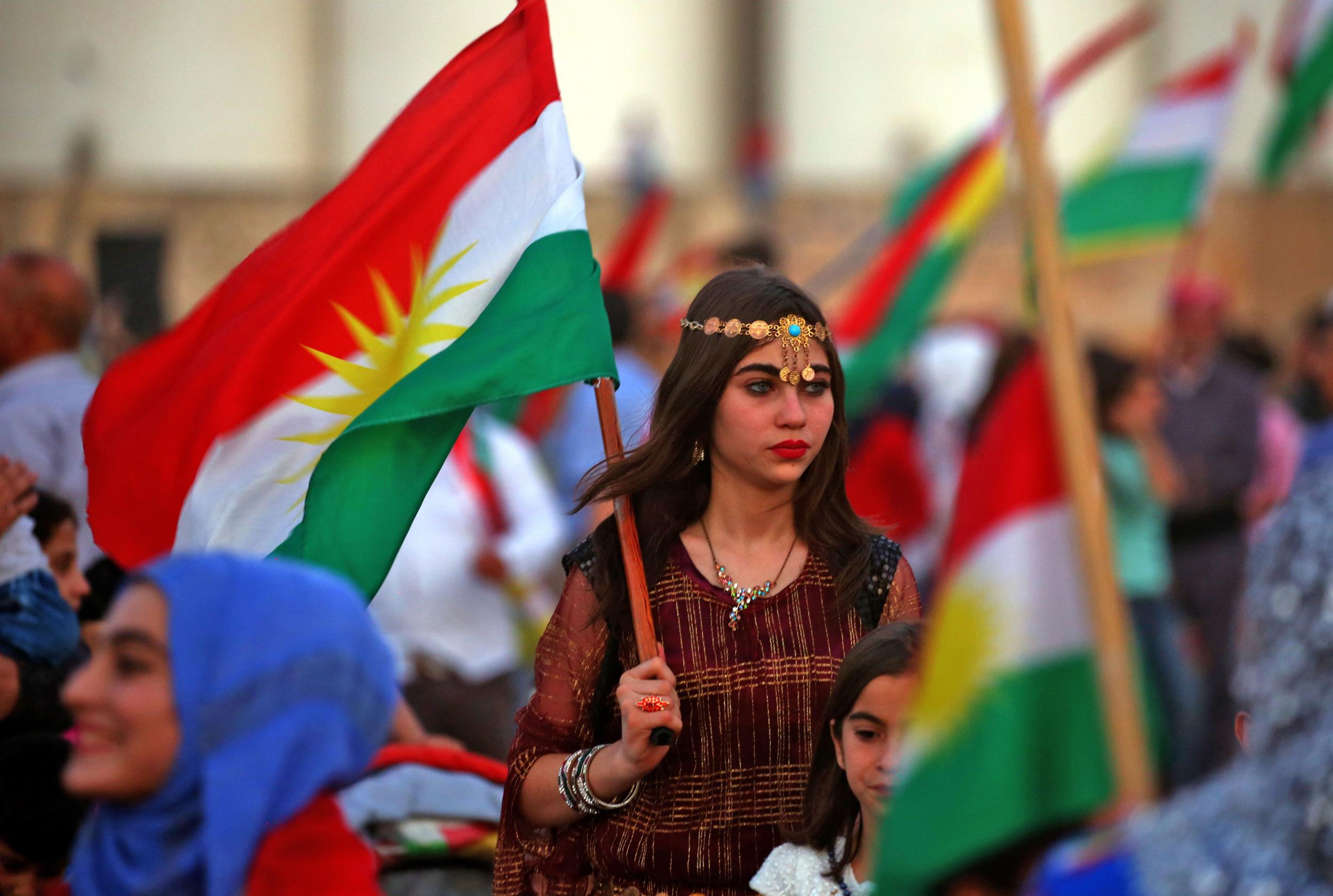 Almost 93 per cent of those who took part in the referendum on support for Kurdish independence from Iraq have voted to split from Baghdad, officials have said.
The results of Monday's vote were announced on Wednesday evening by election officials in Irbil, the semi-autonomous Kurdish Regional Government (KRG)'s capital.
A total of 92.73 per cent said 'yes' in response to the question, "Do you want the Kurdistan Region and the Kurdistani areas outside the administration of the Region to become an independent state?", head of the electoral commission Hendrin Mohammed told reporters. Turn out had been high, with approximately 72 per cent of the 4.5 million registered voters.
Iraqi woman solving uniform shortage for Kurdish fighters
The Kurdish decision to hold a vote on divorcing the central government has greatly angered Baghdad: Prime Minister Haider al-Abadi's government has refused to recognised the referendum, declaring it unconstitutional. Multiple attempts were made to delay or derail it, including a Supreme Court order last week.
The international community - and in particular Washington DC - had advised against it, worried the vote could stoke already inflamed Irbil-Baghdad tensions and affect the fight to destroy Isis in its remaining strongholds in the country.
Earlier on Wednesday, Mr Abadi demanded in a speech that the Kurdish authorities "cancel" the referendum and its results.
He ordered the KRG to give up control of its international airports by Friday, adding that Kurdish forces must also withdraw from disputed areas currently under KRG control such as Kirkuk.
"We won't have a dialogue about the referendum outcome," Mr Abadi told parliament. "If [the KRG] want to start talks, they must cancel the referendum and its outcome."
My reporting on the Kurds landed me in a Turkish prison
Show all 3
The Kurdish people – who number roughly 30 million across several countries – were left stateless when the Ottoman Empire collapsed a century ago.
While the vote was met with enthusiasm by the Kurdish diaspora all over the world, Baghdad and Iraq's Arab population have expressed concerns that areas involved in the referendum include places such as Kirkuk, which is an ethnically mixed and oil-rich province.
Also on Wednesday, parliament voted to approve a 13-point resolution giving Mr Abadi the mandate to deploy troops in Kirkuk, which has been under KRG control since Kurdish forces began to wrest control of the country back from Isis, although the prime minister stressed that force would not be utliised to avoid a "fight between Iraqi citizens."
Baghdad also sees the referendum as a Kurdish effort to take control of Iraqi oil revenue.
Within the KRG, the vote is widely seen as consolidating President Masoud Barzani's Kurdish Democratic Party's grip on power, giving him a mandate in future dealings with Mr Abadi.
As well as Iraq, neighbouring Iran and Turkey bitterly oppose Kurdish independence on economic and security grounds.
Both countries closed their airspace to the Iraqi Kurdish region as voting took place on Monday, worried that the likely 'yes' result would fuel the desire for an independent Kurdistan within their own significant Kurdish populations.
Turkish President Recep Tayyip Erdogan sent troops and tanks to the border with the KRG earlier this week, where they have been joined for joint exercises with Iraqi soliders.
Further economic and military action were both options on the table for Ankara, he said, adding that Turkey could shut off both oil pipelines and truck deliveries to the KRG, letting it "starve".
Join our commenting forum
Join thought-provoking conversations, follow other Independent readers and see their replies