Kurds are repelling Isis attack on Kobani with help of US air strikes
The Kurdish forces, who are outgunned and outmanned, have made progress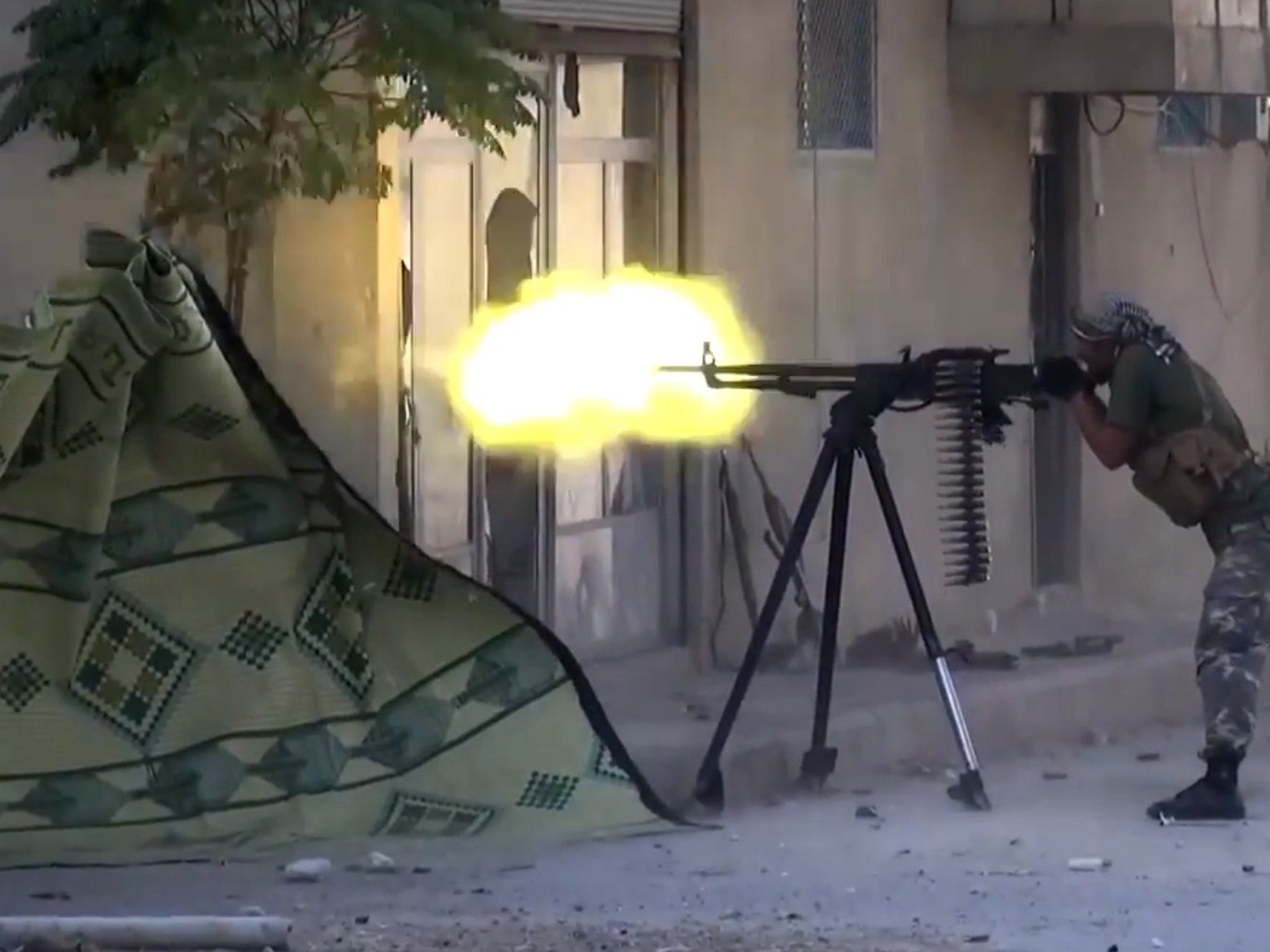 After weeks of what seemed to be an unstoppable Isis onslaught, Kobani's fighters are steadily pushing back to save their town.
In part due to US-led coalition air strikes, the Kurdish forces, who are outgunned and outmanned, have made progress and are now holding their positions, despite Isis using suicide bombers to infiltrate the city. All three of the city's hospitals have been destroyed, according to sources inside Kobani. They wounded now rely on a mobile clinic, which has run out of medicine.
The bodies of Isis fighters line the streets, said Kurdish fighters, who say they would bury them if only they had the time. The stench of the corpses fills the air.
"They are shelling the city from the east side and the bombs are landing in the centre of the city, but no casualties yet today," said Luqman Ahmad, a 34-year-old civilian. "We are very happy because we have heard from Jarablus and Raqqa that they have a lot of casualties from Isis – they have received a lot of bodies. We are very happy because the YPG [the People's Protection Units] made progress today too in the west as well as the south. Inshallah we'll have the same in the east soon."
While Isis retains approximately 30 to 40 per cent of the eastern part of the town, Kurdish forces have pushed the militants back to the western side and now control a hill to the west called Tel Shair and battles continue in the surrounding villages.
According to the prime minister of the Kobani canton, Anwar Muslim, the forces have made progress on the western front and are now able to protect the thousands of civilians collected there who are waiting to cross the border into Turkey.
Also in the centre of Kobani yesterday was 42-year-old Mohammad, a fighter with the YPG and former farmer who said he watched as his comrades executed 90 Isis prisoners four days ago. "I wanted to kill them, I wanted to burn their beards, but my friends didn't let me," he told The Independent and another reporter by phone from his position inside Kobani.
"When we see beheadings, cutting hands, burning, brutality, misery of our people, then we cannot control ourselves. They were standing before us, eyes open," said Mohammad, who gave his last name only as "Kobani". Kobani's defence chief, Ismet Hassan, however, said he had no information.
"Of course we have prisoners because there is a war going on," said Mr Hassan. When pushed on numbers of prisoners, he added: "I have no information about that – it's a military issue."
The US has admitted its co-ordination with the YPG. "We have for some time had conversations through intermediaries with the PYD (Kurdish Democratic Union Party). We engaged over last weekend with the PYD," said the State Department spokeswoman Jen Psaki at Thursday's daily briefing.
Isis continued to pound YPG positions to the west of the city with heavy artillery and tank fire yesterday. Coalition air strikes in Syria have focused entirely on Kobani, according to the US Central Command. There were 14 attacks on Isis positions throughout Wednesday and Thursday. Yesterday, however, was conspicuously quiet, with no air strikes reported.
Support for the US was at an all-time high among Kurds in the nearby Turkish town of Suruc, although many warned that they must continue for Isis to be defeated.
Meanwhile in Kobani, father-of-five Mohammad lamented that air strikes had not started sooner. "If they had helped us like this from the beginning, this wouldn't have happened, they [Isis] would not have entered," he said.
The head of US troops in the Middle East, General Lloyd Austin, head of US Central Command, said: "In my assessment, the enemy has made a decision to make Kobani his main effort. If he continues to present us with major targets, as he has done in the Kobani area, then clearly we'll service those targets."
Join our commenting forum
Join thought-provoking conversations, follow other Independent readers and see their replies