Lebanese unrest over growing number of Syrian refugees leads to violence on the streets
The Lebanese authorities and the UN are spending £1.3bn to help stretched communities cope with the influx, but some locals are losing patience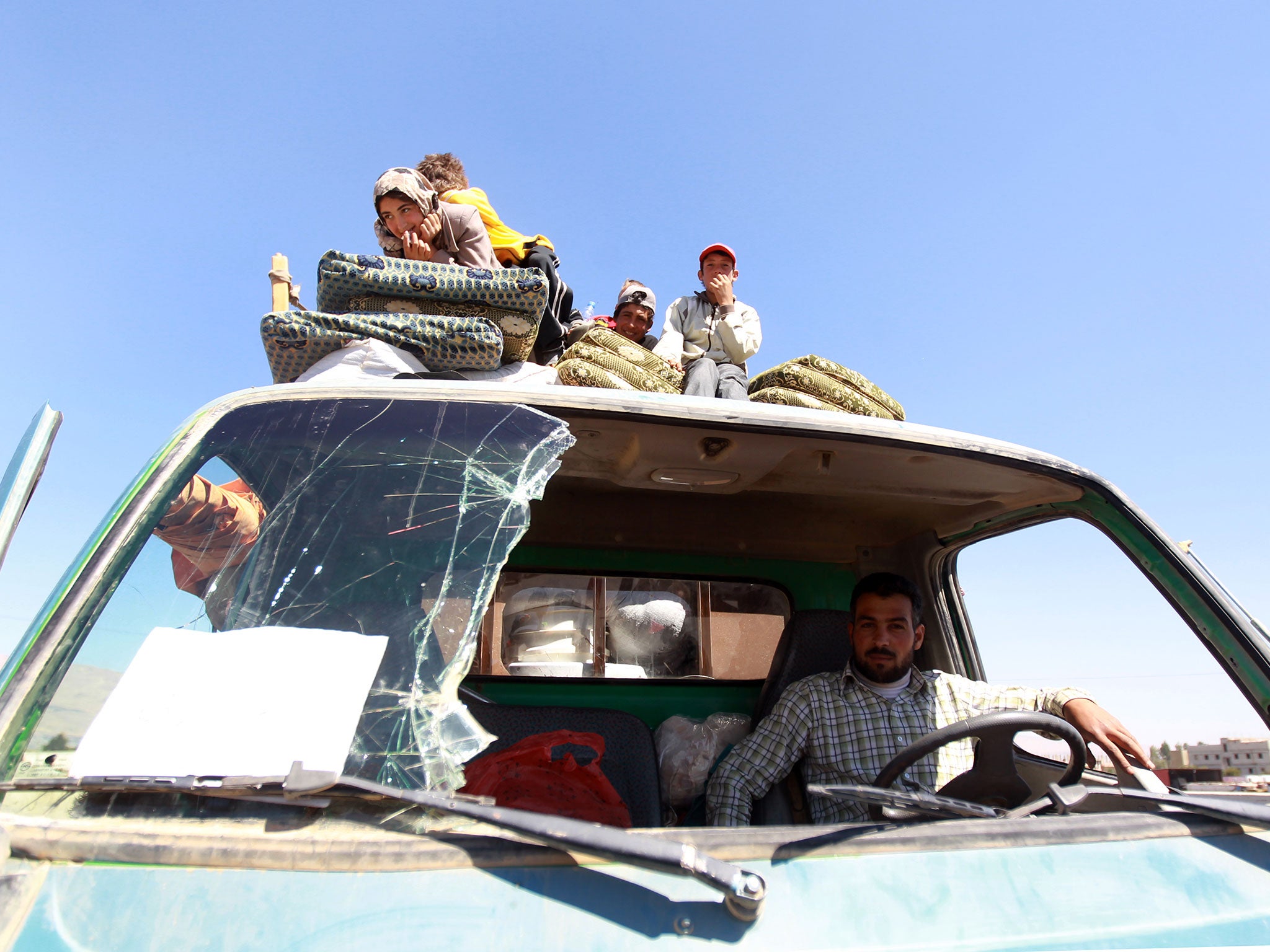 The blood is still visible on Abdullah's red hoodie. He has broken ribs from being hit with a lamp post, and a gash above his eye. His injuries are the result of a recent attack by a group of Lebanese men as he was walking home from his construction job. His crime? "I'm Syrian," he says.
The attackers gave Abdullah and his family of five until 6 o'clock in the morning to leave Ouzai, the predominantly Shia neighbourhood in the south of Beirut where he was living. "We fled for our lives," he says.
Abdullah (not his real name) is not an isolated case. Syrians are increasingly being targeted in Lebanon as patience with the refugee population runs out. The country hosts 1.5 million registered Syrian refugees, an increase of at least 25 per cent since 2011. They compete for limited resources and undercut Lebanese wages. The international community is struggling to allocate additional resources to ensure that Lebanon's hospitality will not run out.
From Monday, Lebanon is imposing unprecedented new restrictions on the entry of Syrians, requiring them to provide the length and intention of their stay, in an effort to stem the numbers entering. UNHCR, the UN's refugee body, fears the measures could mean Syrians fleeing violence in their own country are not allowed across the border.
In pictures: Global refugee crisis
Show all 45
Mohammed Yasin, 61, operates a money exchange business in Masnaa on the border with Syria, a town of 35,000 which has taken in 60,000 refugees. They live in garages, empty buildings and makeshift properties that line the roads, with roofs of tarpaulin and UNHCR tent covers.
Mr Yasin says Syrians are cheating the system; enjoying UNHCR benefits but also competing with Lebanese. "They are working, they are not refugees," he says.
A Syrian has opened a money exchange business around the corner, which he says has driven his business down 75 per cent because "Syrians buy from Syrians".
He gestures with his cane. "That's a Syrian shop," he says, pointing to a mobile phone shop across the street. "And that one too."
The residents of Masnaa don't mind the Syrians, Mr Yasin insists. They are good people, but their presence is taking its toll. The village infrastructure is not equipped for the influx. His rent has tripled. Previously, he received six hours of electricity a day; now that's a rarity and water is always running out. "We want them to go back, but where to send them?" he asks.
More than 90 per cent of Lebanese surveyed in the Bekaa valley and the north – areas with the largest numbers of refugees – perceive the Syrians as symbolic and economic threats, a March 2014 report found. Charles Harb, a social psychologist at the American University of Beirut who co-authored the report, says recent political developments mean that figure will have risen.
Last August, militants from the al-Qaeda affiliate Jabhat al-Nusra and the emerging Isis overran the Sunni border town of Arsal. When the Lebanese Army reclaimed the town five days later the militants fled into the surrounding mountains, taking almost 30 Lebanese security personnel with them. Four have so far been executed. In October, militants fought the army in the northern city of Tripoli.
In the aftermath of the violence, discrimination again Syrians surged. Informal tented settlements were burnt down. More towns began imposing curfews after they first appeared several months ago. Human Rights Watch estimates that such curfews have now been implemented in at least 45 municipalities.
The UN agrees that Lebanon is at capacity. The number of poor has risen by two-thirds since March 2011 and unemployment has doubled.
In December, the UN and the Lebanese government launched a new £1.38bn plan designed to help host communities, with almost 20 per cent directed to institutional and community support. The UN has also encouraged other countries to take in more Syrian refugees. So far, 28 have pledged to resettle a total 100,000 refugees. The UK has taken in just 90 and has not signed up to the UNHCR resettlement programme.
The UNHCR representative for Lebanon, Ninette Kelley, says the numbers being taken by Western countries is "not in proportion to the burden that is being carried by the host countries. This is the issue."
Meanwhile, deteriorating circumstances are pushing refugees to return voluntarily, to unknown circumstances. "I will return to Syria," Abdullah says. "Even if I will have no work there, it will be better."
Join our commenting forum
Join thought-provoking conversations, follow other Independent readers and see their replies