Lebanon has repealed its 'marry your rapist' law
Archaic legislation contravening women's human rights finally abolished after years of campaigning
Thursday 17 August 2017 14:21 Comments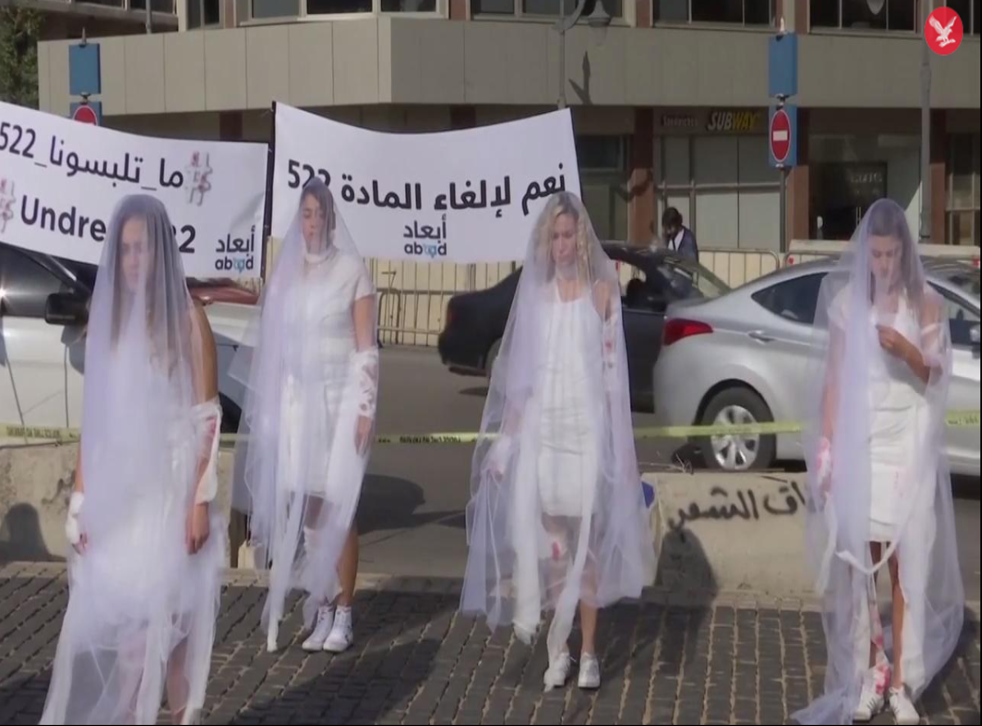 The Lebanese parliament has voted to revoke an article of the country's penal code which allows a rapist to escape punishment for his crime so long as he marries the victim.
The decision comes after similar moves in Tunisia and Jordan in recent weeks.
Article 522 in Lebanon's penal code is a statute from the 1940s which declared rape to be punishable by up to seven years in prison. The penalty for raping a minor or someone with mental or physical disabilities is higher - but the article's loophole said that criminal prosecution is suspended if the rapist and survivor marry for a minimum of three years.
Women in Lebanon protest law allowing rapists to marry their victims to escape punishment
The law has been debated before parliament on several occasions in recent years, but Lebanon's political gridlock often means important legislation fails to pass. On Wednesday,
The recent election of a new president after a more than two-year-long paralysis has somewhat energised Lebanon's diverse Christian and Muslim political representatives, however - and activists stepped up their campaigning, optimistic something could be done.
Abaad, a local activist group, staged a protest outside parliament in which women wore wedding dresses stained with red paint to resemble blood last December, and in April, thirty-one wedding dresses representing each day of the month in which women could be subject to further abuse were strung up on Beirut's Corniche.
Their patience has been rewarded.
The new suffragettes: Shirin Ebadi - the campaigner who has become an international figurehead for women's rights

Show all 3
"Amending the law is never an easy task, but we did it," Suad Abu Dayyeh, feminist campaign group Equality Now's Middle East and North Africa Consultant, said on the phone from Amman.
"This is a seachange. It is so positive and hopefully other countries in the region will capitalise on this growing consensus the law has to change."
Similar marriage clauses are present in the law regarding sexual consent in many modern Muslim states. They are usually hangovers from colonialist interpretations of sharia, or religious law.
In recent years, legal discriminations against women have been the target of campaigners across the Middle East; Morocco, Tunisia and Egypt have repealed similar laws, and changes to the penal code are pending in Bahrain.
While there is still a lot of work to do, Ms Abu Dayyeh said, Lebanon's decision is a powerful step forward in the region.
"There are many other battles. Civil law - how women are treated in marriage, divorce, custody and alimony cases - is next on our agenda. It will not be easy but we can build on all these small steps. We've had three victories in the space of a month. More are to come."
'Marry your rapist' laws also still exist in several Latin American countries, the Philippines and Tajikistan.
Rape and sexual abuse affect nearly one billion women and girls over their lifetimes, UN data says.
Register for free to continue reading
Registration is a free and easy way to support our truly independent journalism
By registering, you will also enjoy limited access to Premium articles, exclusive newsletters, commenting, and virtual events with our leading journalists
Already have an account? sign in
Join our new commenting forum
Join thought-provoking conversations, follow other Independent readers and see their replies