A Lebanese city once blighted by extremism has become the unlikely focus of nationwide protests
Tripoli was once a byword for the country's sectarian ills – now it is vying for the title of protest capital, writes Richard Hall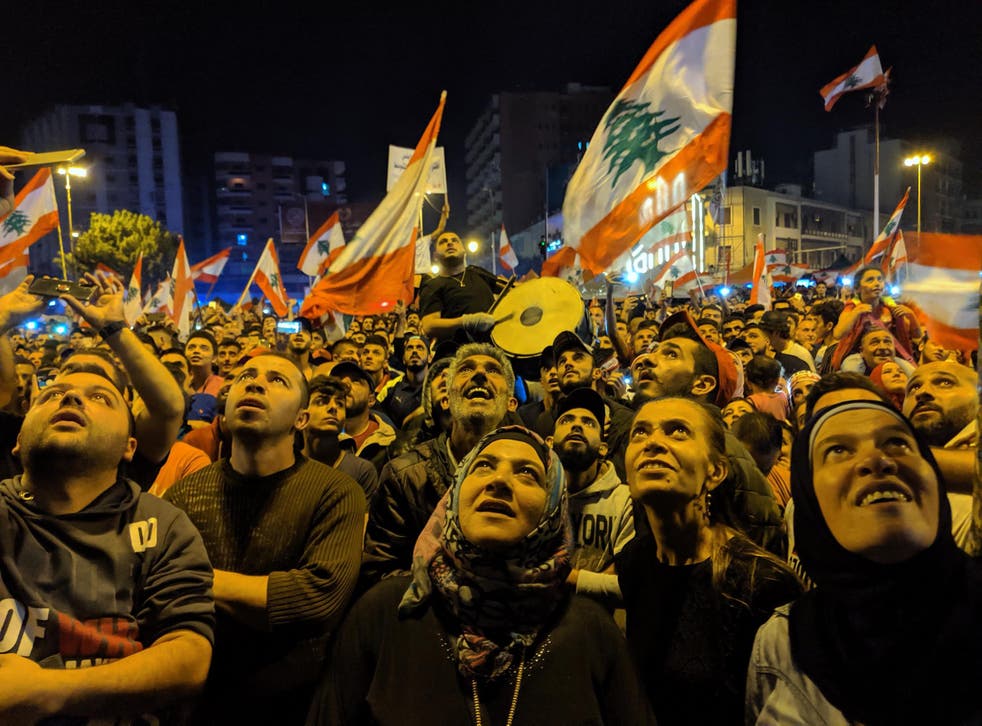 A cacophony of beating drums, fireworks and chants rattles across Tripoli's central square, but the thumping music rises above them all. The beat drops, and the crowd erupts.
It has been the same here every night this week. Tens of thousands have headed to the streets in Lebanon's second city to call for the fall of the government, and the numbers keep growing.
As mass demonstrations have swept across the country, Tripoli has made a strong claim for the title of protest capital.
For a city that has been long neglected and maligned, this uprising has been as much a coming out party as it has a protest. For years, Tripoli has been plagued by a reputation for violence and radicalism, often used as a byword for the country's sectarian ills.
It might appear from the outside that a dramatic change has taken place. But for residents here, the story of these demonstrations is not one of transformation, but of a city showing its true face to the world.
Lebanon protests erupt after government plan to impose new taxes

Show all 20
"It was always minority causing all the trouble," says Badr Safadi, a 53-year-old portrait photographer. "Most people were just trying to live their lives.
"I'm an optimist. I always thought people would come together, they just needed a reason."
In Tripoli, a coastal city of more than 700,000 people in northern Lebanon, the reasons abound. Huge protests erupted across the country last week after the government announced a tax on the popular messaging service WhatsApp – a proposal that was quickly cancelled. But the deeper causes have been building for years.
Decades of widespread corruption and economic mismanagement by Lebanon's leaders have brought it to the brink of financial collapse. It is one of the most indebted countries in the world, jobs are scarce, prices are rising and basic services such as electricity and water are intermittent.
These underlying causes of the protests are more acute in Tripoli than anywhere else. The city lies in the poorest region of Lebanon – some 57 per cent of its population lives in poverty. In the most deprived suburbs, nearly two thirds of people are unemployed.
"The middle class just doesn't exist any more in Tripoli," says Rene Charkass, a 24-year-old sports journalist, who has been protesting every day.
"Salaries are very low compared to the rest of the country. We pay electricity twice, water twice, there are no social services. Many families can't afford food, education or medical treatment.
"The people here are tired."
Young people growing up in the city, who make up a large contingent of protesters in the square, are afraid there will be no jobs for them once they leave school.
"Everyone here is poor – people are searching for work every day but there is nothing," says 16-year-old Kareem Shlaylat, an IT student, as he watches the protests from the fourth floor of an abandoned building overlooking the square.
"It feels like the politicians help each other but don't help poor people. I want the politicians to go away and for us to have new people who can be trusted."
The city's woes have been compounded by years of sectarian violence. Up until 2014, the city saw frequent armed clashes between Sunni residents of the Bab al-Tabbaneh district and Alawites in neighbouring Jabal Mohsen.
Anti-government protests sweep Lebanon after government tries to tax WhatsApp
The outbreak of the Syrian civil war just over the border exacerbated those tensions, and led to a rise in Islamist militancy. Gunmen once streamed through the same square where tens of thousands now gather.
That violence has given Tripoli a reputation that it has struggled to shake.
"I think people have the wrong perception of Tripoli and it's because of the media," says Mariam al-Kotob, 26, a graphic designer. "They only show the war."
She adds: "A lot of people wouldn't dare to come and figure it out for themselves."
All of which explains why the giant, raucous, musical protests in the city have caught the attention of many Lebanese. A video of a giant "protest rave" in the centre of the city went viral around the world earlier this week. "If you really want to protest you should go to Tripoli," one protester was reportedly overheard saying at a demonstration just outside of Beirut.
"The scenes in Tripoli have been deeply moving because many had written off the city as a hub of Sunni extremism," says Lina Khatib, head of the Middle East and North Africa Programme at Chatham House think tank and a Lebanese citizen.
"The peaceful and joyous coming together of Tripoli's residents and their chants of solidarity with fellow Lebanese from those southern cities also unfairly reputed as hubs of Shia extremism took many by surprise, but is one of the most powerful expressions of Lebanese society taking a stand against sectarian divisions."
A Lebanese army campaign against militants in the city in 2014 put an end to the fighting, but the city's problems have not gone away. Despite its dire need for reconstruction and investment, Tripoli has been perennially neglected by the government in Beirut and by its own leaders. Big development projects, often announced with great fanfare, repeatedly fail to get off the ground.
"Look at all the promises they made for Tripoli, and nothing happened," says Safadi, the photographer. "All the politicians give us is words. They cannot give us anything else. We're not unique in that sense. We're the same as Baalbek and Sour and any other city in Lebanon."
The past few months saw Lebanon's financial crisis spiral out of control. Fears of a US dollar shortage have sparked panic for businesses across the country. Petrol stations have closed down in protest at the rising exchange rate and bakeries have warned they will not survive.
In Tripoli, where people were already living on the edge, the impact was devastating. When the WhatsApp tax was announced, people took to the streets across the city and the country at large. Even after the tax was shelved, protests spiralled and grew.
Previous outbreaks of unrest in Lebanon have tended to be party political. This time, however, protesters are demanding a complete overhaul of the country's political system, calling for an end to the sectarian, civil war-era parties that have held onto power through clientelism and gerrymandering.
Across the country, protesters are expressing anger at the failures of all party leaders. "All of them means all of them," is a popular refrain on the streets. But Tripoli has been failed by its politicians more than other cities due to its unique political makeup.
"Successive prime ministers, some of whom hailed from Tripoli, and parliamentarians, have taken the city for granted," says Randa Slim, senior fellow and director of conflict resolution at the Middle East Institute.
"Unlike other areas of Lebanon, Tripoli is a city that is heavily contested politically: no single party or leader can claim a dominant role in the city politics. Because they have other sides to blame for their failure to deliver, blame cannot be focused on one party."
That strategy worked when the city was polarised, but things have been slowly changing in Tripoli over the past few years – as they have across Lebanon. When the current crisis bit and the city's leaders could offer no help, something broke.
"I wasn't surprised when I saw people on the street, because I was waiting for this to happen," says al-Kotob, the graphic designer. "Everything was so bad, it was kind of an explosion.
"A lot of political parties were trying to keep Tripoli down. They were using the people of this city for elections.
"What is happening now is a lesson for them. When people are hungry, they are ready to fight."
Register for free to continue reading
Registration is a free and easy way to support our truly independent journalism
By registering, you will also enjoy limited access to Premium articles, exclusive newsletters, commenting, and virtual events with our leading journalists
Already have an account? sign in
Register for free to continue reading
Registration is a free and easy way to support our truly independent journalism
By registering, you will also enjoy limited access to Premium articles, exclusive newsletters, commenting, and virtual events with our leading journalists
Already have an account? sign in
Join our new commenting forum
Join thought-provoking conversations, follow other Independent readers and see their replies