Lebanon warns Europe could face another 'wave' of Syrian refugees
Lebanon hosts more than 1.5 million refugees
Richard Hall
Beirut
Wednesday 27 March 2019 18:50 Comments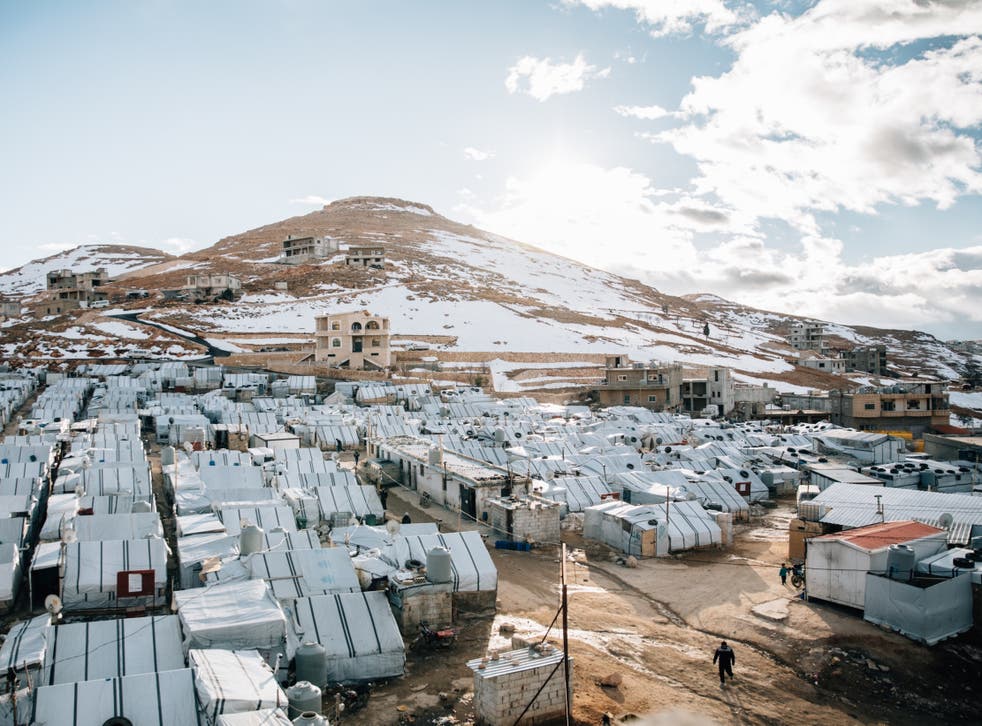 Europe could face another refugee crisis if Lebanon's struggling economy does not improve, the country's president has warned.
More than 1.5 million Syrians are currently seeking refuge in Lebanon, making it home to the highest concentration of refugees per capita anywhere in the world.
Lebanese president Michel Aoun said on Tuesday that "waves" of refugees could soon be heading to Europe.
"Europe is directly interested in solving the situation, as Syrian refugees staying in Lebanon are not satisfied with the economic situation in the country, and new migrant waves to Europe will start soon," Mr Aoun said on Tuesday during a trip to Moscow to discuss the crisis, according to Russian news agency TASS.
Return to Lebanon: Syrian refugee crisis in its eighth year

Show all 17
The presence of Syrian refugees has deeply divided Lebanon over the past eight years, mirroring the country's political divisions over the Syrian civil war.
Many fear the long-term settlement of such a large number of Syrians would upset the delicate sectarian balance in the country, where power is shared among its many religious sects.
But the economic impact of the refugee crisis has become a more pressing issue as the country's financial outlook has deteriorated.
In the past few years, economic issues that pre-date the Syrian crisis have become more pronounced – among them youth unemployment, inflation and one of the highest debt-to-GDP ratios in the world. In January, Moody's ratings agency downgraded its credit rating for Lebanon, putting it on par with Gabon, Zambia, Iraq and Ukraine.
Entrenched political stagnation has impeded progress on these issues, but some say politicians have used Syrian refugees as a scapegoat for the country's ills.
Mr Aoun's comments come at a time when the Lebanese government is increasing pressure on Syrian refugees to return home, despite the United Nations declaring Syria is not yet safe.
In recent years, it has made it almost impossible for Syrians to work legally and increased fees for renewing their residency papers. More than half of Syrian refugees in Lebanon live in abject poverty, with families surviving on less than $3 a day.
Some 170,000 Syrian refugees have gone back from Lebanon since December 2017, according to Lebanese authorities. But activists have said that hundreds are being arrested by the government upon their return, disappearing into its deadly prison system.
A much smaller number have been heading the other way, to Europe. The United Nations refugee agency has resettled 37,079 Syrian refugees in European countries since 2011. And over the past year, small groups have attempted to reach Europe illegally by boat. In September 2018, a vessel carrying 40 Syrian refugees sank of the coast of Lebanon as it headed towards Cyprus. A five-year-old Palestinian refugee, Khaled Nijmeh, drowned.
But there has so far been no indication that Syrians would, or could, leave en masse for Europe.
"Despite the profound poverty facing Syrian refugees, the reality is that the overwhelming majority are likely to remain in Lebanon and face even more hardship for the foreseeable future," Matias Meier, International Rescue Committee's Lebanon country director, told The Independent.
"Syrian refugees in Lebanon know only too well that it is now far more difficult and indeed far riskier to attempt to cross to Europe, and according to the UN only around five per cent believe they will return to Syria within the next year," he added.
The UN estimates that some 250,000 Syrians could return home from across the region this year. Western countries, meanwhile, have held back support for the move before a broader diplomatic solution to the conflict. Mr Aoun's comments could be aimed at pressuring European countries to reconsider that position.
Speaking at the European parliament in September last year, he said the international community "did not bear its responsibilities to support Lebanon in mitigating the impact of this displacement, based on the principle of sharing burdens and responsibilities among states".
"Lebanon seeks to secure a dignified and safe return of the displaced to their homes and rejects any stalling in this regard," he said, adding that Lebanon "refuses to link [returns] to a long-standing political solution".
Dr Carmen Geha, assistant professor of public administration at the American University of Beirut, said the president was "reminding the world that Lebanon is carrying a large burden, which it is of course. It's a strategy for putting Lebanon back on the map."
"The whole issue is extremely politicised, the different parties are using it for different ends. There is the question of whether we should normalise the relationship with [Syrian president] Bashar al-Assad, who should be involved with reconstruction. Meanwhile, these people are stuck amidst this tug of war," she added.
Despite the pressure to return, human rights groups continue to urge caution.
"The conditions are certainly not conducive for return," Leen Hashem, Syria campaigner for Amnesty International, told The Independent.
"The conflict is not over in certain parts of Syria, the infrastructure has seen massive scales of destruction. Human rights violations continue at the hands of the government and opposition armed groups – but especially the government – such as arbitrary detention and enforced disappearance," she said.
Register for free to continue reading
Registration is a free and easy way to support our truly independent journalism
By registering, you will also enjoy limited access to Premium articles, exclusive newsletters, commenting, and virtual events with our leading journalists
Already have an account? sign in
Join our new commenting forum
Join thought-provoking conversations, follow other Independent readers and see their replies