Libyan commander courted by European countries accused of war crimes in battle for Derna
General Haftar's troops are thought to have tortured and murdered civilians, and mutilated corpses in the eastern city, according to a new legal report shared exclusively with The Independent
Warning: Explicit images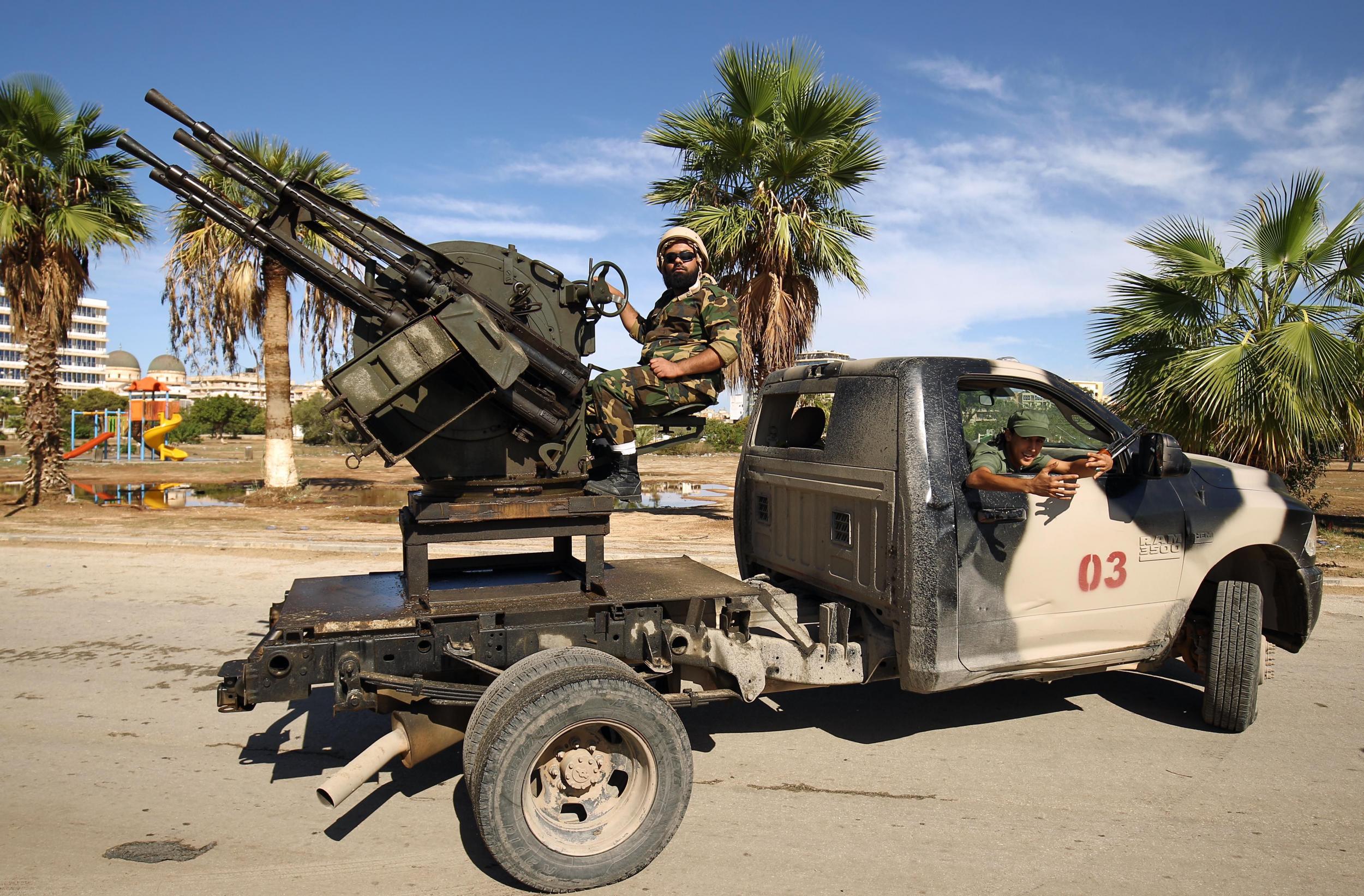 Forces loyal to a powerful Libyan military commander once courted by the west are likely to have committed war crimes in the eastern city of Derna, London rights lawyers have revealed, urging the International Criminal Court to investigate instances of torture, murder and mutilation of corpses.
The legal opinion, which was shared exclusively with The Independent, marks the first time General Khalifa Haftar's troops have been formally accused of war crimes in the coastal city, under their control since last summer.
Geneva-based Libyan group Human Rights Solidarity, which commissioned the report, intends to file it with International Criminal Court prosecutors in the coming weeks.
Human rights lawyer Rodney Dixon, of Temple Garden Chambers, reached this conclusion after studying multiple videos and photos taken in Derna and posted online, which purport to show Gen Haftar's self-styled Libyan National Army (LNA) shooting unarmed civilians, stringing up mutilated bodies and indiscriminately shelling residential areas.
Rights groups have repeatedly accused the LNA, which controls swathes of territory in the east and south of Libya, of committing war crimes in cities like Benghazi.
Last July, the ICC issued a second arrest warrant for Gen Haftar's special forces commander Mahmoud al-Werfalli after several videos appeared online apparently showing him murdering captured fighters.
But the new report now sheds light on allegations of abuse in Derna.
"This evidence appears to depict the commission of the war crimes of murder, mutilation, torture, cruel treatment, outrages upon personal dignity, and the targeting of civilians," the report said.
"It is imperative that the perpetrators and their commanders should be investigated to obtain all available evidence so that those responsible can be brought to justice."
"These investigations should be undertaken by the ICC which has jurisdiction over the Libya situation, if no genuine domestic investigations are under way," it added.
The LNA has denied allegations of abuse in the past. In a statement to The Independent on Thursday, it declined to comment on the latest accusations.
But Human Rights Solidarity, which has also investigated Tripoli-based forces that rival Gen Haftar's men, said the United Nations and the media are failing to shed light on rampant abuses being committed across the country.
"This marks the first legal opinion which will be submitted to the ICC of the widespread abuses in Derna. General Haftar's forces have been accused of potentially committing crimes with the siege, but this report reveals there are many more abuses," said Ahmed Algaseer, the group's senior rights researcher.
"There is widespread impunity in Libya, people are not just committing crimes but actually documenting them. No one gets punished so we have spent the last three years trying to secure some accountability," he added.
Gen Haftar has led the LNA since returning to Libya during the 2011 Arab Spring. He previously lived in exile in the US. Despite mounting evidence of abuse, over the last few years he has been courted by several countries including Italy, France, Russia and Egypt as a key player and potential leader in Libya.
For years he was loyal to a rival government anchored in the eastern city of Benghazi that opposes the UN-recognised cabinet in Tripoli, but in 2017 agreed to join forces with prime minister Fayez al-Sarraj to help hold national elections.
In June last year his troops took control of Derna, which was nominally controlled by an al-Qaeda-linked group, after controversially laying siege to the city, including allegedly preventing supplies from entering and families from returning home.
In November 2017, Human Rights Watch revealed armed groups loyal to the LNA may have executed as many as 36 men in the town of Abyar, about 30 miles east of Benghazi.
Last February HRW said that displaced families had been prevented from returning to Benghazi.
The new legal opinion cites as possible war crimes several incidents, including one caught on a mobile phone, which shows unarmed civilian residents of Derna being shot repeatedly on the ground, even after they appear to be dead.
In other footage, dead bodies are toyed with, hung from machine gun turrets and draped over the bucket of an excavation digger, which the report says are also crimes of outrages on personal dignity.
The report cited several other videos which show civilians being shot at and victims being forced to unzip their trousers before being executed.
It concludes that the crimes shown in the videos and photos could also amount to crimes against humanity. It urged the international community to investigate the commanders including Gen Haftar for potentially ordering and directing the violations, or for failing in their duties to effectively prevent or punish the crimes committed by their subordinates.
"It is a crime against humanity if it can be established on all the evidence that they were committed as part of a widespread or systematic attack directed against the civilian population of Derna," the report concludes.
"The investigation and prosecution of those up the chain of command is very important in order to establish the full record of criminal activity, to guarantee accountability and justice, and to deter the future occurrence of similar crimes in the conflict."
Libya was plunged back into civil war in 2014 when Islamist militia ousted armed groups allied to Gen Haftar from Tripoli. The general's forces in the east meanwhile battled to rid the second city of Benghazi from militias and jihadis.
Gen Haftar was a commander in Colonel Gaddafi's armies until 1987 when he was taken as a prisoner of war during Libya's disastrous conflict with Chad. After Gaddafi abandoned him, he tried to overthrow the leader and when that failed ultimately sought asylum in Virginia, US.
In January, Gen Haftar officially ordered the start of "comprehensive military operations" in southern Libya to tackle jihadi and other armed groups in the area and protect key installations.
Join our commenting forum
Join thought-provoking conversations, follow other Independent readers and see their replies