Libya hunts prison guards 'shown in video torturing Colonel Gaddafi's son Saadi'
Footage posted a week after another of Colonel Gaddafi's sons, Saif Al-Islam, was sentenced to death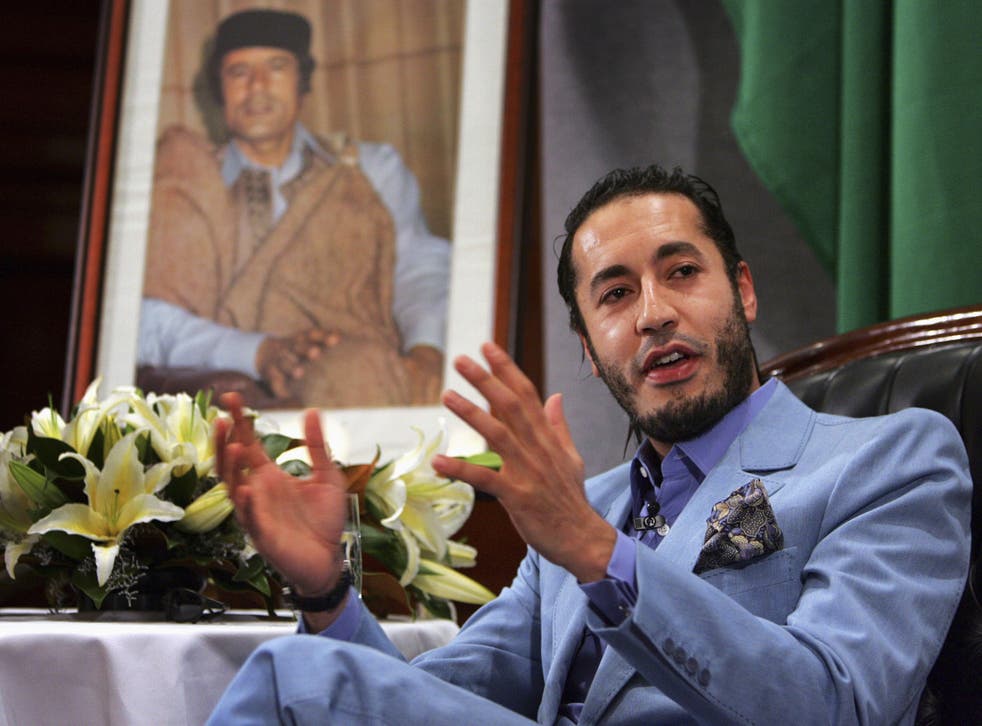 Saadi Gaddafi, the son of late dictator Colonel Gaddafi who fled abroad during Libya's revolution, has appeared in a video being tortured and tied to a pipe by prison guards.
State prosecutors in Tripoli are attempting to identify the guards in a video that appears to have been filmed in the al-Hadba prison.
The film appears to show guards goading and beating the man who was extradited to Libya by Niger last year. It was posted a week after a Tripoli court sentenced another of Colonel Gaddafi's sons, Saif Al-Islam, and eight former regime officials to death over crimes during the 2011 uprising that toppled his father.
The video, which has not been independently verified, shows Saadi beaten on his face while being questioned and later on the soles of his feet, tied to a pipe, while he is screaming. He is also forced to listen and watch other screaming prisoners being beaten outside the room he is held in.
The 42-year-old, who had a brief career as a footballer in Italy and had the reputation of a playboy during his father's long rule, has experienced an entire life upheaval following the changes in Libya.
His £10m mansion in London's Hampstead Garden Suburb was seized as the post-revolutionary government sought to capture the billions of dollars believed to have been plundered by his family and laundered abroad.
Tripoli's prosecutor general said in a statement he had launched an investigation to identify the guards and "to take the necessary legal action against them."
"The graphic video that seems to show prisoners being beaten raises serious concerns about the methods used to interrogate al-Saadi Gaddafi and other detainees at al-Hadba prison," Joe Stork, deputy Middle East director at New York-based Human Rights Watch, said.
Last week's court ruling against his brother, Saif al-Islam was passed in absentia since he has been held since 2011 by a former rebel group in Zintan, a western region beyond Tripoli's control.
Other former Gaddafi regime officials sentenced to die by firing squad included former intelligence chief Abdullah al-Senussi and ex-prime minister Baghdadi al-Mahmoudi.
The trial, which opened last year, has been dogged by criticism from human rights agencies, who are concerned about the fairness of Libya's judicial system.
The country remains in a protracted state of chaos with two governments fighting each other, while Isis militants have gained a toehold in the growing security vacuum.
Register for free to continue reading
Registration is a free and easy way to support our truly independent journalism
By registering, you will also enjoy limited access to Premium articles, exclusive newsletters, commenting, and virtual events with our leading journalists
Already have an account? sign in
Register for free to continue reading
Registration is a free and easy way to support our truly independent journalism
By registering, you will also enjoy limited access to Premium articles, exclusive newsletters, commenting, and virtual events with our leading journalists
Already have an account? sign in
Join our new commenting forum
Join thought-provoking conversations, follow other Independent readers and see their replies