Palestinian president Mahmoud Abbas accused of antisemitism over Holocaust comments
Remarks on Jews' 'social function' in 20th century Europe condemned by Israeli, US and EU officials as well as peace activists across political spectrum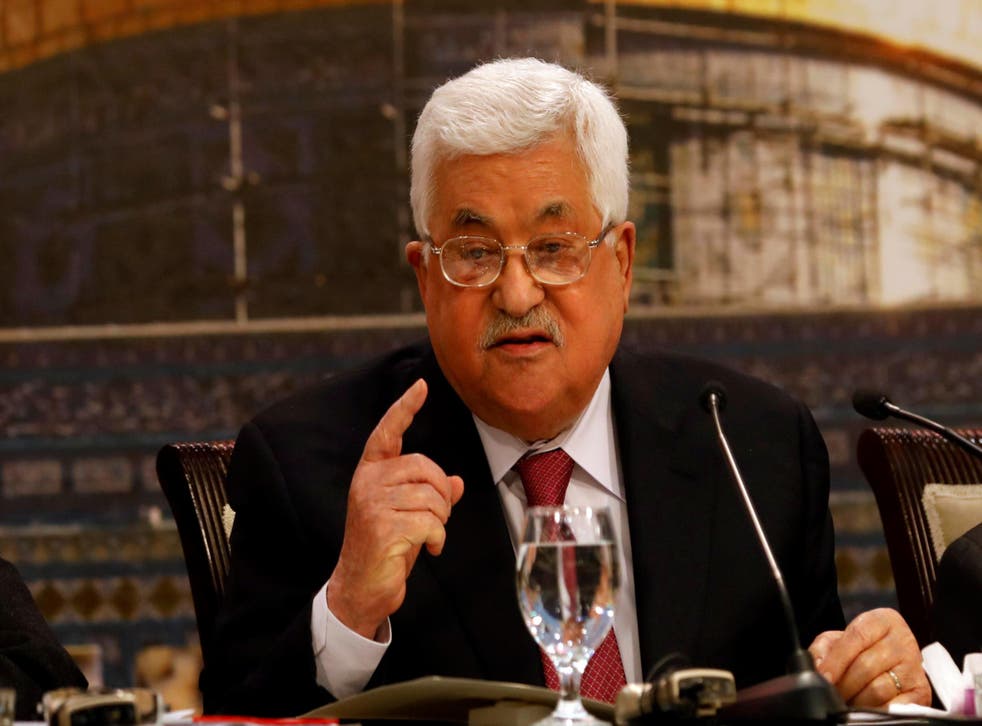 Palestinian Authority President Mahmoud Abbas has been condemned over comments on the causes of the Holocaust which have been condemned worldwide as antisemitic.
Mr Abbas said that the Jewish "social function" in 20th century Europe, such as money lending, caused animosity towards them which led to the Nazi genocide of six million Jews.
He cited what he said were books by "Jewish Zionist authors" for the claim, which was made during a 90-minute speech to the Palestinian Liberation Organisation (PLO) parliament in Ramallah on Monday.
Nikki Haley: 'President Abbas declared the landmark Oslo Peace Accords dead'
He also said Israel was a European project and denied that Ashkenazi Jews, of European ancestry, count as a Semitic people.
The UK's shadow Foreign Secretary, Emily Thornberry, who was in attendance during Abbas' speech, condemned his comments and called for him to apologise.
"It is deeply regrettable that, during a lengthy speech whose main and successful purpose was to urge the Palestinian National Council to remain committed to the Middle East peace process and the objective of a two-state solution, President Abbas made these anti-Semitic remarks about the history of the Jewish community in Europe which were not just grossly offensive, but utterly ignorant.
"I hope President Abbas will immediately apologise for them," she added.
Israeli and US officials as well as peace groups from across the political spectrum also were swift to criticise the Fatah leader's comments, followed by an unusually blunt rebuke from the EU's foreign service.
"The speech Palestinian President Mahmoud Abbas delivered on 30 April contained unacceptable remarks concerning the origins of the Holocaust and Israel's legitimacy.
"Such rhetoric will only play into the hands of those who do not want a two-state solution, which President Abbas has repeatedly advocated," the European External Action Service said from Brussels on Wednesday.
"Antisemitism is not only a threat for Jews but a fundamental menace to our open and liberal societies.
Palestinian photographer Ahmad Abu Hussein shot by Israeli forces in Gaza
"The European Union remains committed to combat any form of antisemitism and any attempt to condone, justify or grossly trivialise the Holocaust."
Israeli Prime Minister Benjamin Netanyahu's office called the comments "anti-Semitic and pathetic", while Michael Oren, Israel's deputy minister for diplomacy, tweeted: "Mahmoud Abbas says money-lending Jews provoked Holocaust... Now there's a peace partner."
Newly appointed US ambassador to Israel David Friedman also slammed Mr Abbas' comments as a "new low".
"To all those who think Israel is the reason that we don't have peace, think again," he posted on Twitter.
Mr Abbas' inflammatory remarks come at a time of soaring tensions between the Palestinians, Israel and Donald Trump's administration.
The Palestinian leadership cut off relations with the US after President Trump made the controversial move of recognising the contested city of Jerusalem as Israel's capital in December last year.
The expected US embassy move from Tel Aviv to the eternal city on 14 May – ahead of Israel's 70th birthday – has already led to clashes between Gazan protesters and Israeli troops in recent weeks which have killed 40 Palestinians and injured 5,511 more.
More violence is expected in the run up to the 15 May, which for Palestinians is marked as the Nakba, or 'disaster'.
Mr Abbas has previously been criticised for his views on the Holocaust: in a 1980s dissertation he questioned the death toll of the massacres across Europe and argued there had been a "secret relationship between Nazism and Zionism" before World War II.
In 2003, when the paper came to light, he said that the Holocaust was "a terrible, unforgivable crime against the Jewish nation, a crime against humanity that cannot be accepted by humankind."
Join our new commenting forum
Join thought-provoking conversations, follow other Independent readers and see their replies