'It could resonate in history': Experts warn of 'monstrous' attack by Assad on Aleppo
Deadly new ground-penetrating bombs and incendiary missiles unleashed on Aleppo 'cannot become the new normal,' residents beg
Tuesday 27 September 2016 09:54 Comments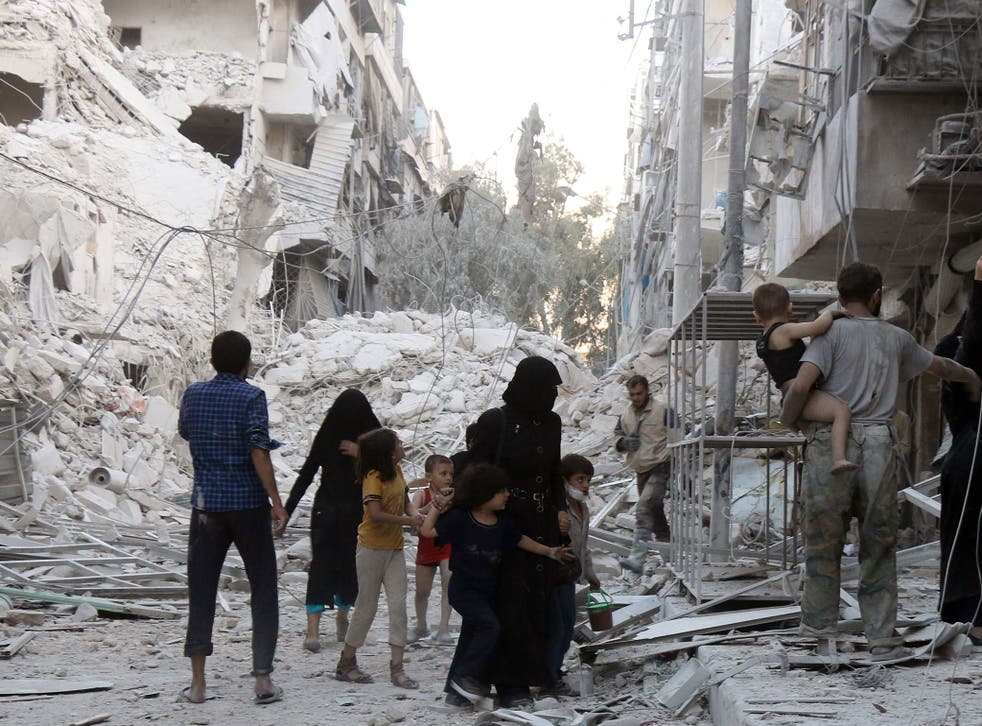 President Bashar al-Assad would have to launch a military campaign in order to recapture rebel-held parts of Aleppo so "monstrous" it would "resonate in history."
The air offensive launched by Syria on Thursday – backed by Russian jets – has escalated markedly in the past 72 hours, after the US and Russian brokered Eid al-Adha ceasefire broke down.
And in a deadly new development for Aleppo's civilians, the nature of the bombing campaigns has changed. New incendiary devices and 'bunker buster' ground penetrating missiles have reportedly been dropped by Russian and Syrian planes in the last few days, which pictures shared by people on the ground show have left craters in some places up to five metres deep.
"There is nowhere to go," Ammar al-Selmo, the head of Aleppo's Syria Civil Defence rescue group said. "These new bombs, they make the buildings shake so much that some are collapsing even when there are no strikes, they are so powerful. People can't hide from them, even underground."
Now all diplomatic attempts to reinstall the ceasefire in the almost six-year-long conflict have collapsed, the Syrian regime seems determined to finally crush the last major rebel stronghold, which would leave just a handful of pockets of non-Islamist resistance in the sparsely populated north and south of the country.
In pictures: Aleppo bombing

Show all 14
"Capturing Aleppo would be highly advantageous to Assad, solidifying his control of so-called 'useful Syria'. But it would have to be a monstrous campaign. An atrocity of this sort would resonate in history," a diplomat close to the peace process said.
Syria's war: US and Russia point fingers as Aleppo burns
The current air attacks are the worst assault the 250,000 people still trapped in besieged rebel areas have ever faced. US Ambassador to the UN Samantha Power called them "barbarism" in an emergency meeting of the UN Security Council on Sunday.
The UN's Special Envoy to Syria, Staffan de Mistura, said he had been shown videos of incendiary bombs "that create fireballs of such intensity that they light up the pitch darkness in eastern Aleppo, as though it was actually daylight." One diplomat described the alleged fusillade fireball attacks as "one step below a nuclear weapon."
Rescue workers have had great difficulty putting out the huge fires, which add to the dangers they already face in pulling people from the rubble.
The White Helmets and the rebel-run Aleppo Media Centre report that white phosphorous and napalm have also been used.
What's more, civilian infrastructure such as rescue centres and hospitals are now the explicit target of bombs, and were among the first sites to be hit, activists on the ground say.
East Aleppo's main water pumping station was destroyed on Friday, which led to the rebels shutting off the supply for the rest of the city in retaliation. All two million residents are now without running water.
Two ambulances belonging to the rescue service – also known as the White Helmets – are unusable thanks to the air strikes, as well as two treatment centres and several civilian cars used to transport patients. Streets are blocked by rubble. Several White Helmets volunteers, medical staff and fire fighters have been killed or injured.
More than 200 civilians have died in strikes or been crushed by rubble since President Bashar al-Assad gave the fresh operation the go ahead, several monitors have said, but the strikes are so intense it has been impossible to accurately document the numbers of dead and wounded.
Rebel-held east Aleppo now more closely resembles hell than the city Mr Selmo used to know and love, he says.
"Yesterday, there was a seriously injured man. There was nothing I could do. I had to put him in a body bag while he was still alive, and leave him," he said.
The Syrian government's new 'scorched earth' campaign appears to be designed to cause as much misery as possible to drive the rebels, and any civilian supporters, into submission.
The military has also launched a ground campaign – the first since 2012 – and successfully captured the Palestinian camp of Handarat in the north of the city. So far they have been repelled by rebel forces in other clashes on several edges of rebel-held Aleppo.
Both the Russian and Syrian ambassadors to the UN denied that the military operations are deliberately targeting civilians or using incendiary weapons. Russian delegate Vitaly Churkin defended his government's actions in the face of accusations of war crimes from France and the UK on Sunday, going as far as to say that Assad had shown "enviable restraint" battling terrorists in east Aleppo who use women and children as shields.
Corridors guaranteeing safe passage to government-held Aleppo had been set up, he added, although several reports from the city say at least some residents who tried to cross the siege barricades were shot at by snipers as they did so. Some bodies are still lying in the road as relatives are too afraid of getting killed themselves to retrieve their loved ones.
While de Mistura expressed fears that the battle to take east Aleppo for good could turn into "a slow, grinding, street-by-street fight, over the course of months, if not years," the same strategy has worked for the Assad regime in other places.
The last rebel-held neighbourhood of Homs, once a hotbed of regime resistance, is now empty after 300 rebel fighters and their families surrendered and were bussed north in an amnesty deal last week.
People in Aleppo are worried that if the unprecedented level of military violence against the trapped residents continues, it will become seen by the international community as the "new normal."
"I don't know what will happen next. Where do we go from here?" Mr Selmo of the White Helmets said. "There is no way out for us except suicide. I expect to see that happening here soon."
Register for free to continue reading
Registration is a free and easy way to support our truly independent journalism
By registering, you will also enjoy limited access to Premium articles, exclusive newsletters, commenting, and virtual events with our leading journalists
Already have an account? sign in
Join our new commenting forum
Join thought-provoking conversations, follow other Independent readers and see their replies