Mashrou' Leila: Lebanese band concert cancelled to 'avoid bloodshed' after attacks from church leaders
Popular Lebanese band received threats of violence in run up to appearance 
Richard Hall
Beirut
Wednesday 31 July 2019 17:59 Comments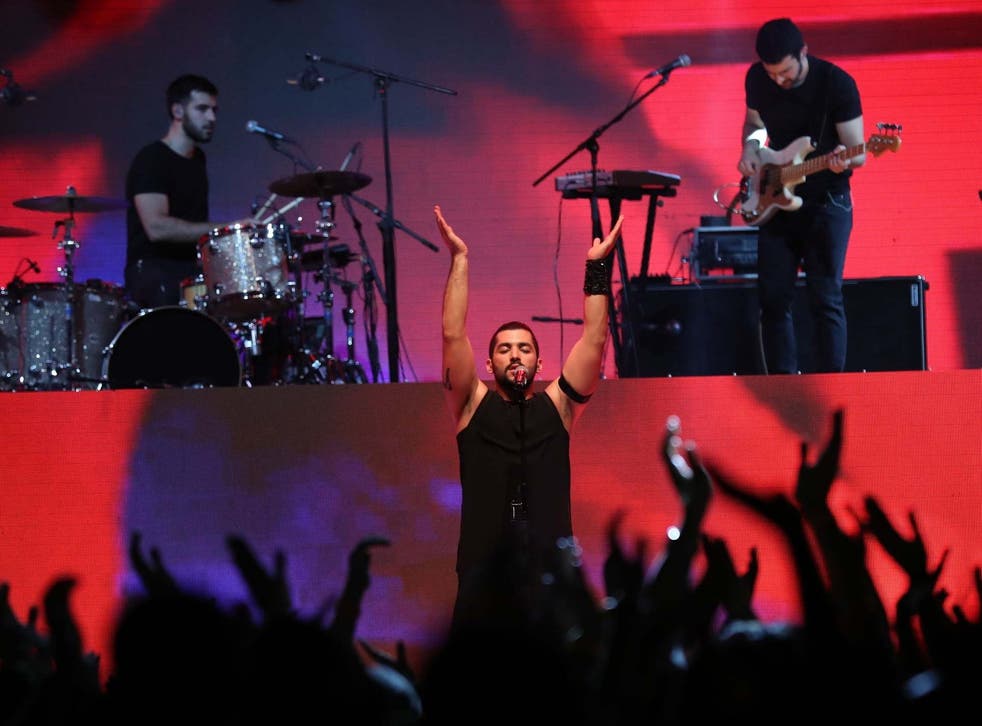 A music festival in Lebanon has cancelled the appearance of one of the country's best known bands to "avoid bloodshed", following weeks of attacks from church groups.
Mashrou' Leila, an internationally renowned four-piece indie band whose songs are known for tackling social taboos in the Arab world, were due to play at the Byblos International Festival next month.
In the run-up to the prestigious festival, the band became the target of a campaign by church leaders and conservative politicians who accused them of insulting Christianity in their lyrics. The town's Maronite archbishop claimed the band's songs "undermine religious and human values, attack sacred symbols of Christianity".
Pressure from church groups was followed by threats of physical violence from social media users, some of whom said they would stop the show by force if it went ahead. One Facebook user called for the band to be "showered with bullets".
On Tuesday, festival organisers said they had cancelled the appearance "in agreement with the band" because they could not guarantee the safety of the artists or festival-goers.
World news in pictures

Show all 50
The cancellation has set off a fierce debate over free speech in Lebanon. The country has traditionally been seen as more liberal than its neighbours, but rights groups have warned that freedom of expression has increasingly come under attack in recent years.
Mashrou' Leila was formed in 2008 by a group of students at the American University of Beirut. In the decade since, they have blazed a trail for alternative music in the region, traversing pop, folk and electro while tackling politics and social issues in their lyrics.
Their songs have covered everything from environmentalism to women's rights and political change in the Middle East. Their songs are sung in Arabic, but they have played to sold out audiences in Europe and the US – a rare achievement for a Lebanese group.
The band, whose lead singer Hamad Sino is openly gay, has also been a champion of LGBT+ rights in a region that has lagged behind on the issue. They were banned from Egypt after a rainbow flag was raised at a concert there in 2017, and they have had performances cancelled in Jordan.
But the group has played several times in their home country of Lebanon, appearing at the Byblos festival twice before, and had never faced the same level of opposition at home.
In response to the cancellation, the band said that their songs had been misinterpreted, and a number of falsehoods about them had been spread online.
"We feel true and genuine regret towards anyone who felt their creed and beliefs were targeted in our songs. We assure them and everyone that these songs do not breach sacraments or faiths, and that the offence was due mainly to smear campaigns, defamation, and false accusations," they said in a statement.
"Our respect for others' beliefs is as firm as our respect for the right to be different," they added.
Human Rights Watch called the cancellation "the latest in an escalating campaign of repression against peaceful speech in Lebanon".
"This incident demonstrates how criminal defamation, incitement, and insult laws in Lebanon are exploited by powerful groups and how they fail to protect marginalised voices and those who have divergent opinions," said Lama Fakih, acting Middle East director at Human Rights Watch.
"Lebanon is joining the ranks of abusive governments in the region that trample on free speech rights, pushing out the talent and debate that has made this country what it is."
The rights group criticised the Lebanese government for its reaction the campaign of violent threats against the band. It said the Interior Ministry hauled two members of the band in for an interrogation that lasted for six hours, after which security officers forced them to pledge to censor content on their social media accounts.
Amnesty International said the cancellation was "the direct result of the government's failure to take a strong stand against hatred and discrimination".
Register for free to continue reading
Registration is a free and easy way to support our truly independent journalism
By registering, you will also enjoy limited access to Premium articles, exclusive newsletters, commenting, and virtual events with our leading journalists
Already have an account? sign in
Register for free to continue reading
Registration is a free and easy way to support our truly independent journalism
By registering, you will also enjoy limited access to Premium articles, exclusive newsletters, commenting, and virtual events with our leading journalists
Already have an account? sign in
Join our new commenting forum
Join thought-provoking conversations, follow other Independent readers and see their replies