Matthew Hedges: Wife of British 'spy' now says UK is doing all it can to support him
UAE officials are privately saying an understanding is likely to be reached with the UK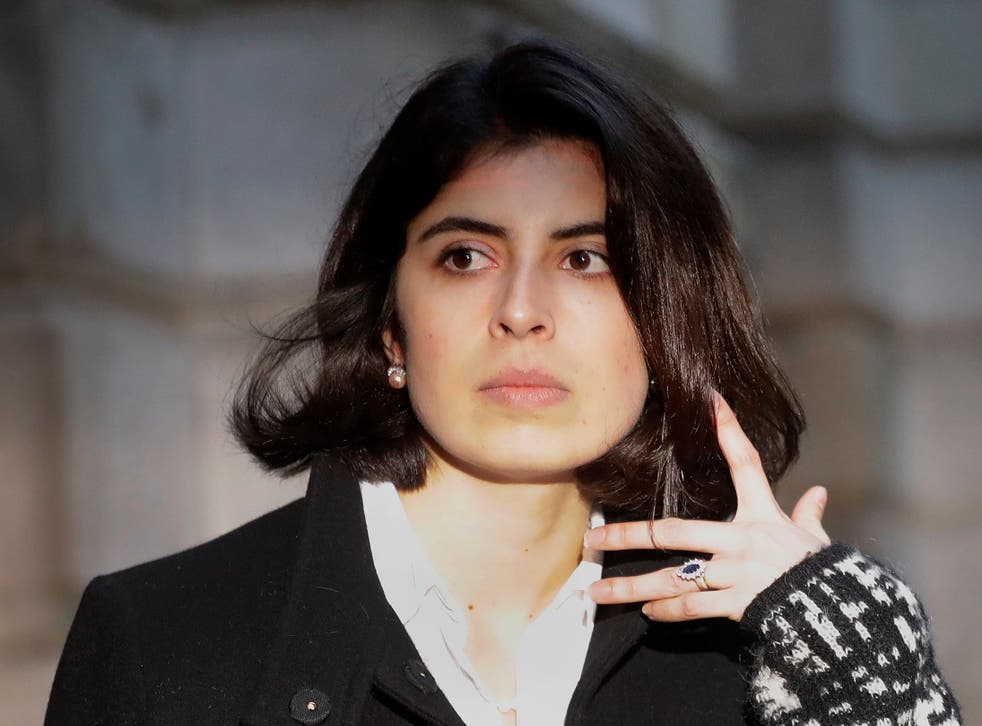 The wife of Matthew Hedges, the man sentenced to life in prison in the UAE on charges of spying, has said the UK government is doing all it can to help him, as she rowed back from her earlier claim that Britain was putting its interests with the Emirates over her husband's freedom.
After meeting with the British foreign secretary on Thursday afternoon, Daniela Tejada said Jeremy Hunt had "assured me that he and his team are doing everything in their power to get Matt free and return him home to me.
"This is not a fight I can win alone and I thank the Foreign Office for now standing up for one of their citizens."
Her later comments came after the UAE said both sides were working towards an "amicable solution".
In a statement, the Ministry of Foreign Affairs said: "The UAE is determined to protect its important strategic relationship with a key ally."
UAE officials were also saying privately that an understanding is likely to be reached with the UK following a meeting believed to have taken place between Mr Hunt and the Emirati ambassador to the UK, Sulaiman Hamid Almazroui. They also insisted that the British foreign secretary had been told all along that the law needed to take its course before the government could act on clemency.
"Officials from both countries have discussed the matter regularly over recent months. Both sides hope to find an amicable solution to the Matthew Hedges case," the UAE said.
Mr Hedges, a student at Durham University who went to the country to research his PhD thesis, was sentenced to life in prison at an Abu Dhabi court on Wednesday in a hearing that lasted less than five minutes, and with no lawyer present.
Mr Hunt issued a statement saying that he had discussed the case with Abu Dhabi Crown Prince Mohammed bin Zayed during a visit to the country last week and the verdict "runs contrary to earlier assurances".
He said he was "deeply shocked" by the verdict, which "is not what we expect from a friend and trusted partner of the United Kingdom".
On Wednesday, following the verdict, the British foreign secretary promised "serious diplomatic consequences" if the 31-year-old student was not freed.
Foreign secretary Jeremy Hunt warns UAE of 'serious consequences' over Matthew Hedges jailing
Tensions over Mr Hedges' treatment have quickly escalated into a crisis, in part because ties between Britain and the seven emirates of the UAE are considered close and date back 200 years.
The doctoral student at Durham University has been held since 5 May, when he was arrested at Dubai International Airport after a two-week research visit.
The evidence presented against him consisted of notes from his dissertation research, his family said.
Mr Hedges has in the past worked for a consultancy firm Inegma, the Institute for Near East and Gulf Military Analysis, which was involved in the security and military sphere, providing information for private and state clients.
It was the questions he was asking his contacts in the Emirati defence establishment which originally made him a suspect, it is claimed by some officials in the UAE.
But Mr Hedges' friends say that in pursuing academic research he may not have realised that he was straying into sensitive areas such as the Yemen war and the Saudi-led confrontation with Qatar.
Mr Hedges' university supervisor has said there had been nothing clandestine about his research in the country.
Professor Clive Jones of Durham University said Mr Hedges had been working on a thesis about civil-military relations in the UAE since the Arab Spring, based on readily accepted literature.
"There was nothing clandestine or covert in any of the material he had been using up to date in the thesis," Prof Jones told the BBC Radio 4 Today programme.
Security and intelligence sources in the UK have consistently denied that Mr Hedges was involved in espionage on their behalf. They do not have any information, they say, on whether he had done work for private security companies in the west.
A life sentence for a non-Emirati entails a maximum of 25 years in jail and is followed by deportation, according to state-run media.
Ms Tejada earlier said that the UK had "failed" to take a firm stance over Mr Hedges from the start of his ordeal.
Speaking on Thursday morning, she told the Today programme: "I was under the impression they were putting their interests with the UAE above a British citizen's rightful freedom and his welfare."
The UAE foreign ministry said that Mr Hedges "has been treated fairly and according to the constitution of the UAE".
Polly Truscott, Amnesty International UK's foreign affairs expert, told The Independent that the UK has "long given the impression that security and trade interests trump human rights concerns in the UAE".
"With Matthew Hedges' case, it almost seems to have come as a surprise to the government that the UAE actually locks up people after deeply unfair trials."
Ms Tejada said it had been a horrible time for her husband. As she read a prepared statement outside the Foreign Office, she recalled his shock as the verdict was read.
"Seeing him shaking in court after being handed a life sentence and then being made to leave was beyond heartbreaking," she said. "We didn't even get to say goodbye."
Register for free to continue reading
Registration is a free and easy way to support our truly independent journalism
By registering, you will also enjoy limited access to Premium articles, exclusive newsletters, commenting, and virtual events with our leading journalists
Already have an account? sign in
Register for free to continue reading
Registration is a free and easy way to support our truly independent journalism
By registering, you will also enjoy limited access to Premium articles, exclusive newsletters, commenting, and virtual events with our leading journalists
Already have an account? sign in
Join our new commenting forum
Join thought-provoking conversations, follow other Independent readers and see their replies